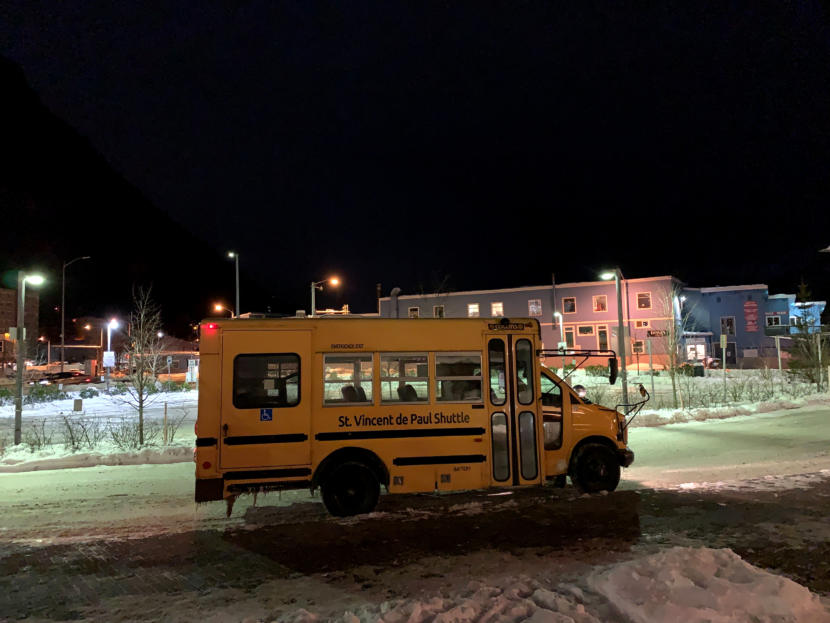 Temperatures in Juneau have been well below the 24-degree average low temperature for January. That makes it tough for the more than 200 homeless people in Juneau.
People are coming into the Glory Hall, downtown Juneau's homeless shelter and soup kitchen. It's lunchtime, and there's a short line for rice and chow mein.
Rodney Jackson says he's been homeless for the last 15 years. When it was cold outside, he says he'd gather things to cover up and find sheltered areas to stay warm and out of the wind.
Jackson says it's hard to sleep when it's cold. He would sometimes drink heavily so he could fall asleep.
"I wonder what kept me alive," Jackson says. "It's scary. Sometimes I cried myself to sleep."
Another lunch visitor, Jerry, talks about the unique challenges of sleeping outside in Juneau.
"The wind blew our sleeping bag across the street. All the way across the street!" remembers Jerry, who only provided his first name. "My girlfriend got mad at me. She said, 'Quit hogging the blankets!' I said, 'Our blankets are across the street!'"
Jerry laughs about it. But Brad Perkins from the St. Vincent de Paul Society of Juneau said it can be tough for those living on the street, especially during extreme winter conditions.
"It leads to a form of PTSD," Perkins said. "Already, all of our clients have challenges in life, and being homeless is a huge challenge. But when the weather gets like this, it adds an extra burden on them. It makes doing the simple things even almost impossible."
Perkins said he hears how members of the homeless community are unfairly criticized for not getting a job or doing something to change their life, when simply surviving on any given night may be their priority.
"It's hard to imagine how tough it is to handle all of that," Perkins said.
Jackson and Jerry can't stay overnight at the Glory Hall right now. Only three dozen people can stay there, and only for 30 days at a time. They'll have to go to the emergency warming shelter operated by St. Vincent de Paul in the Mendenhall Valley, between the airport and the Nugget Mall.
"The Glory Hall is a nicer place to stay," Perkins said. "And if you can stay there, you should go stay there. But we're the last resort and low barrier, and we'll take anybody."
The St. Vincent de Paul shelter started with cots for 28 people. But 44 slept there — the most ever — on Jan. 6, just as temperatures started diving.
"That's a lot of people," Perkins said. "We had some people sleeping sitting up and things like that."
Perkins said they're knocking down some walls at St. Vincent de Paul at so they can expand the shelter space and take in more people.
"We're doing everything we can, because the weather's pretty nasty outside," Perkins said.
Perkins said a shuttle bus loops through town every evening to pick up residents. They also serve up a bedtime snack, and a volunteer cooks breakfast before everyone leaves at 7 a.m.
Jackson said the warming shelter's cots may not be quite as comfortable as the Glory Hall's bunk beds.
But, he said, "it sure beats sleeping outside in the cold."
Jerry, who lost his sleeping bag to the wind, likes the warming shelter, although it might be a little noisy for light sleepers.
"Just issues with people snoring or talking in their sleep," Jerry laughed. "Other than that, everything's good. I like the staff out there. They're fun."
However, Jerry said it's tough to wait until the 11 p.m. check-in time, especially if it gets real cold and windy in the afternoon and evening.
Cold air from Canada is responsible for this month's cold snap and windy conditions in Juneau. Temperatures are expected to remain between 0-20 degrees at least through this weekend.