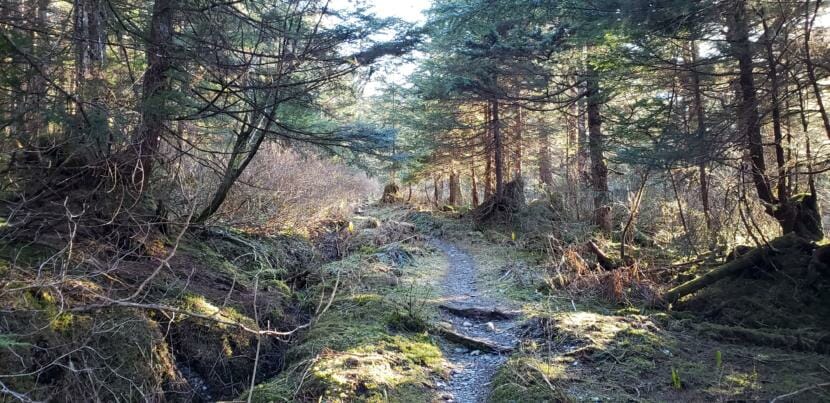 The Treadwell Ditch on Douglas Island once carried water to fortune seekers, and now a small fortune in federal dollars will carry a 5-year project to rebuild the trail that follows the ditch.
The Juneau Community Foundation announced Wednesday that it has secured a $660,000 grant for major renovations to the Treadwell Ditch Trail on Douglas Island. Local officials have highlighted the historic trail as a top priority for improvements in plans going back decades. It's finally coming together now because a lot of political, bureaucratic and economic stars aligned.
The 14-mile trail is beloved by history buffs and outdoors enthusiasts like snow machiners, cross-country skiers, hunters, hikers and mountain bikers for its gentle slope and the access it provides to otherwise remote public lands.
It's also an unusually accessible trail for Juneau; there are five different access points from roads on Douglas. Local nonprofit Trail Mix is working on adding a sixth from the Fish Creek Trail.
"It's one of the few trails that is long and flat in Juneau," said Erik Boraas, executive director of Trail Mix. "A lot of our trails are very steep and they just, you know, they go up to the top of a mountain and back down."
Trail Mix has worked on the trail and trail access on and off for years. The community foundation is hiring Trail Mix to continue its work through this grant.
Miners first cut the ditch and trail in the 1880s to supply water and power to the now flooded Treadwell Mine in Douglas. In a 2015 trail assessment, the U.S. Forest Service flagged endangered or lost historic structures, and safety concerns — particularly around collapsing bridges.
Boraas remembers some especially "high-consequence crossings."
"Eagle Creek had a bridge that had totally collapsed and people were crossing on 100-year-old slippery logs," he said. "Paris Creek was same way. There was a dam there, a significant fall, and there was a rope roughly stretched across that you could kind of use to help balance yourself. Or you could just wade through the creek up to your knees, depending on the water level. That's what it used to look like."
Want to volunteer?
Trail Mix's Erik Boraas says the best way to get looped into volunteer opportunities is through a Trail Mix membership. Trail Mix is also hosting a volunteer event for National Trails Day that begins at 9 a.m. on June 1 for work on the Montana Creek Trail. Meet at the Brotherhood Bridge trailhead. 
Both crossings have newer bridges now.
In recent years, Trail Mix volunteers and professional crews have put in thousands of hours of work, hauling tens of thousands of pounds of gravel, replacing bridges, clearing roots and packing trail.
Boraas said over the next five years, his crews will work the entire length of the trail going roughly south to north. The goal is for it to be bikeable from end to end, he said.
The City and Borough of Juneau has already committed $100,000 to the project. And the Juneau Community Foundation plans to raise another $120,000 to fulfill grant obligations. While the Alaska Department of Fish & Game awarded the main grant, the money itself comes from federal taxes on firearms, bows and ammunition.
Editor's note: The Juneau Community Foundation maintains the KTOO Legacy Foundation fund.