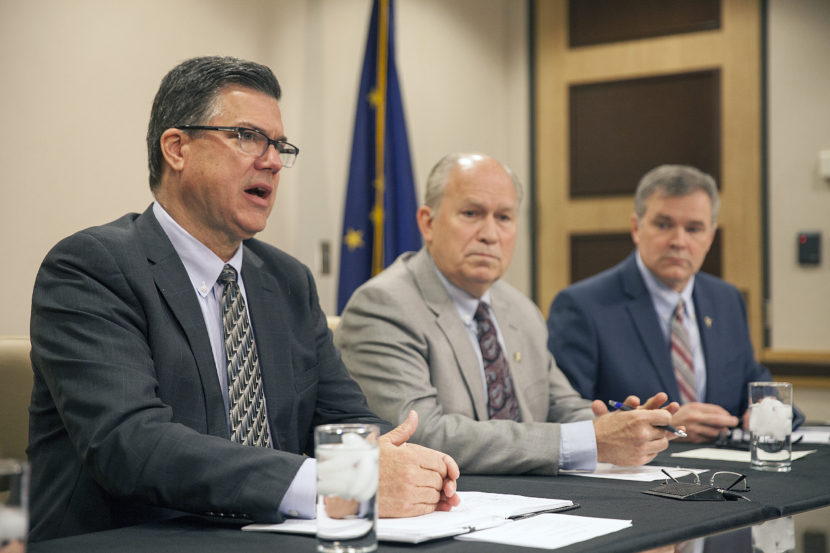 There's a shakeup going on at Alaska's gasline development corporation. Earlier this week, Gov. Mike Dunleavy dismissed two board members. Now, there are four new Dunleavy appointees on the seven-member board.
At the top of that new board's to-do list? Fire the man who has been running the Alaska LNG project for the last two years.
Keith Meyer, the state's gasline corporation president, has been the highest paid employee of the state since 2016. That's when he was hired to lead the state's efforts to bring natural gas from the North Slope into the world market.
In the last few days of 2018, he got a set of performance bonuses from the gasline corporation board that brought his total compensation for last year up to nearly $1 million dollars. Those bonuses were meant to reward him for things like raising awareness of the project on the global LNG market, overseeing project management and communicating with the Legislature about how the state-led effort to get a gasline was working. 
On Thursday, he got different feedback from his board of directors when they convened for an early morning board meeting and quickly went into executive session. 
When they came out half an hour later, Jason Brune had this directive: "Keith M Meyer is hereby relieved of his duties as Alaska Gasline Development Corporation, AGDC."
Brune is the commissioner of the state's Department of Environmental Conservation and is one of four new members on the seven-member gasline corporation's board of directors appointed by Dunleavy. 
And it's not surprising that they removed Meyer from his position. Dunleavy weighed in on his compensation package during a Tuesday press conference.
"I was surprised with that. It's not reflective of the priority of this administration," he said.
But it's not clear what direction Dunleavy's administration wants to take the gasline project. When asked for clarification, Dunleavy's press secretary, Matt Shuckerow, emailed Alaska's Energy Desk a statement from Brett Huber, a policy advisor for the governor.
In it, Huber writes, "Today's actions by the AGDC Board were both decisive and welcomed. We look forward to working closely with the new AGDC leadership to better align our shared priorities of reducing energy costs, bringing our rich energy resources to market and monetizing our North Slope gas."
There are two key directions the gasline project is headed this year. The first is the regulatory side. That's the federal permitting required to build the $45 billion megaproject.
The second is the commercial side, lining up investors and buyers for the project.
Up until the end of 2018, the gasline corporation was negotiating with three potential Chinese partners who could buy the gas, finance the project and invest in building the project. But those negotiations were supposed to end on Dec. 31. The gasline corporation announced that the parties are working on a 6-month extension to their original agreement.  A corporation spokesperson said those negotiations are ongoing. 
Meyer's replacement is a man named Joe Dubler. His official start date is Feb. 1. 
Dubler was a former vice president of the gasline corporation when the Alaska LNG project was led by the three North Slope producer:, BP, ConocoPhillips and ExxonMobil. Those three companies stepped away from the project in 2016, citing unfavorable market conditions. That's when the state took over the project. Meyer was leading that effort.
But board chairman Doug Smith said Dubler's appointment doesn't mean the state corporation is pivoting away from a state-led project.
"What I would say is, our emphasis is to keep the project moving," he said. "We certainly would like to see a project that eventually has commercial terms and viability that brings back producer engagement. And what that looks like in the future is uncharted territory, but we certainly see and know there's value in producer alignment and participation."
For now, Smith said, it's business as usual for the project team.
Editor's note: This story has been updated.
Correction: A previous version of this story listed Meyer's total compensation package in 2018 as being just over $1 million. That is incorrect. It was just under at $982, 253.79. Additionally, a previous version of this story listed a salary figure for Joe Dubler as reported by the gasline development corporation.  That figure is not correct, the corporation and Dubler are still negotiating his compensation.