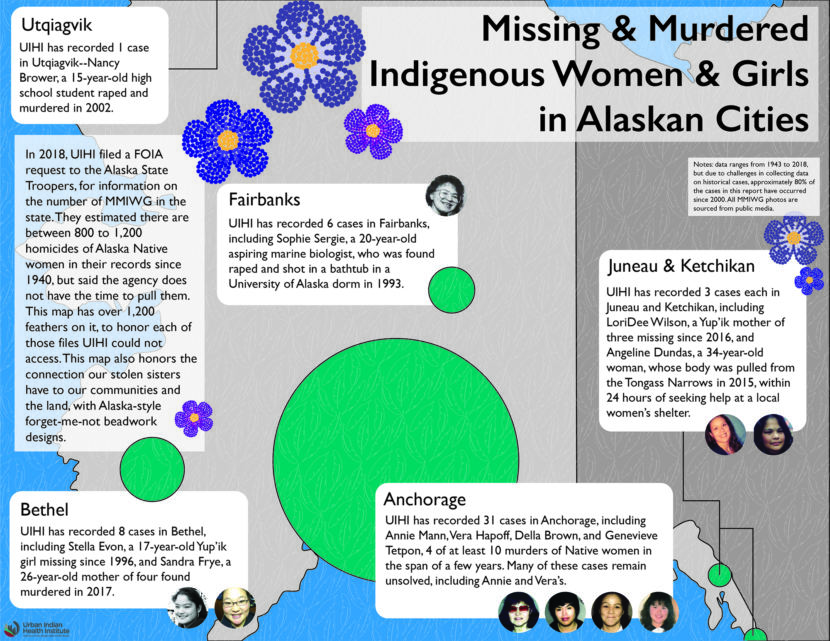 Several Alaska Native organizations asked Gov. Mike Dunleavy on Thursday to fund investigations and prosecutions of cases of missing and murdered Indigenous women and girls.
Kendra Kloster, executive director of Native Peoples Action, drafted a letter to Dunleavy asking for his support.
"There's an alarming number of Indigenous women and girls that have disappeared or been murdered each year, and we just feel that there's really an absence of a voice for them," she said.
The letter asked Dunleavy to include money in his proposal for the next state budget, which his administration is scheduled to release on Dec. 15.
"We need to be able to get the data, and then we need people to not only investigate, but to follow up," Kloster said.
In response to questions about the letter, Dunleavy spokesman Jeff Turner said the Department of Public Safety will make a recommendation in its proposed budget for the Dunleavy administration to review.
Dunleavy said in a statement to the Associated Press that as a father of three girls, his heart goes out to families who have lost loved ones to violence. He said through a spokesman that public safety in Alaska is broken, and he is committed to fixing it.
In his final draft budget, former Gov. Bill Walker included funding for two investigators for these cases. It would also provide money to inventory past cases and analyze law enforcement's approach to the issue.
A recent study by Urban Indian Health Institute found that Anchorage was the city with the third-highest number of Native women who were murdered, after Seattle and Tucson.
Native Peoples Action is a nonprofit started in 2017 that aims to protect traditional values in the Alaska Native people. Its work includes promoting voting rights for Alaska Natives.
The others who signed onto the letter include leaders of Native Movement, Native American Rights Fund, Alaska Native Sisterhood Camp 70, Alaska Native Brotherhood Camp 70, Central Council Tlingit and Haida Indian Tribes of Alaska, Fairbanks Native Association, Alaska Native Women's Resource Center, Beaver Village Council, First Alaskans Institute, Kawerak Inc. and the Pathways to Prevention Statewide Steering Committee.