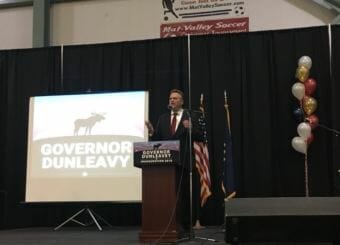 Gov. Mike Dunleavy announced his new public safety team Wednesday morning.
Amanda Price, a victims' advocate, will take over the Department of Public Safety from former commissioner Walt Monegan.
Dunleavy also tapped Nancy Dahlstrom to head the state's Department of Corrections. Dahlstrom was recently elected to serve as a state representative for House District 13. If she's confirmed, her appointment would create a vacancy in the House. Dahlstrom replaces outgoing Corrections Commissioner Dean Williams.
Kevin Clarkson, a private practice attorney, is replacing Jahna Lindemuth as Alaska Attorney General.
During the announcement, which Dunleavy made at the state crime lab in Anchorage, the governor stressed the importance of public safety and crime reduction.
"The primary function of any governor and any state government, to be frank, is to keep people safe. And that's why we've taken time to really look at folks that we believe are going to get us there," he said. "And we're not rolling out people individually one at a time, we're working as a package, as a group, because we have to start working out of our silos. We have to work as a package, as a team."
Dunleavy said his team will be working with others to fulfill one of his campaign promises — repealing and replacing SB 91, the criminal justice reform bill passed in 2016.