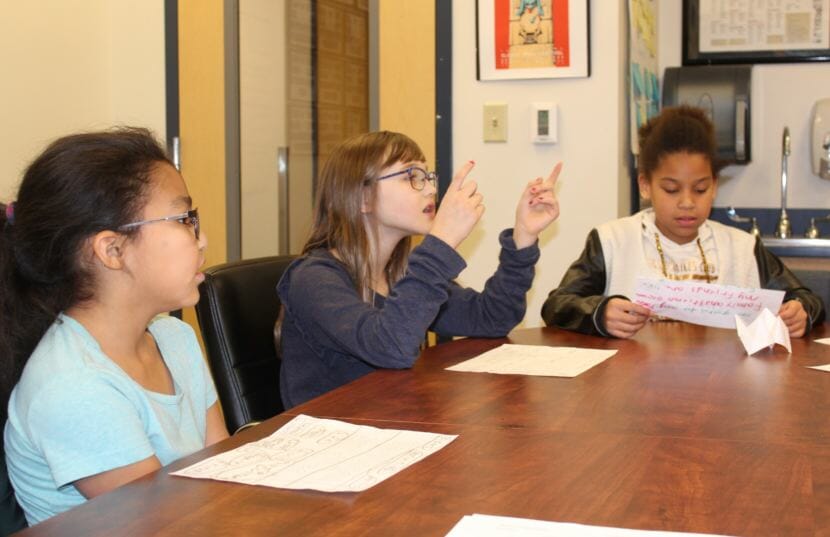 Ask a group of Harborview Elementary School kids what they like to eat on Thanksgiving, and you'll hear things like grandma's apple pie or mom's cranberry sauce. Or something called "hot dog surprise," a delicacy prepared by second-grader Malina's grandfather.
"A hot dog surprise is, you have hot dogs, and you cut them, and then you take green beans, and then you take tomatoes, and then you can take some onions, and you chop them up. And it's hot dog surprise," she explained.
Thanksgiving is a fun time of year for most kids — fun, at least in part, because they get four days off of school. But for the kids in Harborview's Tlingit Culture Language and Literacy Program, language specialist Jessica Chester uses the holiday to broaden their Tlingit vocabulary.
For instance, students learn the phrase, "Sh tóog̲aa x̲at ditee," which translates to "I am grateful" in English.
And then there's "lug̲eitl'," the word for "turkey." But that one's a little tricky.
"That's the word we used a lot in the past," Chester said, "and some elders aren't very fond of it because literally it's talking about the thing that hangs down, and lug̲eitl' is your snot."
In addition to teaching Thanksgiving-related words, Chester said teachers in the Tlingit program have students talk about what they're grateful for.
In recent years, they've also brought to light the struggles of the Wampanoag, the Native Americans who convened with the pilgrims at the first Thanksgiving in 1621. Chester noted that the Wampanoag have struggled to keep their language alive, given the scarcity of fluent speakers.
"The connection to the kids was, 'Well, we still have fluent speakers of our language, and we need to keep seeking those fluent speakers out and learn as much as we can while they're still here.'"
Harborview Elementary students will have a long Thanksgiving weekend to eat, hang out with family, and practice their Tlingit language skills. And for that, they are grateful.