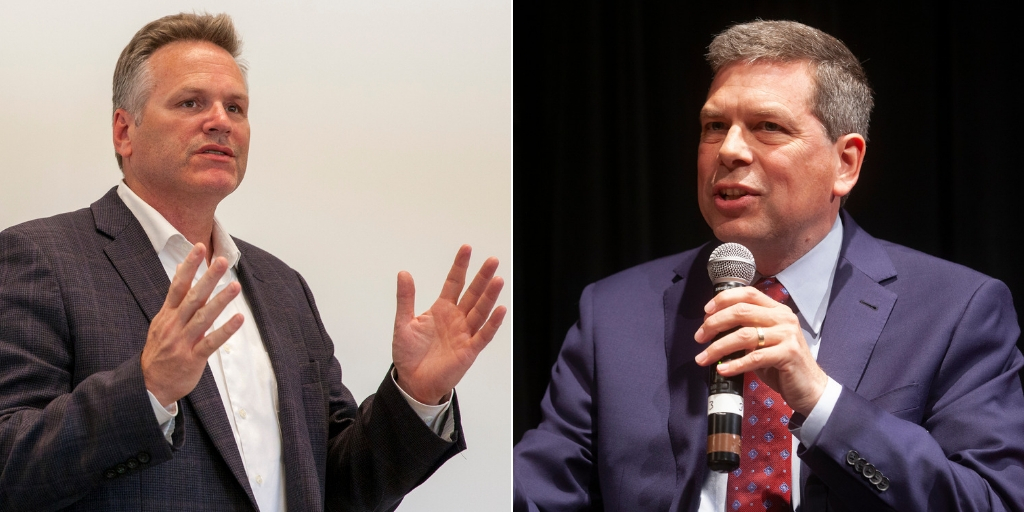 One of the major issues separating the leading candidates to become governor is education. How they approach the issue may also reflect their leadership styles.
Democrat Mark Begich and Republican Mike Dunleavy come from different backgrounds. Begich has been outside the education system, relying on experts to shape his approach to the issue.
Begich's central educational proposal is a plan to put half of the state draw from Permanent Fund earnings into schools – the other half would pay out Permanent Fund Dividends. He said at a recent debate this would prevent school funding from being on the chopping block every year.
"We need to protect it," Begich said. "It's the greatest equalizer for everyone in this state, if we make sure it's funded properly and protected for generations to come."
Dunleavy's perspective comes from working within the system, as a teacher, school administrator and school board member. Along the way, he's built up strong views on how education should be delivered.
Dunleavy also laid out his plans during recent debates. He wants to require that all third-graders read at grade level, all ninth-graders learn algebra, and all career and technical students reach higher standards.
"We have to reallocate resources to make sure we're focused on those three core areas," Dunleavy said. "If we do that, you're going to see our scores go up, and you're going to see kids have more of an opportunity."
Dunleavy supports allowing more rural students to attend regional high schools. He said he wants to expand students' options, and doesn't want to close schools in villages.
"It's to enhance, not to take away," Dunleavy said.
It's not clear how he would pay for his proposals while also cutting the state budget overall. When he chaired the Senate subcommittee that proposes education funding, Dunleavy proposed eliminating all state funding for pre-K. He also backed cuts to other state funding for programs that prepare young children for school, such as Head Start.
In an emailed response to questions about these proposals, Dunleavy said of his approach to cuts: "Government needs to be managed better. As governor, I will find efficiencies and eliminate duplication and waste, focusing on results, not inputs."
In contrast, Begich wants to provide universal pre-K.
"There's no question early education is the best investment we can make," he said.
Dunleavy has supported a constitutional amendment to allow public money to go to private or religious education, though he said in August he wasn't planning to push the amendment now.
When he was on the Matanuska-Susitna School Board, Dunleavy supported expanding support for home schooling. He hasn't focused on that in his campaign for governor.
Begich opposes vouchers, saying that public education is a foundation for communities and the economy.
Kenny Gallahorn has known Dunleavy for more than 20 years, since Dunleavy started teaching in Kotzebue schools. Gallahorn's a former member of both the Kotzebue and state school boards. He is a big supporter of regional schools.
Gallahorn said he trusts Dunleavy more than Begich on handling rural education issues.
"As a state, we pump a lot of money into education and we're not getting very much bang for our buck, honestly," he said. "The results shown by our test results and many other indicators, actually, are not well."
Others who've worked with Dunleavy have a different impression.
Susan Crane was the local teachers union president when Dunleavy was superintendent for the Northwest Arctic School District. She said he had a top-down leadership style and predicts that will cause problems when dealing with the Legislature.
"If he's anything like he was as a principal, or  even when he was working over in the district office and working with teachers, he's not going to listen to the people, he's going to have his own way of doing things and he's going to try to control us, control decisions based on what he wants, rather than what the people want," she said.
Bethany Marcum disagreed with Crane's assessment of Dunleavy. She worked for him on education issues as a legislative aide, and she said he treated his staff with respect.
"We had a team structure, whereby we all had open access to him," she said. "We were able to engage with him at any given time of day."
Begich's career hasn't had the same focus on education as Dunleavy's. But he's still impressed some who've worked with him.
Carol Comeau worked with Begich as superintendent of Anchorage schools when Begich was the city's mayor. She said Begich was a leader on education issues even when it wasn't a central responsibility for him as mayor.
"When he'd go to Juneau to lobby for the city of Anchorage, he also was very much willing to support our requests and our needs," Comeau said.
There's a third candidate running for governor: Libertarian Billy Toien. He said the government shouldn't play a role in education. And he doesn't think students should be required to go to school.