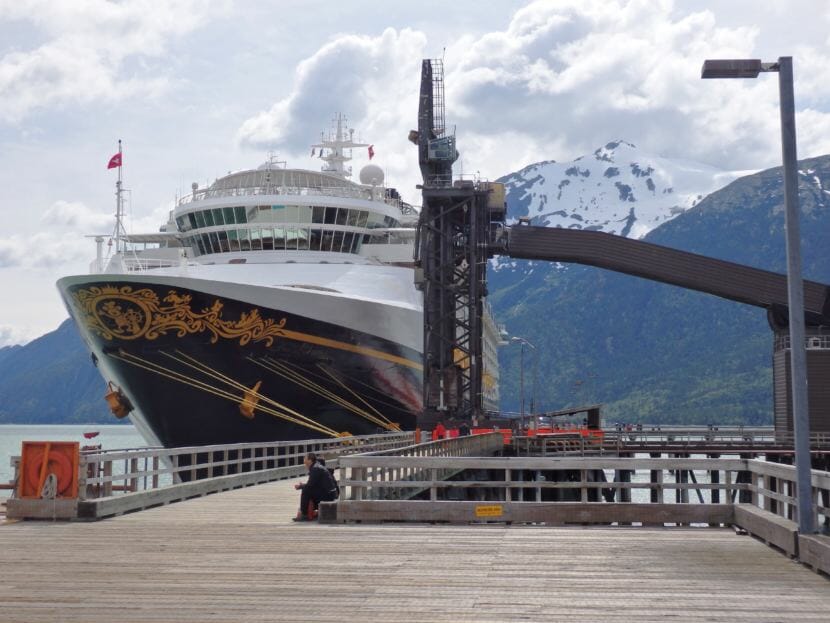 This summer there was an uptick in complaints of cruise ships polluting the air in Southeast Alaska. During visits to the Upper Lynn Canal this summer, Alaska Department of Environmental Conservation (ADEC) issued two violations for cruise ships docked in Haines and Skagway.
As cruise tourism increases in Skagway, improving air quality monitoring has become a higher priority for both state agencies and local stakeholders.
ADEC's Division of Water runs an air quality program to monitor emissions of cruise ships throughout Southeast Alaska. The state's air quality standards for cruise ships are based on the opacity of plumes from the smokestacks of the ships. In other words, how thick and cloudy the smoke is coming from the ship.
Violations of these standards can carry a fine of around $46,000, though companies often settle with the state for less.
Recently, the opacity of the plumes has become harder to measure though. Many cruise lines have installed exhaust cleaning systems in their ships so they can use high-sulfur fuel. This creates a lot of water vapor exiting the stack in addition to exhaust.
Denise Wiltse is an Environmental Program Specialist with the Division of Water's cruise ship air quality program. She said that while the scrubbers help with emissions, the vapor makes it difficult to monitor the exhaust and doesn't reduce the number of small inhalable particles released by cruise ships.
"What we have noticed is yes it is helping with the emissions, but maybe not so much on the Particulate Matter side of things because we're still seeing a plume beyond the steam plume, but that can be kind of tricky to determine where that steam ends," Wiltse said.
Particulate matter or PM is a concern because it can cause respiratory problems for the public. Wiltse says this summer she has seen an increase in calls from Skagway reporting air quality issues related to cruise ships. As a result, monitoring in Haines and Skagway has become more of a priority for the Division of Water.
"We try to get to Haines and Skagway a couple of times throughout the season. As more cruise ships come up and go to these ports and as complaints have increased, especially in the Skagway port, we do anticipate seeing more visits in the future."
However, ADEC isn't the only organization looking to step up air quality monitoring efforts in Skagway.
The National Parks Service is currently carrying out a study to see if levels of contaminants found in the air such as sulfur and nitrogen compounds have changed over the past ten years.
And at a meeting last week, Skagway Traditional Council Environmental Coordinator Nicole Kovacs presented plans for a 2019 study of fine particulate matter in Skagway's air.
"We're looking to monitor for PM2.5, April through September 2019 near the waterfront, midtown and end of town to kind of get a big picture of the whole area, sampling every other day," Kovacs said. "Once we have all the results we will make it available to the public and municipality."
Back in 2004, STC carried out a similar study with the municipality to get baseline data on the fine particulate matter in Skagway's air. Now they want to see if the levels have changed and reevaluate particulate matter data based on new air quality standards adopted by the EPA in 2007.
Kovacs said that air quality has become a priority for the tribal government, especially since the number of visits from cruise ships has started to increase. This year Skagway saw a record number of visitors, and next summer the city will host another 4,000 passenger ship, the Norwegian Joy.