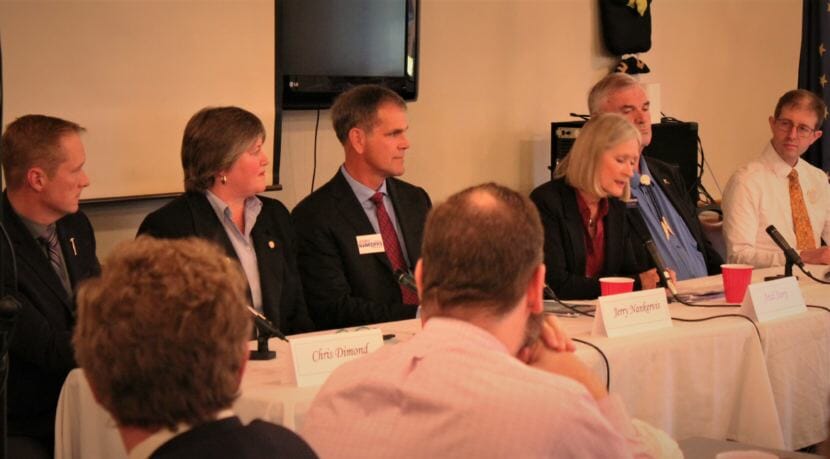 The Juneau Chamber of Commerce hosted a legislative forum Thursday to hear from local candidates for state office.
All of Juneau's legislative seats are in play in the Nov. 6 election: Sen. Dennis Egan is retiring and Reps. Justin Parrish and Sam Kito III are not running for re-election.
Thursday's forum coincided with the day permanent fund dividends were set to appear in Alaskans' mailboxes and bank accounts.
That made it a good time to ask candidates where they stand on using Permanent Fund earnings to pay for state services.
"If elected, do you believe the earnings of the PFD should be used to fund government? And if so, should some sort of dividend still be paid to Alaskans?" asked moderator Mike Satre, president-elect of the Juneau Chamber of Commerce.
All of the candidates said they agree with the Legislature's permanent fund draw and felt it aligned with the original intent of the fund. Each also stated their support for continuing to pay dividends to Alaskans.
Democrat Jesse Kiehl, who's running for Senate District Q, said the state will need to continue to draw on the earnings reserve to pay for services going forward, but it must be sustainable.
"We need, however, a constitutional limit on that so that the Legislature can't avoid the effects of inflation, the way it did the last two years," Kiehl said.
Kiehl's opponent, independent candidate Don Etheridge, pointed out that the state no longer has a savings account to rely on when oil prices drop.
"We need to diversify our income and use part of that permanent fund while we're doing so in order to pay for government that we want," Etheridge said.
Satre also asked candidates to share their ideas for a sustainable fiscal plan.
Chris Dimond, who is running as an independent in House District 33, said Alaskans need to share the burden with an income tax. But, he said, there need to be limits.
"There should be language attached to that income tax that says when our revenues are up and we're doing OK, that we can roll that tax back so it's not a permanent fixture for us," Dimond said.
Democrat Sara Hannan, also running in District 33, echoed support for an income tax.
"When we have 30 to 40 percent of our seasonal workforce being non-residents, it is a way for us to make sure that we are all paying and contributing for services that we want," Hannan said.
Andi Story, a Democrat running in District 34, said the Legislature need to look at all options, including following the recommendations of efficiency audits and potential taxes.
"If we do more cuts, we know Juneau will take the hit of it because we're a big public government town … and it creates so much uncertainty," Story said.
Story's opponent, Jerry Nankervis, is the only Republican running in Juneau.
He said he does not support an income tax, because Alaska is already an expensive place to live.
In his closing statement, Nankervis made the case that Juneau needs a legislator inside the Republican caucus.
"It's wise politics to have somebody in each caucus," Nankervis said. "A vote for me is like an insurance policy paid for by the voters who choose to elect me."
Satre also posed three yes-or-no questions to candidates.
All of them supported a second crossing to Douglas Island.
All but Kiehl and Hannan raised their hands in support of a Juneau access road.
Only Hannan raised her hand in support of Ballot Measure 1.
The deadline to register to vote in the general election is Sunday.