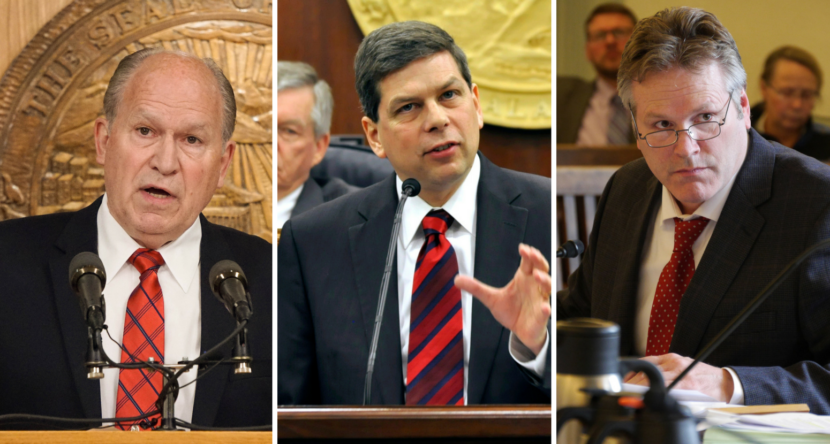 The candidates for governor have been invited to seven debates or speaking events since the primary. Independent Gov. Bill Walker and Democratic former U.S. Sen. Mark Begich have been at all seven. Republican former state Sen. Mike Dunleavy has been at three.
On Thursday night, the Anchorage Downtown Partnership and other community organizations hosted a candidate forum. Walker, Begich and Libertarian Billy Toien sat at a table. There also was an empty seat — in case Dunleavy changed his mind.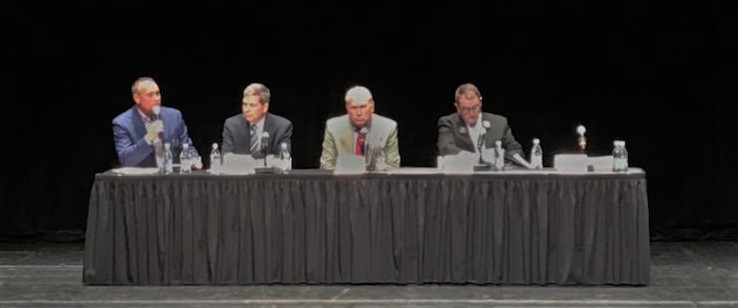 Partnership marketing director Penny Smythe said Dunleavy's campaign said they had penciled in the event well ahead of time, before saying he wouldn't come.
"We certainly were looking forward to hearing from all candidates," she said.
Dunleavy also hasn't shown up at the Alaska Municipal League's conference in Healy, the Alaska AFL-CIO's conference in Fairbanks, and the Accelerate: Alaska event in Anchorage, which was focused on growing Alaska businesses. He has attended chamber of commerce events in Juneau and Anchorage and the Southeast Conference in Ketchikan.
The organizers for Accelerate: Alaska, the AFL-CIO and the municipal league all said they received tentative confirmations from the Dunleavy campaign before he either canceled or – in the case of the AFL-CIO – didn't show up.
Dunleavy's campaign said the downtown partnership knew well in advance that he had a scheduling conflict on Thursday and that he had never committed to attending.
The campaign gave this written statement from Dunleavy: "Throughout this campaign I've participated in nearly two dozen town halls, debates and forums – even more public events – two dozen meetings with the press, 100 radio call-ins and dozens more fairs, festivals and sporting events where I heard directly from Alaskans."
Dunleavy also said Walker skipped the primary and Begich skipped the last four years of discussion.
For their part, the other candidates criticized Dunleavy.
Begich speculated on Dunleavy's reasons for not attending.
"He doesn't want to answer the detailed questions that are required, to explain his extreme views on how he's going to solve the budget, which I think is a challenge him, (and) I think his ability to talk about his positions on social issues, because he has very extreme positions there," he said.
Begich said he's been raising Dunleavy's positions in the events where he's absent.
"He's realizing that debating on these issues means you actually have to answer the questions and have specifics, and he doesn't want to do that," he said.
Walker said Dunleavy's absences were consistent with his record.
"I'm not surprised," Walker said. "You know, he's not showed up at a lot of things. He didn't show up at the legislative session last year. The toughest of the four years was last year, the fourth quarter of the game, and he wasn't there for that either. So, I don't know, he seems to not show up."
Walker said the Alaska governor should speak to all groups.
"I think he points out how he would govern when he doesn't show up," he said. "He'll govern to his friends, and not the whole state, (which) is the problem."
The next scheduled candidate forum is hosted by the Anchorage NAACP on Thursday.
Correction: An earlier version of this story misstated where the AFL-CIO met. It met in Fairbanks, not Anchorage.