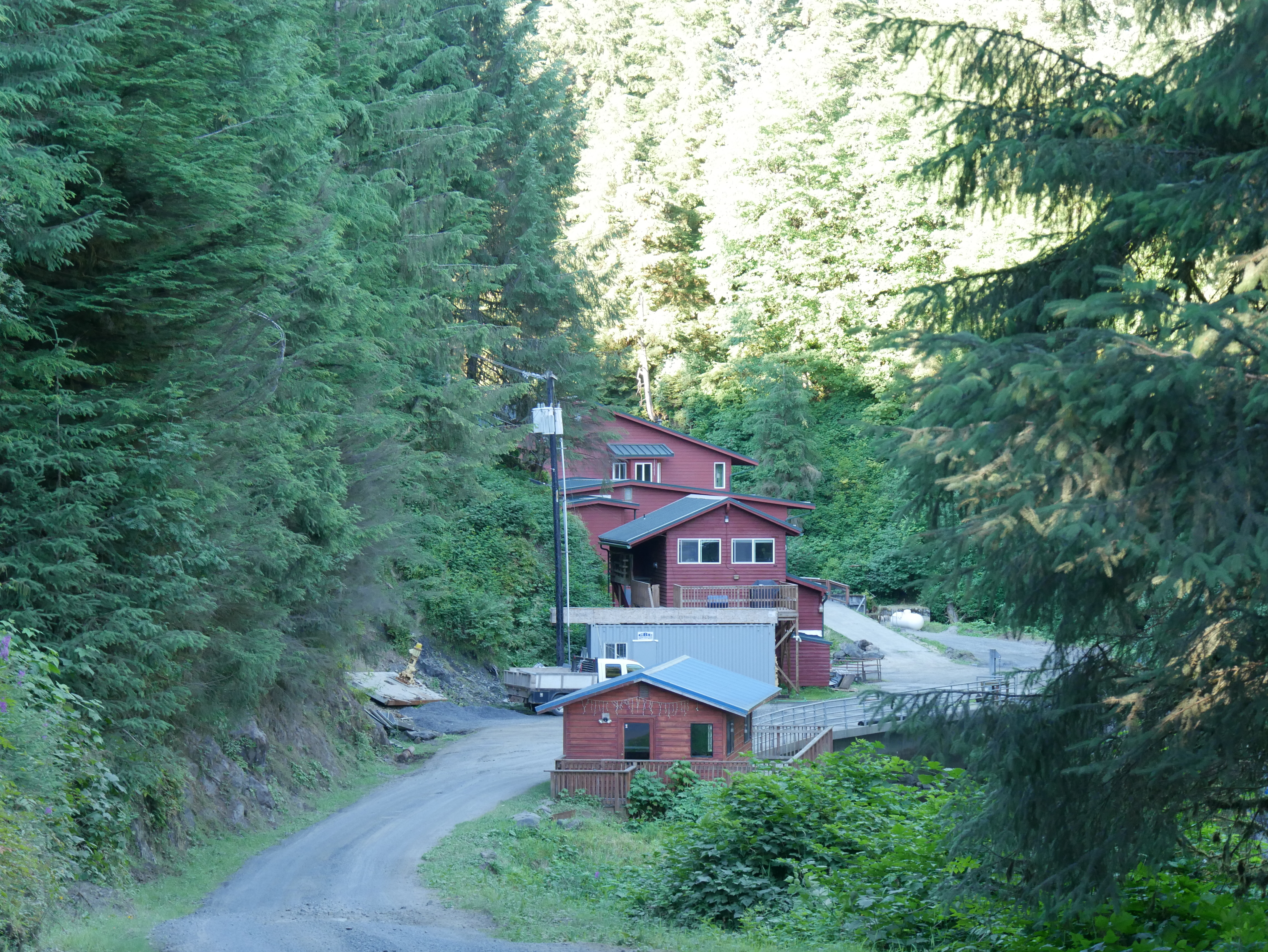 A nonprofit bought Kake's fish hatchery last year and plans to have salmon in the building this fall.
The new program will supply chum and king salmon to two different areas near the small town of 600 people as well as a few jobs.
Steven Demmert and his older brother, Victor, were tossing hooks in front of about a dozen dog salmon swimming around Gunnuk Creek in Kake.
They were almost on the doorstep of the fish hatchery, a cluster of red buildings which Steven Demmert said used to make for easy fishing.
"We used to get lots and lots just in one little area," Demmert said. "And now it's completely different. I didn't like the change."
More changes are coming.
Kake Non-Profit Fisheries Corporation closed down the hatchery in 2014 owing more than $20 million in debt, and the facility sat empty until a non-profit, Northern Southeast Regional Aquaculture Association, bought it last year.
Mike Pountney lives in Sitka, who is maintenance manager for nonprofit,  along with two local employees and a construction crew from Sitka has done a lot of work on this place.
"When we purchased the hatchery, it was in pretty poor shape," Pountney said. "It had been foreclosed on. They had boarded up the windows. The water lines were not drained properly."
They replaced water lines, cleared out mold and debris, and replumbed and rewired the entire building.
The electrical room had a bathtub ring from when the building flooded.
"It came from a pipeline underground, and would fill the raceways, flood the raceways, and then because we're in a low point it would flow into this room," he said. "We're also going to replace this door with a water-tight door."
The hatchery started as a school project, but eventually provided several full-time and seasonal jobs in the community.
Keeping it running has lots of challenges. The creek was a big one.
Association General Manager Steve Riefenstuhl said the creek often gets too cold in the winter, too warm in the summer, and flows too low to support fish year round.
When it rains a lot, and the creek is full.
"Gunnuk Creek is a prime example of a stream with high organic loads so any time you have high flows, you get all these organics that foul up your system," Riefenstuhl said.
Pountney said having a lot of leaves, pine needles, tannins from the muskeg in the water is not good for salmon.
He said the raceways had been packed with mud.
"We're going to convert this first raceway into a settling tank," he said. "When the freshwater comes in from the creek it actually has time to settle."
He said that will take care of the heavy solids.
Next, a filter will separate fine material and a machine to remove excess carbon dioxide and nitrogen. Then another filter that will flow into a tank.
"It's going to be an insulated tank," Pountney said, "That tank is going to be used to change the temperature of the water. We're either going to heat the water or chill the water so we can make it right for the fish."
NSRAA's system will depend partly on Hidden Falls, one of the non-profit's other hatcheries, so Gunnuk Creek won't have to support the entire fish population year-round.
Pountney's goal is to be ready for fish by October 15th.
This year is a trial year, and an assistant manager will oversee a small batch of fry.
Eventually there will also be a handful of seasonal jobs taking eggs, incubating them, and feeding fish.
The plan is to work up to 60 million chum eggs in a couple of years.
Riefenstuhl said NSRAA will also introduce king salmon raised at Hidden Falls into pens at the mouth of Gunnuk Creek.
"They return to their first saltwater experience," Riefenstuhl said. "They will be imprinted to that saltwater, and when they return as adults they'll come right back to Gunnuk Creek and the local community will be able to harvest those right out of Gunnuk Creek or in saltwater, whichever they choose."
The program also will support commercial fishing.
The nonprofit will release chums and, for the next few years, king salmon at a spot near Kake called Southeast Cove.
This year, just two local boats were fishing Southeast Cove with recovery contracts to help NSRAA pay its costs.
Riefenstuhl said that may change soon.
"I think that Southeast Cove will be opened up as a common property fishery for trollers and seiners, and we'll get our cost recovery at other locations," he said.
Some people in Kake are more or less indifferent about the hatchery, or at least about the prospect of fishing from it. They say the fish is mushy and it doesn't taste as good as fish reared without humans' help.
But the Demmert brothers are looking forward to it.
Back outside the hatchery, Victor Demmert caught a female dog salmon. He plans to take the eggs and freeze them for winter.