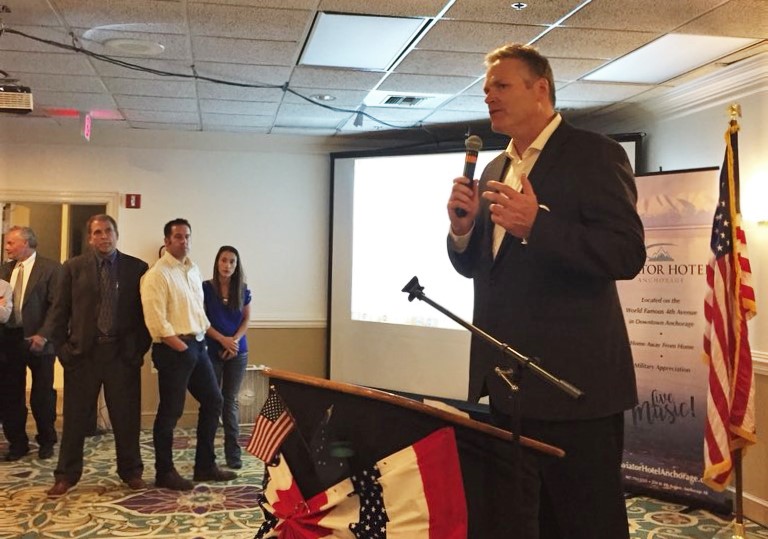 Former state Sen. Mike Dunleavy of Wasilla won the primary Tuesday to be the Republican nominee for Alaska's governor. He defeated six other candidates, including former Lt. Gov. Mead Treadwell.
After his victory was clear, Dunleavy spoke to a jubilant crowd.
"I want to thank everybody. This is a Republican state. And we need to take back this governorship. And by working together, we can make it happen," he said.
With 95 percent of precincts reporting, Dunleavy has 62 percent of the vote, while Treadwell has 32 percent.
Mark Begich is unopposed to be the Democratic nominee. And Billy Toien also faced no opposition to be the Libertarian candidate.
Independent Gov. Bill Walker decided against competing in a primary. He directly filed to appear on the general election ballot. Dunleavy built his reputation as a staunch conservative. But he said he has something to offer independents and Democrats.
"And I think if folks look at my record, and the positions I've taken, on the PFD, on crime, on trying to develop our resources to get more people back to work, we're getting folks calling us that are Democrats and folks on the left side of the political spectrum," he said. "They want somebody down in Juneau that's going to represent them and not special interests."
Treadwell said the state's campaign contribution limits put him at a disadvantage with Dunleavy, who was backed by a group funded by his brother Francis Dunleavy of Texas and Alaska businessman Bob Penney. Treadwell described what he'd do differently:
"Well, I think the next time, you know, if I could walk in with $500,000 of my brother's money and my friend's money, you know, do that," Treadwell said.
Treadwell has said he would support the Republican primary winner. On Tuesday night, he said he wanted to sit down with Dunleavy to talk about the terms of that support.
Anchorage state Sen. Kevin Meyer built a substantial lead to be the Republican candidate for lieutenant governor. With 95 percent of precincts reporting, Meyer had a 5,000-vote lead over the next candidate, retired Air Force Colonel Edie Grunwald.
As fellow Republicans celebrated, Meyer said the primary campaign was very cordial.
"It was a lot of hard work, but it was rewarding, in the sense that, you know, we all got along and I met a lot of good people statewide that I wouldn't have if I stayed in the Senate, right?" Meyer said.
Alaska Republican Party Chairman Tuckerman Babcock said the margin of Dunleavy's primary victory was unprecedented among contested Republican primaries in recent decades.
"Which, just shows the Republicans in Alaska, those in the Republican primary, are really united behind Dunleavy," Babcock said.
The deadline for candidates to drop off the general election ballot is Sept. 4.
Elizabeth Harball, Nat Herz, Zachariah Hughes and Liz Ruskin contributed to this report.