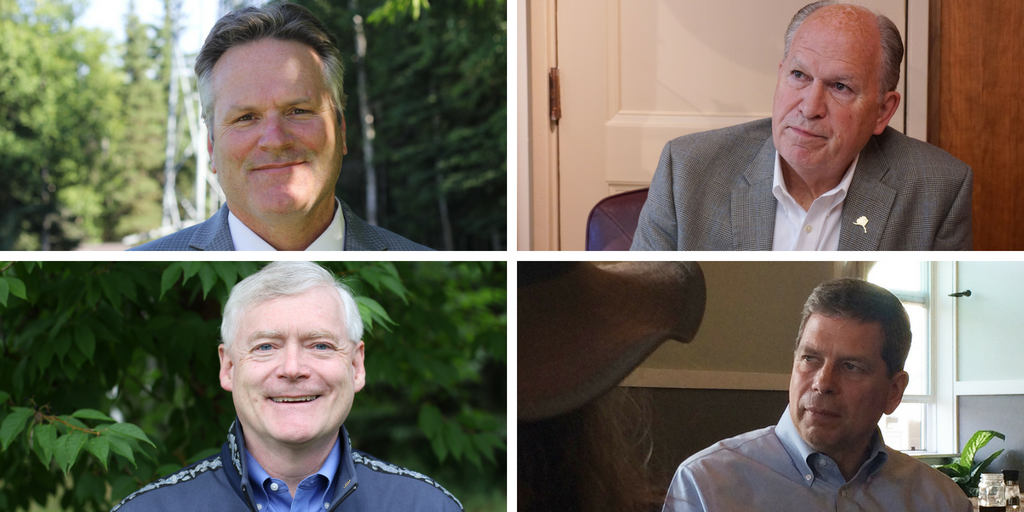 The primary Tuesday will be the first time that Alaska voters weigh in on lawmakers who voted for lower permanent fund dividends. Many of the candidates running for office – including three prominent candidates for governor – have pledged to increase dividends. But it's not clear how they're going to pay for them.
This fall, permanent fund dividends are going to be a lot smaller than they would have been until two years ago. Dividends would be just over $2,900 under the formula that was used until then. That's compared with the $1,600 set by the Legislature. It would cost a lot more to pay the full amount under the formula –  $840 million.
Republican candidate Mike Dunleavy said he supports the full PFD.
"I think we have the money where we can afford a full, statutory PFD," he said.
His Republican rival Mead Treadwell also backs using the formula, which is based on half of the fund's average earnings over the previous five years.
Democratic candidate Mark Begich also supports a higher PFD, just not as high as the Republicans.
He would change the formula, setting dividends at half of the draw under a new law passed this year to pay for the state budget. So dividends would be tied to how much is being drawn from the fund, not on earnings as under the existing formula.
"And then you would put it in the constitution, so then the formula is there, so it's very clear," Begich said.
This year, Begich's formula would have steered another $300 million toward dividends. So individual PFDs would have been a few hundred dollars more this year.
The one candidate who hasn't promised higher dividends is the incumbent, independent Gov. Bill Walker. He was the first to lower the PFD, when he vetoed half of the money in June 2016. He did that because the state has been in an ongoing budget crisis. He noted projections that the permanent fund's earnings reserve would get lower over time without deep cuts to state services. Ultimately, PFDs could entirely disappear.
"I cannot subscribe to a concept that we'll always be able to reach into a savings account, because those are almost gone," Walker said.
None of Walker's challengers have spelled out exactly how they would pay for higher PFDs. And the size of the problem is significant. Separate from the $840 million cost of a full PFD, there's already a $600 million gap in the state budget. The existing gap is set to be covered by the rapidly shrinking piggy bank that's covered state budget shortfalls in the past, the Constitutional Budget Reserve.
The combined shortfall would be $1.4 billion, more than a third of the $3.9 billion the Legislature budgets for all state agencies.
Dunleavy said that he would look to the permanent fund's earnings reserve. And if the numbers don't add up, he said he'd turn to Alaskans.
"The thing is, if we want to change the statutes, in my opinion, we should engage the people of Alaska, at least in an advisory vote," Dunleavy said.
But the state has the new law, which already draws $2.7 billion from the earnings to pay for state government. Any additional draw is likely to lower the overall value of the permanent fund in the future.
Mead Treadwell said some of the funds to cover the shortfall that would be created by higher dividends would come from developing the state's economy.
"And if we do that, we're going to have a corporate income tax that's going to help pay our bills," he said.
Economists say a problem with relying on economic development is that anything that creates new jobs would also draw families to the state that rely on public services. And without a broad-based tax like an income tax or statewide sales tax, new residents could actually cost more money than they pay to the government.
While both Dunleavy and Treadwell have said they support the statutory formula, when pressed for how they would pay for it, both mentioned scenarios in which PFDs would be based on half of the total permanent fund draw. That's more similar to the lower PFD that Begich has proposed than the current formula.
But both Dunleavy and Treadwell cited total draws of roughly $3.5 billion, a draw that would be much higher than what the state is making this year. They based these hypothetical draw amounts on the permanent fund's total value being somewhat higher than it currently is. And the new law actually bases the draw on the fund's average value over the past five years, which is a much lower number. That formula is used to smooth out the effects of the fund's value going up and down over time.
Begich said he would look to make more cuts to state government, but that any cuts would be small.
"The key word here is 'sustainable' dividend, because if you don't create a sustainable dividend, then you're selling a false good," he said.
Both Begich and Walker said they would make up for any long-lasting budget gap with new revenue. While the House passed an income tax bill last year, it died in the Senate.
But Walker said it's important that his challengers be more specific than they have been about how they would pay for shortfalls they'd create by increasing dividends. He said deep spending cuts would be difficult, especially when more spending on public safety is needed.
"I think we have to be careful about the suggestion that we can cut our way out of this," he said.
One organization that will be watching what the state government does next closely is the Alaska Permanent Fund Corporation's board of trustees. It passed a resolution this year saying that sticking to a rules-based draw on the fund is critical to the fund's future.