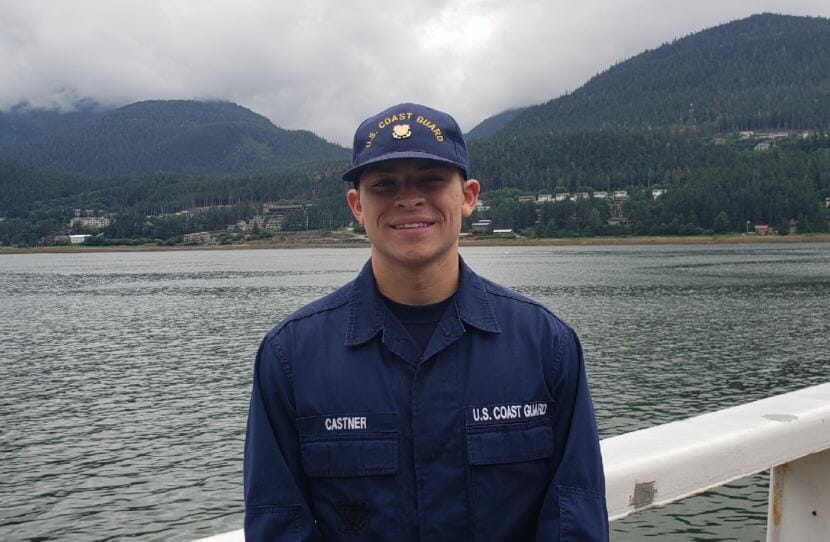 A young member of the Coast Guard participated in his first rescue mission on July 15 after the cutter Douglas Munro picked up an emergency beacon while on patrol in Glacier Bay.
Four kayakers were paddling in Reid Inlet when strong gusts coming down from a nearby glacier sent one of the paddlers tumbling into the frigid water. Another got separated in the waves. The group ended up trapped and freezing on the rocky shore. The kayakers activated their emergency beacon. The Douglas Munro, which was in a nearby inlet, moved to respond.
"We received the notification and we spotted an overturned kayak in the water," said Coast Guard Public Affairs Officer Jacob Marx.
Three Coast Guard rescuers boarded a small boat and set out from the Douglas Munro to find the paddlers.
"I was mainly looking for one person," said Seaman Colby Castner. "When I saw three people waving their arms frantically as we approached, I knew it was a lot bigger than I anticipated."
This was 22-year-old Castner's first rescue mission, but he was prepared.
Castner said when they arrived, the kayakers were in rough shape.
"They had flotation, which was really good," he said. "But with that water temperature and then the air and that wind chill — easily they could've succumbed to hypothermia very quickly.
The small boat approached the shore but barnacle-coated rocks prevented the rescuers from reaching the kayakers. Castner had to jump into the 50-degree water and swim out to them. The paddlers got back into the water and Castner had to "buddy tow" them individually back to the boat.
"You put your arms around them to try to just hold on to them as hard as you can, and you swim them back. So you're not only swimming yourself back but you're swimming them back as well," he said.
He had to do that multiple times, one for each person and again for their kayak and gear. The fourth kayaker was also safe 300 yards down the shore.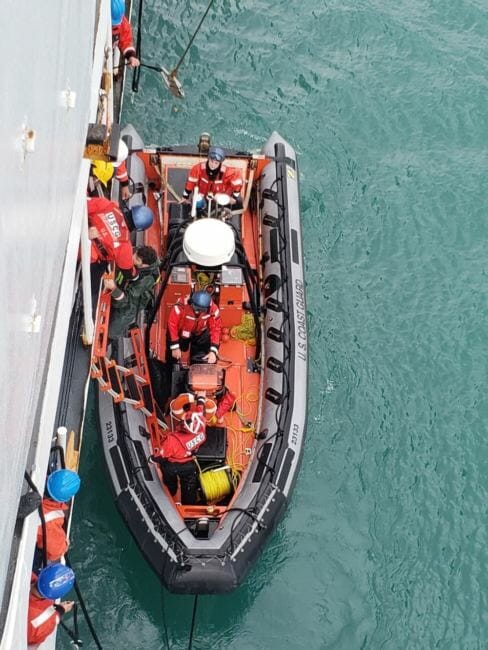 Aboard the Munro, the group was shaken but unharmed. Castner said without their emergency beacon, they may not have been found at all.
"The number one thing was that they had the EPIRB: Emergency Position Indicating Radio Beacon," he said. "It's almost scary to say that might have been the only reason that they were found."
The group was taken to Juneau the next day. Castner said the rescue was both humbling and rewarding.
Castner is from Clearwater, Florida. He joined the Coast Guard last year to specialize in search and rescue. He's been training with the guard's rescue swimmers since, following an intense regimen of long days in the gym and a lot of swimming. He plans to go to aviation survival technician school, to become a member of the guard's elite rescue swimmer unit. The training is relentless and only around half of trainees make it through. But, Castner is undeterred.
"Everything I've trained for was exactly for this moment," he said. "This is why I joined the Coast Guard, to be able to do this kind of stuff. I would never wish that it has to happen, but if it has to happen, then I definitely want to be the person to go out there and get them."