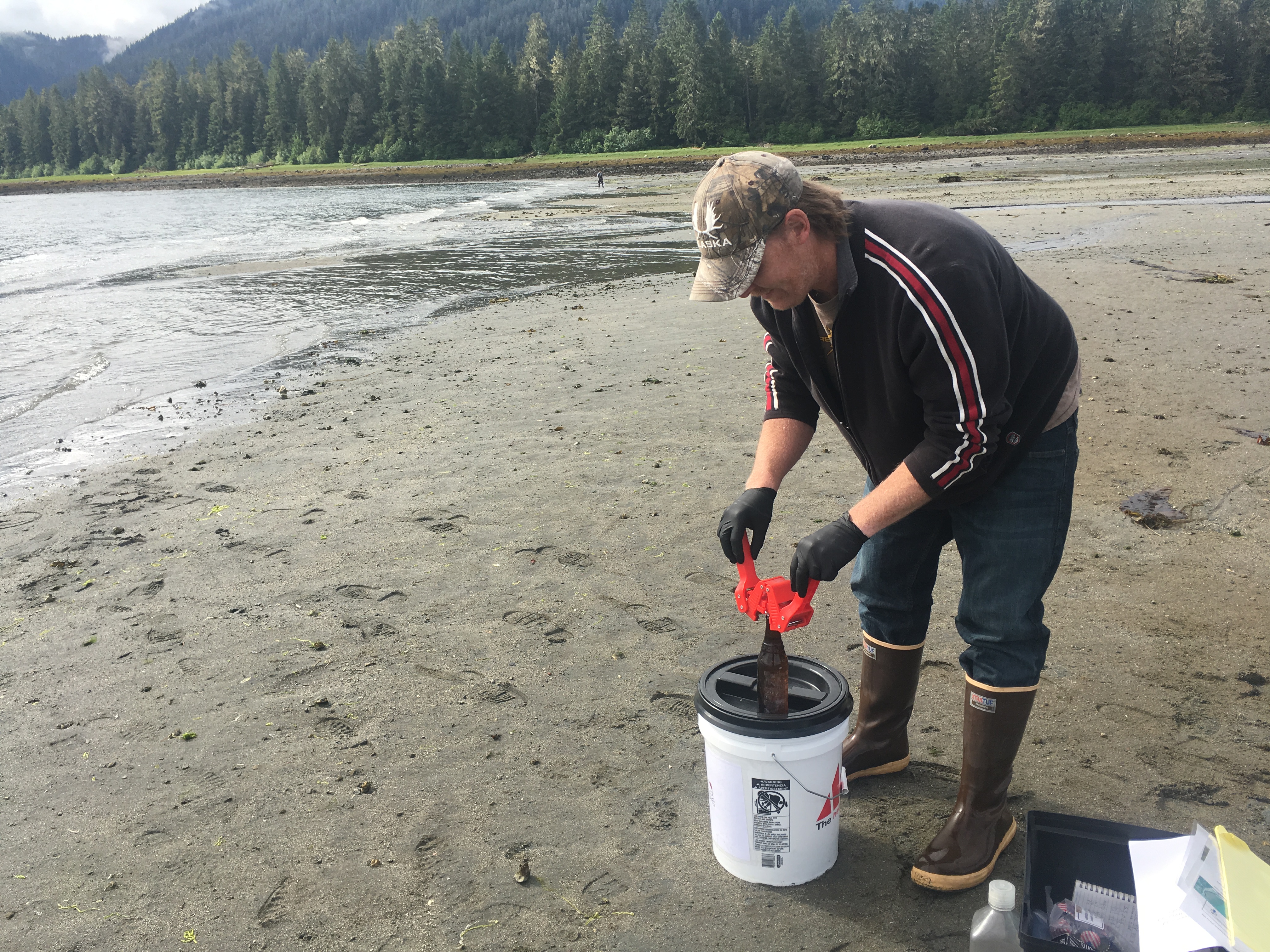 Southeast tribes are joining in research efforts to monitor ocean acidification in the waters closest to shore.
This coincides with data coming in from a ferry that for the past six months has been taking measurements along its regular route from Bellingham, Washington, to Juneau.
This information may one day give communities a better idea of what to expect from change in the ocean.
Petersburg Indian Association tribal resource director Brandon Thynes waded into the ocean on a Thursday morning at Petersburg's Sandy Beach.
The tide was especially low, and a few people and dogs were checking out the creatures and debris it had washed ashore.
Thynes carried a beer bottle filled with seawater back to his box of equipment and took out another item he recycled for science: a parmesan cheese container with a tube of mercury inside.
He added three drops of mercury to the beer bottle and sealed it. The sample was ready to send to Sitka, where specialists will add it to a growing body of information about ocean acidification.
Esther Kennedy, who is with Southeast Alaska Tribal Ocean Research in Sitka, said this is a relatively new addition to a program that already monitors shellfish toxins and harmful algal blooms.
"Our partner tribes like Petersburg Indian Association now just collect a water sample once a week at one of their routinely monitored sites, preserve that sample and then ship it to me and then I will run it when I can and send back the results as soon as possible," Kennedy said.
She has not been able to run any of these samples yet, because she is fine-tuning the Sitka Tribe's Burke-o-lator, a machine many scientists are using to monitor ocean acidification.
"Once you open a discrete sample, you either need to analyze it or it is trash, so I don't want to analyze anyone's samples until I've worked out the kinks in our system," Kennedy said.
Eventually, she hopes to send out data within one or two weeks of getting the samples from tribes.
The goal is to understand how ocean acidification, which is caused by higher levels of CO2 in water, is happening along the shoreline, where people live and harvest food.
Many Alaskans are concerned about these changes because they will prevent some marine animals from forming shells and threaten food sources for other species like salmon.
"What's difficult to know, though, is how that's actually going to map onto each individual community," Kennedy said. "People are very worried, but we don't have enough information to know which communities are most vulnerable, which communities are least vulnerable, and what the real timescale is where we might start seeing significant effects on subsistence shellfish and maybe a few other very important subsistence species."
She added, up until a couple of years ago, most ocean acidification data for Alaska came from the middle of the ocean or the gulf.
There's a lot more variability close to the shore, so it could take five to 10 years before it's possible to read the data.
"That's kind of a long time, so in the short term, we're hoping to gain a lot of other insights from this data," Kennedy said. "We are pairing it with our phytoplankton data, to see if in the short term we can even say anything about harmful algal blooms and the current water chemistry."
A handful of organizations are using Burke-o-lators elsewhere in the state, including a hatchery in Seward that also tests samples from tribes.
Another player in this research is the state ferry Columbia, which has been collecting data along its route since October.
The ferry passes by many of the sites where tribes are taking samples, so Kennedy said she will be able to compare the two data sets.
Wiley Evans is a research scientist at the Hakai Institute on Vancouver Island and oversees the ferry monitoring system. Although it is too early to see long-term trends, he explains the data has shown seasonal patterns.
"So far, we've seen mostly just the transition from winter into summertime, which involves the spring bloom," Evans said.
Kind of like on land, parts of the ocean become more hospitable as they get sunnier and warmer.
Phytoplankton and all the marine species that come with them change the chemistry of the water. The ferry allows Evans and his colleagues to map those seasonal changes across the region.
"Within that seasonal transition, (we are) seeing the bloom progress and its effect on the CO2 chemistry basically from the south to the north, which is what you'd expect, but in patches, where it's kicking off in certain areas first and that sort of thing," Evans said.
The system on the ferry has also had some technical problems.
The computer used to blink out during routine power surges, and for a few weeks this winter the ferry was held up for repairs.
But for a scientist like Evans, having this much information is a dream come true.
"It's hard to just pick the highlights because it is such an amazing data set. I have never seen anything like this," Evans said.
Evans got his PhD in Oregon, where shellfish farmers have been really interested in this kind of research for a while.
Farms in the Pacific Northwest were hit hard about a decade ago when the hatcheries they depended on for oyster seed couldn't produce a thing.
The young oysters weren't forming shells. Evans said there's a motto for this research that comes from that time:
"It's kind of like putting headlights on a car," Evans said. "All of a sudden they can see how things are changing in their intake water and account for it."
Alaska's shellfish industry is relatively modest, and ocean acidification is a big issue for those who want to see it grow. There is hope that hatcheries can adapt. Some already treat their water.
Adaptation gets more complicated in a place like Sandy Beach, where there's a stew of mysterious interactions happening offshore, and where people relate to the water in multiple ways.