The sights and sounds of children being taken from their families by federal immigration agents is reopening decades-old wounds for some Alaska Natives.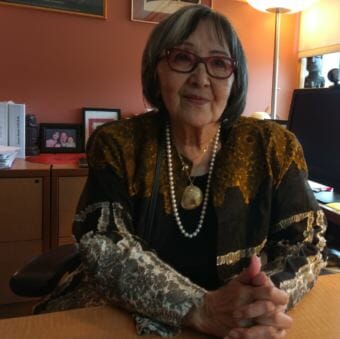 "When I first saw them I was just absolutely appalled," said Rosita Worl who was forcibly taken from her parents at the age of 6.
It was the 1940s and like many Tlingit children, she was sent to live in a federal boarding school run by the Bureau of Indian Affairs.
Seventy-five years later, media images of children detained and separated from their loved ones along the southwestern border recall those dark times from her childhood in Petersburg.
"When I heard the cries of those children it just brought me back to the days when I was kidnapped and put in a home and crying at nighttime and wondering where my family was," she said in an interview Thursday.
The context between then and now is markedly different.
The federal BIA school in Haines where she was sent was part of a broader federal policy of assimilation.
"Our Native cultures were viewed as paganistic, heathenistic and we were to be civilized," Worl said.
The current crisis along the border stems from stark disagreements — even among Alaska's political allies — over how to handle economic migrants and asylum seekers.
She points out serious blindspots in some of the vitriol expressed by immigration critics.
"I don't think a lot of people think about how Native Americans think about immigration," Worl said. "Because if anybody should have problems with immigration, you would think it would be Native Americans. But I think we were realistic in knowing that this is the way of the world. We actually embraced newcomers when they first arrived."
Worl is a retired anthropology professor and now heads Sealaska Heritage Institute, a Juneau-based nonprofit that advances Tlingit, Haida and Tsimshian culture.
She said there's a moral imperative for policymakers to act.
"In the immediate term, we have to do something about those 2,000-plus children who are separated from their families," Worl said. "I'm pleased the president made some attempt with his executive order. I don't think that's going to solve the problem, but we need to solve this problem as a civilized society."
Even with the passing of decades Worl says the trauma of being removed from her family still stings.