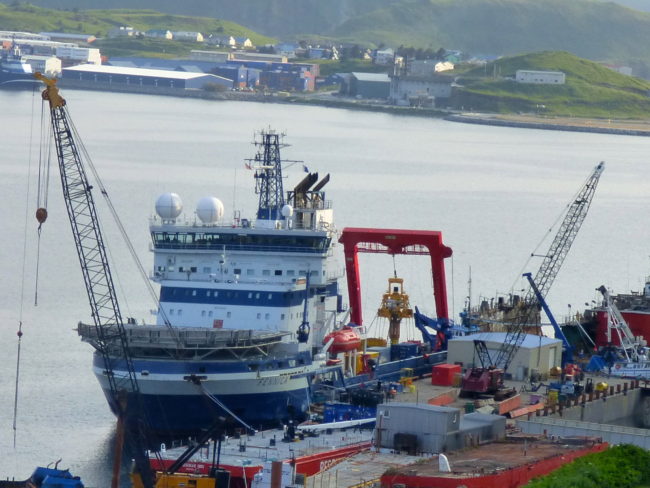 A fishing company filed an appeal in its ongoing tax dispute. At stake is the state's fish landing tax, a major revenue source for Alaska fishing communities.
Fishing vessels off-load millions of pounds of seafood each year in Alaska. The state taxes the catch's value and shares half with local ports.
Fisherman's Finest Inc., a Kirkland, Washington-based owner of a pair of factory trawlers, had challenged the constitutionality of the fisheries landing tax in an administrative case.
The tax brought in about $9.9 million statewide last year. Elected officials in Alaska fishing towns drew a sigh of relief after the state prevailed.
"It certainly is vindication for coastal communities that share in that tax," said Frank Kelty, the mayor of Unalaska, which administers the Port of Dutch Harbor, one of the largest seafood ports in the country.
"Unalaska gets the lion's share of that tax because we have the only major port in the Bering Sea and Aleutian Islands," Kelty said. "It's upwards to $4.5 to $5.5 million annually so it is a major, major revenue source for the city."
The fishing company is appealing.
In papers filed last month in state superior court, the company's attorney repeated the same arguments it had made in its administrative challenge: that the fish landing tax violates two provisions of the U.S. Constitution that effectively bar coastal states — such as Alaska — from imposing tariffs or duties on goods brought in and out of a state.
Leon Vance, a Juneau attorney representing the company, wrote in a statement:
"Fishermen's Finest is involved in a private tax matter with the state of Alaska," he said. "The case addresses the issue of whether the state's application of the landing tax, in certain circumstances, violates the United States Constitution and federal law. Fishermen's Finest is continuing its appeal and the courts will ultimately decide these issues."
State lawyers aren't saying much, either.
"The state is pleased with the administrative decision upholding the tax,"  Attorney General's office spokeswoman Cori Mills wrote in an emailed statement. "We are hopeful the superior court will do the same."