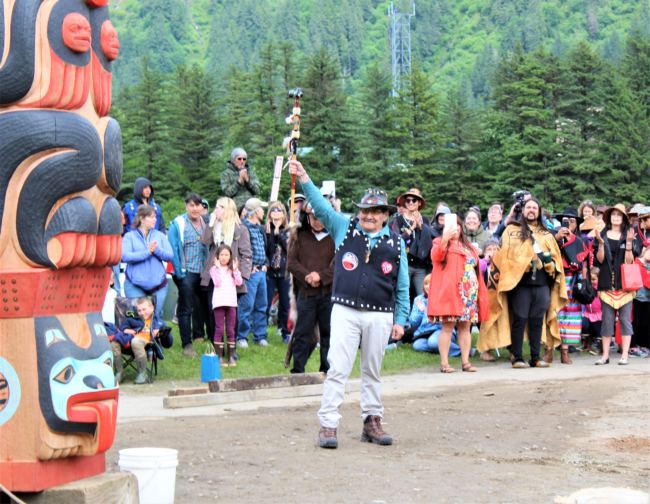 Members of the T'aaḵú Ḵwáan gathered Wednesday at Savikko Park in Douglas for the raising of the Yanyeidì Gooch kootéeyaa, or Wolf totem pole.

What began as a somber, rainy event became a sunny celebration of resilience as the pole was raised into position where the Douglas Indian Village once stood.
Clan members danced and sang around its base.
"This is great occasion for me. It's been a long time coming," said John Morris.
He was a young man in 1962 when the City of Douglas destroyed his village to make way for a harbor and park. He watched his home burn, along with the nets and fishing gear that were his family's livelihood.
Now 78 years old, Morris said he and the other members of Yanyeidì have had to live with the pain of that day for the last 56 years.
"It represents the beginning of the healing for our people, and our people really appreciate the occasion today," Morris said. "It has been a long time [since] our people have been able to gather together in such a way, and it's a good way."
The project to erect the 40-foot totem pole has been in the works for several years.
A similar totem pole went up last year in front of Sayéik: Gastineau Community School in recognition of Tlingit graves that were unearthed there during a construction project in 2012.
Goldbelt Heritage Association and the Douglas Indian Association sponsored the project.
The totem pole was funded in part by a grant from the Department of Health and Human Services.
Editor's note: 360 North is under contract with Sealaska Heritage Institute to produce television and online video coverage of Celebration.