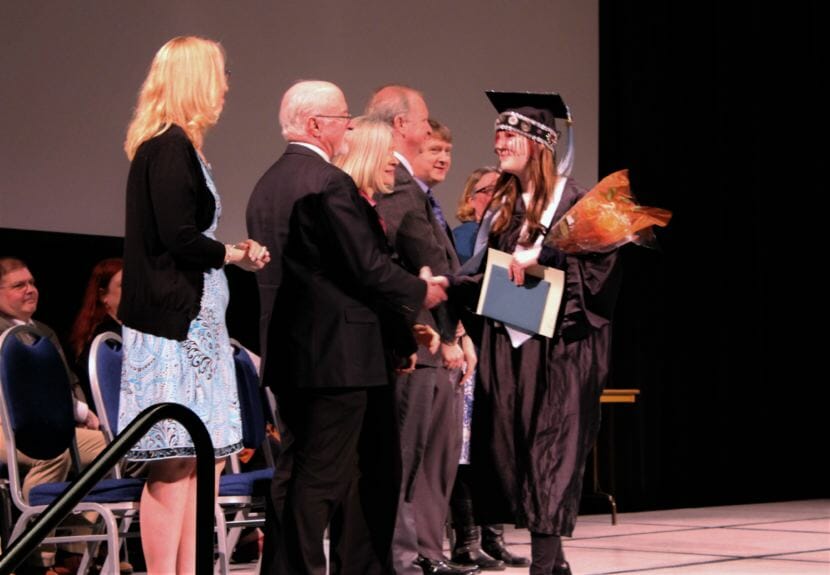 On Sunday, more than 300 seniors received diplomas from Juneau's three high schools.
The day was spent celebrating graduates' accomplishments and the bright futures lying ahead of them. At the ceremony for Juneau's smallest high school, Yaaḵoosgé Daakahídi, speakers celebrated the kids who almost didn't make it.
There was a time when 18-year-old Kiana Christopherson wasn't sure she was going to graduate high school.
Her anxiety and learning disabilities made participating in class a challenge. During her first semester of freshman year at Juneau-Douglas High School, she was already cutting class and watching her grades slip.
She ended up at the district's alternative high school, Yaaḵoosgé Daakahídi. It still wasn't easy, and there were times when she stopped showing up.
It took some time for her to decide that she was willing to work for graduation. Once she did, her teachers were there to help her.
"With the help of all my teachers I was able to get the work that I had missed done and I was able to catch up on all my credits. With the help of them, I was able to succeed in graduating this year."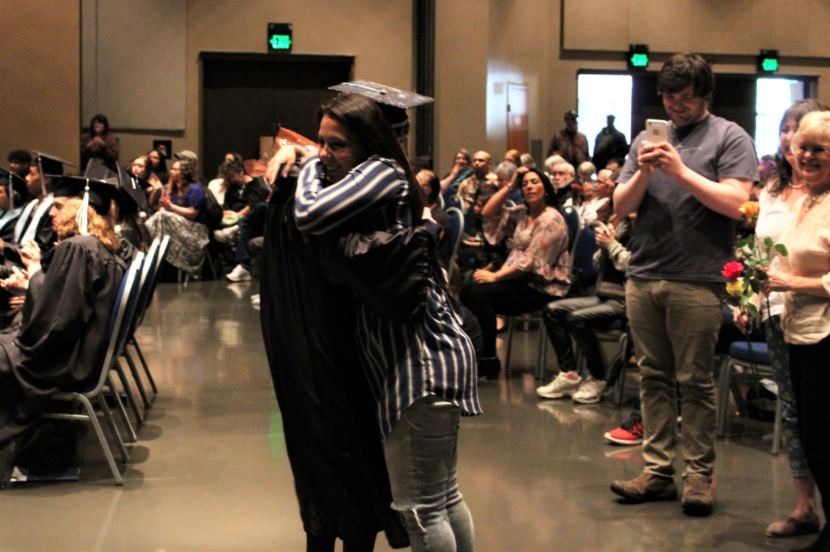 On Sunday, Christopherson walked across the stage and received her diploma in front of her mother and sister, who flew up from Seattle.
Now she looks forward to finding a career in either cosmetology or child care. She credits the staff and teachers of Yaaḵoosgé and her peers with helping her get to this point.
"Our school is pretty much a big, giant family," she said. "We all care for each other, we all stick up for each other and we're always there for one another."
Thirty-three Yaaḵoosgé seniors got their diplomas on Sunday. Their friends and family crowded into Centennial Hall to celebrate an accomplishment that many of them thought they might never reach.
"Getting your high school diploma is really an important milestone, and we want to make sure all of our Juneau kids get a diploma," said principal Kriston Garot.
Garot has worked with many students like Christopherson, who struggled with things happening outside school.
"I'm just proud to work in a school where that's really an important thing, is to help kids who wouldn't otherwise get one, that we're there to help them and support them along the way," Garot said/
And it's not just Juneau students benefiting from Yaaḵoosgé's approach. Eighteen-year-old Byron Dock came to Juneau in December from the village of Kipnuk, out near Bethel.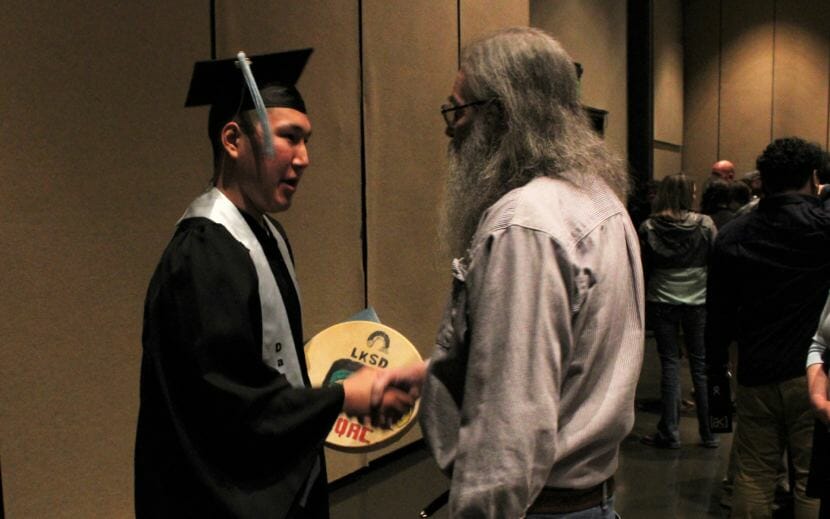 He came to finish his education after repeated setbacks back home. When he first arrived, he wasn't sure he would make it.
"You know, I had trouble back home but I decided to come here to another place and find my full potential," Dock said.
During the ceremony, he sang a traditional song in Yup'ik to celebrate his and his fellow graduates' accomplishment. Although his family couldn't be there to see him graduate, he knows they're proud of the hard work he put in over the last few months.
"My plans are to sign up for (a) job course, or either go home and help out my family and keep my culture alive. So that's one thing I'm looking forward to."
Everyone has to complete the same number of credits and meet the same basic standards to graduate at Yaaḵoosgé. When they arrive, they're assigned a staff adviser who works with them every step of the way. Many of them teared up during the ceremony as they praised each graduate individually before handing them their diploma.
Like Christopherson, Garot also described the school as a big family — dysfunctional at times, but always supportive.
"You might do something that doesn't make us happy all the time, but we care about you and that doesn't mean we forget about you," Garot said. "So we start fresh tomorrow and work toward that final goal."
Also on Sunday, 135 seniors graduated at Juneau-Douglas High School. At Thunder Mountain, 160 students received their diplomas.