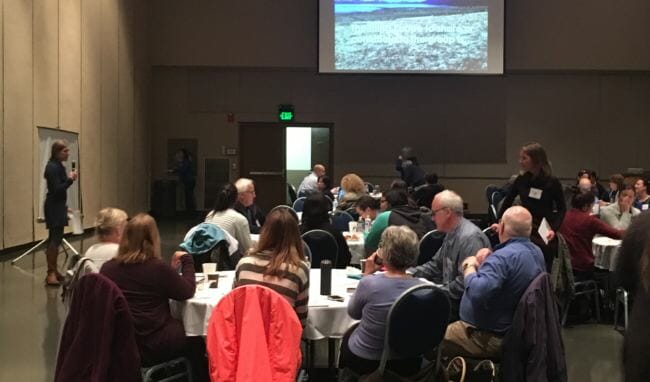 A $21 million federal grant focused on improving the lives of children in Southeast Alaska is bringing together educators and social service providers.
Partners from two dozen organizations and seven different communities came together Monday at Centennial Hall in Juneau to discuss the data behind helping kids succeed as adults.
Phil Burbick, co-assistant superintendent of the Sitka School District, said it's important to get everyone working across the region together in one place to share ideas and strategies for helping students.
"Especially in education, we tend towards silos, and we tend towards closing our classroom doors and teaching, or closing our schools and saying 'This is my school,'" Burbick said. "That's an old model that just doesn't work in this time. So for me, it's really about creating a community that there are no barriers, there's a lot more free flow."
That's why AWARE, United Way, the Association for the Education of Young Children, SEARHC and the Central Council of Tlingit and Haida Indian Tribes of Alaska are among the partners. They all brainstormed strategies for a new initiative called STEPS, Supporting Transitions and Educational Promise Southeast.
Much of the conversation on Monday revolved around "adverse childhood experiences," traumas that sometimes develop into substance abuse or severe mental or physical health problems.
STEPS coordinator Emily Ferry said it's rare to get so many different players together to work toward a common goal.
"One of the challenges of our neighborhood is that it's so difficult to get between places, that even though we're working kind of towards the same purposes, to have this time together is pretty special and to learn from each other," Ferry said. 
The initiative is now in the planning stage and the budget has not been finalized. The funding will be divided between Juneau, Sitka, Hoonah, Kake, Hydaburg, Angoon and Klukwan over five years. Implementation begins July 1.
The Alaska Association of School Boards and its partners won the Promise Neighborhoods grant from the U.S. Department of Education. The idea behind Promise Neighborhoods is that helping children succeed in distressed communities improves the entire community.