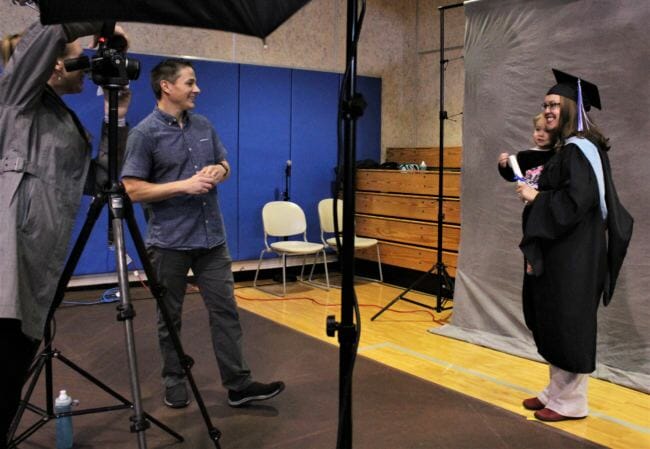 More than 400 students received academic certificates and degrees from the University of Alaska Southeast on Sunday.
Speaking before the family and friends gathered in the UAS Recreation Center, Chancellor Rick Caulfield spoke about the unique features of Southeast students.
"Many of whom are nontraditional students, raising a family, working a job or two," he said. "The average age is 29. Two-thirds of our graduates and our students are female. More than 30 percent of them are taking classes online — some are taking them completely online. And many are in Southeast Alaska but many others are across the entire state."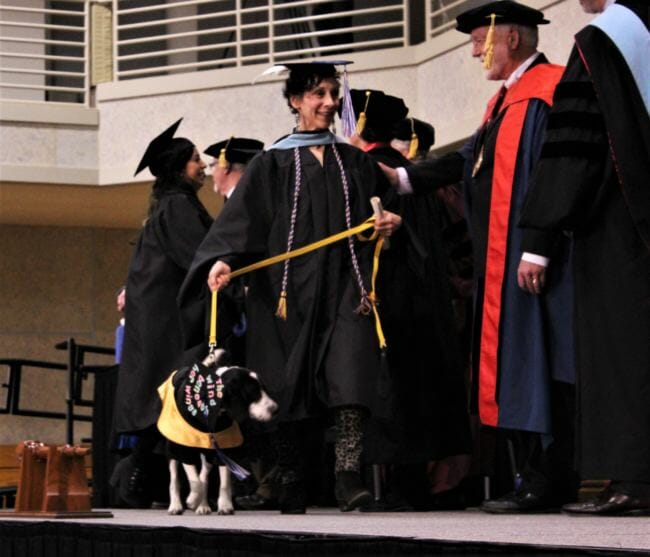 Husband and wife Vladimir and Morgan Cruz are perfect examples of the type of nontraditional students UAS caters to. They both graduated Sunday as their two young daughters watched.
Morgan earned a master's degree in social work and public health, while Vladimir earned a bachelor's degree in accounting.
How would they describe raising a family while working and earning simultaneous degrees?
"Hard, very hard," Vladimir Cruz replied.
"We had each other's support, though, and family support. Which was good," Morgan Cruz said.
Vladimir took fewer classes when Morgan was pregnant to support the family.
"It took me like five years, because of the time off we took for the kids and family matters and stuff," he said.
But they did it. The Cruz's said they're looking forward to some time off.
"We don't know what we're going to do with each other now," Vladimir joked.
Many 2018 graduates may feel anxious facing an uncertain economy. U.S. Sen. Lisa Murkowski tried to offer some comfort during her commencement address.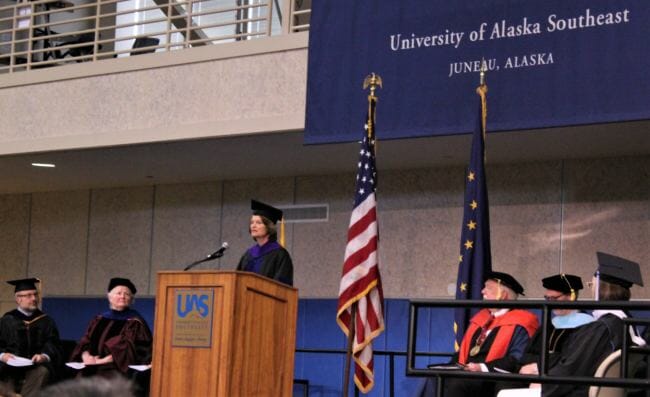 She told graduates worrying about the state's economic recession and high unemployment rate to take heart.
"If you want to get something done, if you want to push the edges and make things happen, ask an Alaskan to do it," Murkowski said. "We are innovators, we are problem solvers, we are creative, and it didn't just begin with this generation here or those living here and now. It began tens of thousands of years ago."
The university also awarded two honorary degrees.
Former Juneau Mayor and Alaska Attorney General Bruce Botelho received an honorary Doctorate of Laws. Áak'w Kwáan elder and cultural advocate and educator Marie Olson received an honorary Doctorate of Humane Letters.
Juneau Arts and Humanities Council Executive Director Nancy DeCherney received a meritorious service award.