Sealaska Corp. distributed its 2017 annual report to shareholders Thursday, showing it had a very good year.
The regional Alaska Native corporation for Southeast said it earned $43 million in profit last year — tripling its 2016 earnings.
"2017 is a great year, it's a milestone, it should be recognized," CEO Anthony Mallott said. "But the excitement is really the new era, the change. That we have confidence that we can keep that business performance going and just create consistency of growth for Sealaska that we haven't had in our history."
The first graph in the annual report tells the story of the company's turnaround at a glance; a total reversal from being $35 million in the red in 2013 and a clear trend line into the future.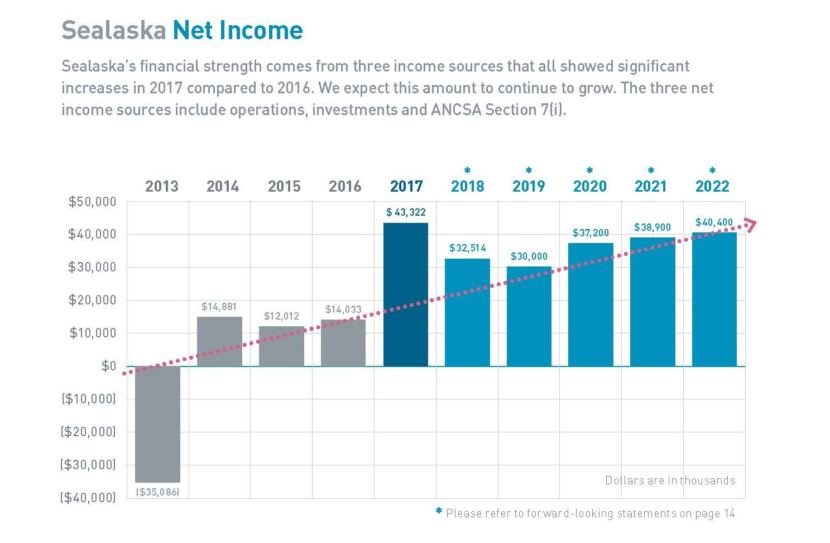 Last year was the final year in a five-year plan that included a goal of financial stability based on the businesses Sealaska directly operates. Previous years' profits relied on its passive investment income and revenue sharing income from other Alaska Native corporations.
The plan called for realigning Sealaska's business interests with its shareholders' values. "Relevant and meaningful" was the refrain in the boardroom.
"We are focusing on enhancing the health and the productivity of our ocean and land environment," Mallott said. "That ocean and land environment is our homelands. Enhancing the health and productivity of our homelands is what our ancestors have done for 10,000 years. We're just following a path."
In other words, ruthless corporate exploitation is out. One practical effect in recent years has been Sealaska selling off its grab bag of far-flung businesses.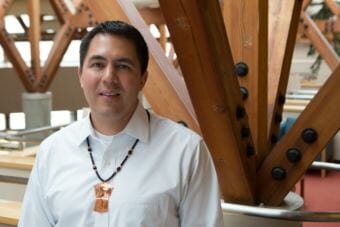 "There was a broadness of the operating portfolio and no tie to, why is Sealaska in these businesses?" Mallott said. "So we were in stand-up guard services that were in Miami. We were in plastic injection molding facilities that were in Guadalajara (Mexico), Alabama and Iowa. We were in a global logistics company based out of Georgia. We were in heavy civil construction in Hawaii."
The new corporate philosophy also meant generally scaling back timber operations, entering the carbon credit market through forest preservation, and expanding government contracting services focused on environmental work. And in 2016, the corporation began adding new lines of business in seafood processing in the Pacific Northwest.
Sealaska does still own some real estate near San Francisco it once intended to develop into a resort casino for a small California tribe. Mallott said that's a legacy project from a previous CEO that Sealaska's been trying to unload for years. It got caught up in the 2008 financial crisis.
"There'll be a developer, we're just not the right developer," Mallott said.
Mallott said there will be no more casinos in Sealaska's future, and no other lingering misalignments in its portfolio.
Timber remains Sealaska's main income source among its businesses, Mallott said. But he said it will soon be overtaken by its second-most profitable line: government contracting in environmental services. That's included contracts with the Forest Service and NOAA, and work on salmon habitat restoration and water quality monitoring.
Seafood was a small piece of the profit pie. But Mallott expects a lot of income growth among its recently acquired packing plants, and said expansion into other foods is coming.
There is a big caveat on Sealaska's 2017 profits. Roughly two-thirds came from sources it has little control over: financial investments and revenue sharing from other Alaska Native corporations. Without those two sources, which can vary a lot from year to year, Sealaska still would have turned a profit.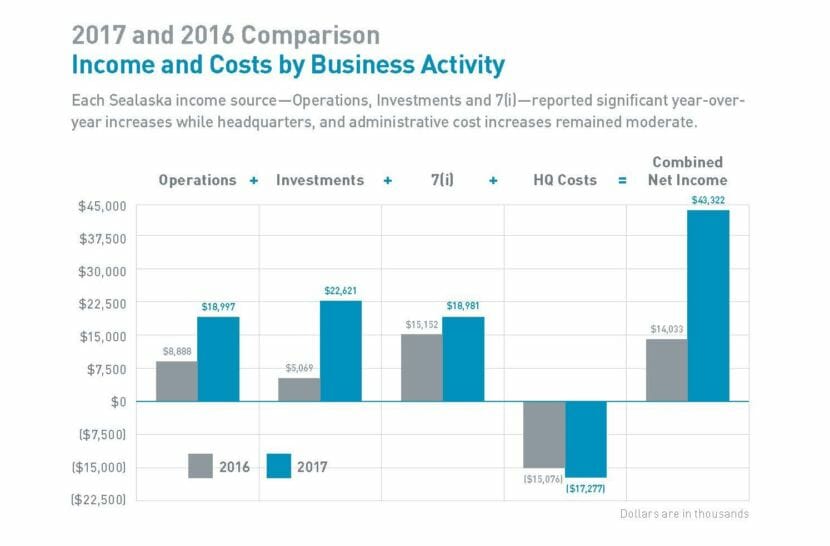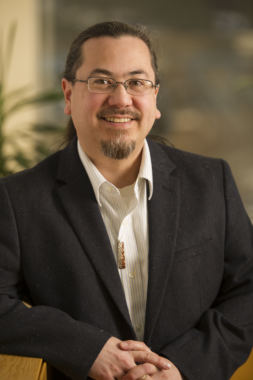 Sealaska Board Chairman Joe Nelson said that's a huge milestone.
"The next phase for Sealaska is going to be a lot more energy focused on our people, our communities, our homeland, which is core to our mission," Nelson said. "You know, we're a for-profit company, that's never been in question, but we've really turned things around in terms of our operating companies such that we're able to get to the real work of investing in our communities."
One community investment the annual report highlights is in Sealaska's scholarship program. The corporation set aside an extra $10 million last year, nearly tripling the endowment that helps pay for shareholders and their kids' post-high school education. It's already boosting scholarships being awarded this spring.
For accounting purposes, it's an expense. But philosophically, Mallott said it isn't.
"The money we put into (Sealaska Heritage Institute), the money we put into put into scholarships, the money we put into internship programs – we don't consider those expenses, we consider those investments," Mallott said. "It flows through as an expense if you read (generally accepted accounting principles), but they're an investment, for sure. The ability to help our people attain their educational goals is positive for them personally, provides upside for our communities, having a better educated base of community members, and can lead to talent development specifically for Sealaska. It's all part and parcel."
Mallott came up through those programs himself.
"I was a scholarship recipient and an intern," Mallott said. "Joe (Nelson) was a scholarship recipient and an intern. Our vice chair was a scholarship recipient and an intern. So it's been working, we just think there's so much more we can be doing."
The more Sealaska's business operations grow, the more Sealaska can invest in its communities. Mallott said income from its business operations will be half the net income pie within the next couple of years, and longer term, he's aiming for three-quarters.
"At three-quarters, you really diminish volatility that our passive investment sources have," Mallott said.
Subsidiaries aside, Mallott said Sealaska's turnaround also came from cutting the corporate headquarters' operating budget by about 40 percent since 2012. A lot went into that. For example, reorganizing many human resources managers at many subsidiaries into a centralized human resources team.
"And, we were clearly overspending at that point in time, as well," Mallott said.
The geographic consolidation and clearer mission also helped cut costs. Like the third-party audits that backstop financial reports. Mallott said they became less complicated, and less expensive.
The message is that Sealaska's financial turnaround is validation that tying traditional values to business practices was the right call.
"Plastics was not a part of who Sealaska was," Mallott said.
But he said that's only half the story. The company's next five years will tell the rest.