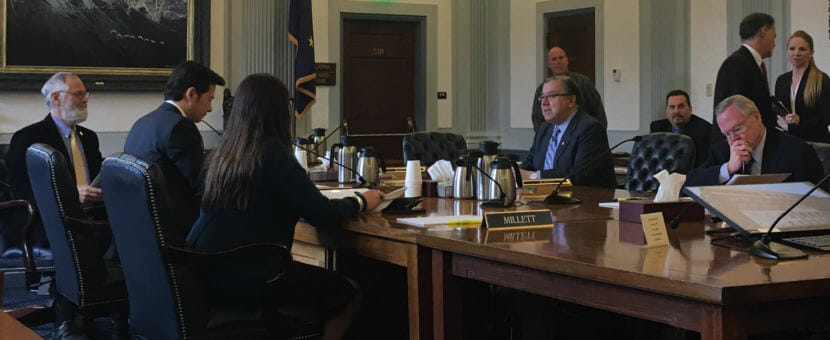 The Alaska legislature released a proposal Wednesday outlining how it will draw from permanent fund earnings to pay for state spending.
This year will be the first time in state history lawmakers draw on the fund's earnings for government operations.
Under the proposal, the lawmakers would take about 5 percent of the permanent fund's value annually — or $2.7 billion for the coming year. The bill doesn't say how much of that would go to permanent fund dividends.
Since oil prices fell four years ago, Alaska has been using its savings accounts. But with one piggy bank – the Constitutional Budget Reserve – mostly exhausted, lawmakers are now turning to permanent fund earnings to cover government costs.
This has raised concerns among fund managers that the draw will be unplanned and inconsistent.
The legislation, Senate Bill 26, would set rules for a structured, predictable draw from the fund. Bethel Sen. Lyman Hoffman, a Democrat who caucuses with the Republican majority, said he's comfortable with the plan.
"Basically, we're trying to meet the demands of the permanent fund board, to give them some structure," he said.
The Senate and House passed different versions of the bill last year. But they haven't been able to work out their differences. The bill released Wednesday was drafted by a conference committee including members of both houses, and could be the basis of a compromise.
Originally, each chamber set aside a portion of the draw for permanent fund dividends. The Senate would have devoted a quarter of the draw to dividends, and the House, a third for PFDs.
The new version of the bill doesn't specify how much of the draw would go toward PFDs. The Legislature would have to set the amount each year, or it would have to set a formula through a different bill.
Rep. Tammie Wilson, a North Pole Republican, said she thinks that approach makes sense.
"I guess I'm really not that concerned that the dividend's not in here at this point, because as we'll see oil revenue change – I think others in the Legislature want to go for a lower amount and keep it that way forever – when it should be based on oil production, not necessarily where we are currently," Wilson said.
Both chambers have proposed PFDs of $1,600 for this year.
The Legislature could pass the permanent fund draw before the session ends. That could happen any time up to May 16, the last possible day for the regular session to end under the state constitution.