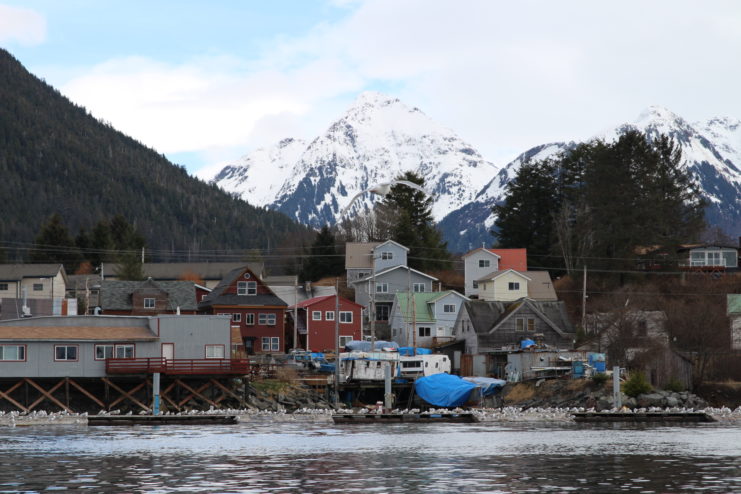 The Sitka sac roe herring fishery has shut down early this year, falling 8,330 tons short of this year's guideline harvest level.
This is the fourth time in six years the herring fishery has shut down before meeting the quota.
Early closures also happened in 2016, 2013, and 2012.
The Alaska Department of Fish and Game made the closure announcement over VHF radio at 11 a.m. Tuesday, after aerial surveys failed to spot herring schools of marketable size.
Area management biologist Eric Coonradt said the decision was made in consultation with processors who found the fish too small for market standards.
Processors buy herring from the fleet and harvest roe for sale to Japan.
"We've had some attrition of the fleet that's in town," Coonradt said. "We've had some attrition of processors that are in town. It just seemed like the writing was on the wall."
The fleet has been on standby since March 20.
At the start, the six processors involved – including the local Silver Bay Seafoods and Sitka Sound Seafoods – wanted herring that weighed an average of 125 or 130 grams. Fish and Game forecast the average weight for the biomass would be 106 grams, so already below market standard.
Coonradt said there was one chance to catch herring of that size March 25, during the first opening of the fishery.
"(The herring) stayed deep until they spawned. We had one shot at the larger fish and gave a second opportunity the next day (March 26)," Coonradt said. "The fish gradually got smaller as the opening went on, so we closed the fishery. We just weren't able to find any marketable fish at that point."
A week and many aerial surveys later, most of the fleet has left town.
The Sitka sac roe herring fishery has come under intense scrutiny by local subsistence harvesters in the past fives years.
Sitka Tribe of Alaska sought conservation measures at this year's Board of Fish, but no changes were made to the formula for determining the quota.
Coonradt said he didn't have concerns about the management model Fish and Game is using in light of this fishery falling 8,000 tons short.
"No. It's bound to happen in some years," Coonradt said. "We've got time and we've got area working against us. It's a short time frame that we're trying to harvest these fish. Some years, we're bound to not catch it all, especially when market standards are a pretty high bar to achieve. We could have easily harvested the quota, but it would have required market standards to be much lower."
Now that management of the fishery has come to a close, Fish and Game will continue aerial surveys to gauge just how many fish returned to Sitka this spring. So far, they've measured 13.3 nautical miles of spawn. Last year saw 62.3 nautical miles.