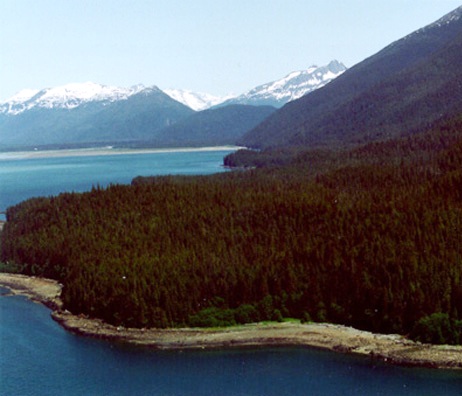 An environmental audit of the Kensington Mine found the operation to be "generally in compliance" with its conditions of its permit that govern waste disposal and the long-term closure plan. Auditors pointed out some long-term challenges for the gold mine 45 miles north of Juneau.
Auditors hired by the mining company Coeur Alaska visited the gold mine last fall and their recommendations are outlined in a 60-page report.
The external review is required by a pair of state permits that expire this year.
"The audit is a critical for the agencies for taking a look – kind of a third party objective look – at our permitting program to see if there's areas of improvement," said Allan Nakanishi, an engineer with the Department of Environmental Conservation overseeing waste disposal at the mine.
One issue of concern noted by the auditors from the firm HDR, is exposed rock that when mixed with air and water leeches acid. These are veins of graphitic phyllite that have oxidized after being churned up by machinery. It's like metal left in the rain that rusts. Except that in this case it produces sulfuric acid.
"It's not uncommon in the Southeast to hit pockets of material that have high sulfide minerals within it and that go acid," he said.
In a written response to questions, the mining company said areas of concern are limited to the tailings treatment facility. It's working to engineer a solution when it raises its tailings dam for the third time to increase the holding lake's capacity.
But mine critics say acidic runoff threatens water quality in the long run.
"You know, once acid generation starts, it's almost impossible to stop it and it's very obvious even through the pictures that it's getting worse over time,"said Guy Archibald, staff scientist for the Southeast Alaska Conservation Council. The group's unsuccessful legal challenge went all the way to the U.S. Supreme Court in 2009.
"They do describe that they will remedy this issue when they complete the third phase, the third raising of the dam over time, they talk about grouting in there to keep the water out," Archibald continued. "Again, these are short-term fixes."
DEC cited the mine for acid runoff leeching into its unlined tailing treatment facility in 2013. There are quarterly samples being taken there now. And the auditors recommended the state begin monitoring the flow of contaminated water to keep tabs on the trend. They also gave mixed reviews to the effectiveness of concrete applied to seal off the source of the acid runoff.
Nakanishi said his big picture view is that occasional spikes in contaminants isn't alarming.
"There have been some issues, some exceedances but that's not uncommon," he said.
Auditors also critiqued how Kensington reports its environmental test result data to the state. Raw numbers in charts are provided in tables. They should be graphed out with baseline data so trends and abnormalities are more easily spotted.
Nakanishi said that's an example of where the state could improve oversight.
"Some of the recommendations, I think, are valid and warranted," he said, "and we will be using this audit in the development of the future permit."
Coeur Alaska said by email that it does provide data in a fuller context – but that's through a separate water quality permit that was renewed last year and not examined by the audit team.
"An extensive monitoring network is in place to routinely monitor water quality, the results of which are frequently reported," Kensington Mine spokeswoman Jan Trigg wrote in an email.
This year, Kensington will need to renew both its state-issued waste management and reclamation permits, which expire in May and September. They're good for five years.
The public process gives mine watchdogs like Guy Archibald a chance to weigh in.
"The bigger picture is I'm always concerned when there's a large dam holding back solid waste directly above Berners Bay," Archibald said.
Reading the audit, he said the mining company has an enormous task and responsibility ahead of it.
"You know, for the most part they're doing everything as well as you can do – as well as humans can try to control nature," Archibald said. "I think they spend a lot of time, effort, money and expertise on attempting to do that. How this is all going to be performed in the long run, we'll wait and see."
Since opening in 2010, Kensington's economic impact to the region has been significant. Coeur Alaska reports around 380 full-time year-round employees and boasts it's Juneau's second largest private employer in terms of payroll.
Trigg said by email that the company accepts many of the audit's findings.

"Overall, Coeur Alaska feels that the third-party audit conducted by HDR was fair and thorough," Trigg wrote. "However, as part of Coeur Alaska's continuous improvement program and strong commitment to engaging in best-in-class environmental controls, Coeur Alaska had already identified these areas and begun the implementation of the suggested items, which was not addressed in the report."