Juneau high school students took part in Wednesday's national walkout calling for action on gun violence.
More than a hundred Juneau-Douglas High School students walked out of class and marched to the state Capitol building Wednesday morning to call on legislators to take action on gun violence in schools.
Senior Theo Houck led the march up to the Capitol building and encouraged students to continue making their voices heard.
"Above us right now are our legislators, our governor, our lieutenant governor, the people who will make these final decisions," Houck told the students and adults gathered. "So let's let them hear us. Who are we?"
"Alaskan students!"
"What do we want?"
"We want to live!"
Gov. Bill Walker and Lt. Gov. Byron Mallott were also in the crowd, and applauded as students spoke. Many legislators also attended.
"Too many lives have been lost because of our country's lack of progress in fighting gun violence," said sophomore Katie McKenna. She called for an end to the "thoughts and prayers" politicians routinely share after school shootings.
Teenage survivors of the Parkland, Florida, school shooting have called on lawmakers to cut ties with the National Rifle Association and for stricter gun laws. In Juneau, the student organizers said their protest was not meant to advocate any specific political platform, but McKenna did call for teens to take action and register to vote in the November midterm election.
"Alaska legislators, we urge you to look at your colleagues around the country who are moving gun legislation forward and follow suit," she said. "We are watching, and if you don't act for the sake of our safety, you will be voted out by our generation. When leaders act like children and children act like leaders, you know change is coming."
Across town a little over a year ago, police investigated reported threats by a student at Thunder Mountain High School. Dozens of students there also walked out Wednesday and remained outside for 17 minutes in honor of the 17 killed at Marjory Stoneman Douglas High School in Parkland.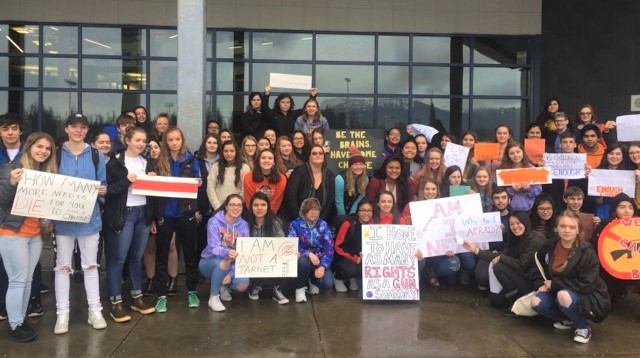 Hilary Rehfield-Green, a survivor of the Route 91 Harvest Festival shooting in Las Vegas last October, joined about 50 students at TM and encouraged them to continue their activism for policy change. She said students spoke as well and they took photos to pass along to survivors of the Parkland and Las Vegas shootings.
"What I saw today was a group of students who had a purpose," Rehfield-Green said. "They followed through with their intent on that purpose and then they returned to their responsibilities as students and I'm just really proud of them for making that a respectful and responsible choice."
Walking back to school from the Capitol, Juneau-Douglas sophomore Molly Minick said students feel fear every time they hear about another shooting or take part in an active shooter drill at school.
"Today was actually Spirit Week and it was Future Careers Day, so we're out here representing who we want to be when we're older," Minick said. "And if we're dead tomorrow, we'll never get to do that."
After returning to the school campus, JD students gathered on the turf field for a moment of silence for victims of gun violence. As it ended, Houck spoke up again.
"I don't want to ever have to do that again, and I know you guys don't either. But we probably will," he said. "But it's things like this, students like us, that are gonna change that. So that there isn't another student killed at school. And we can use this turf to, like, play soccer and stuff."
All told, students at JD missed about an hour of school and TM students were outside for about half an hour. The district said beforehand that normal consequences would apply for any unexcused absences during the walkout.
Watch Gavel Alaska coverage of the rally at the Capitol: