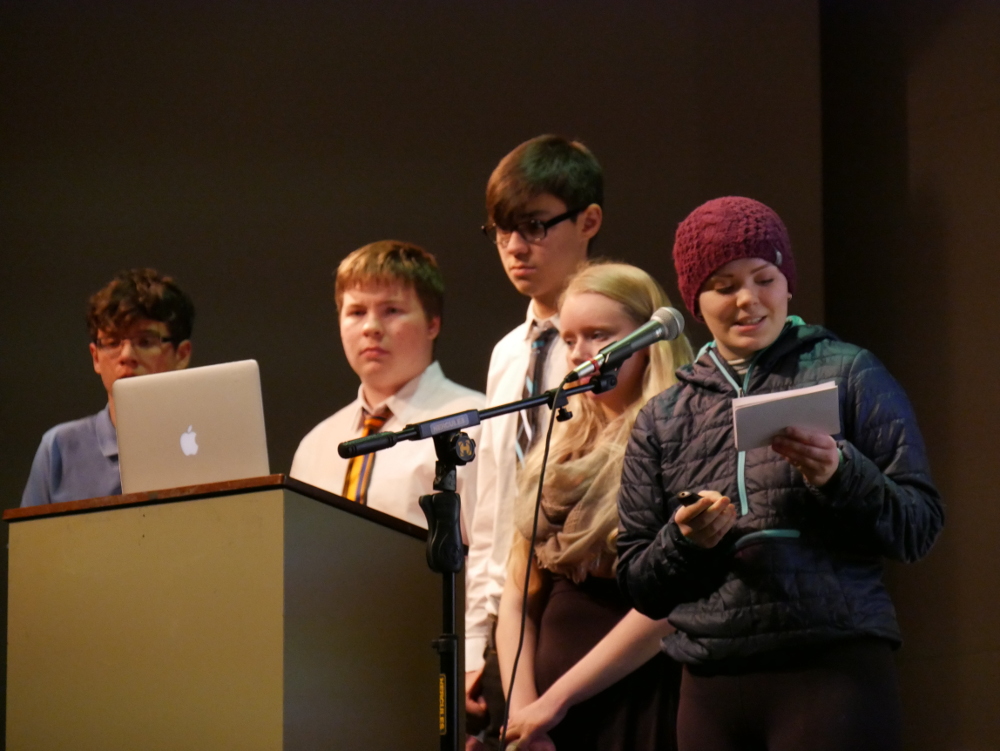 In February, Petersburg High School students joined teams from around the state in an 20th annual ocean sciences competition in Seward.
In Alaska, the National Ocean Sciences Bowl regional competition has three parts.
Teams prepare a 15-page research paper and create a 15-minute presentation on that topic.
The third part is the quiz bowl, in which teams of four students answer questions on topics ranging from ocean chemistry, plate tectonics, waves and wind, sea life and governmental policy.
The teams staged a practice quiz bowl in Petersburg before leaving for the competition.
A co-captain Anders Christensen was fast on the buzzer during the quiz bowl in Seward for Petersburg's team of five seniors, who called themselves Team Far Fetched.
"Quiz bowl I think I could've done a lot better but our team was doing very well," Christensen said. "Our first Mat-Su match did not go well. But we played them the next day and it was a lot closer."
That Mat-Su Valley team was a perennial powerhouse, but ended up losing in the championship bracket and beat the Petersburg team in the match for fifth and sixth place.
But Team Far Fetched took second overall for their research paper.
They researched extreme wind conditions and explained how icing could impact boats commercial fishing.
They had prepared a 20-minute presentation but found out last minute they needed to edit that down to 15 minutes.
"We had a good time," said Gabe Torrez, another team member. "It was a pity that we got cut short on our presentation, but aside from that I thought the presentation went pretty well."
The team worked on their paper for three months this fall and the presentation a month and a half this winter.
"We've all kind of been in it together for I think a minimum of three years for all of us, a minimum of three years of us all working together so we definitely have gotten used to each other and kinda know how each other works when we're quizzing," said Helen Martin, another co-captain. "We got to be able to use that and we're all pretty good friends so it was fun."
Martin and Joey Giesbrecht were on the team for four years, the other three had been with the team for three.
Martin described what the quiz bowl is like.
"I actually thought it was a little bit more stressful this year than it was in the last years because we're like a team of all seniors and it was our last year so we had to find the combination of wanting to have fun but also wanting to do really well," Martin said. "But I thought we did really well in the end even though it was really stressful."
Another team member Marissa Nilsen felt the pressure during the quiz bowl as well.
"It was hard to still focus on just enjoying the time that we had there and just being with the team, but our last couple of rounds in the first bracket actually ended really nicely," Nilsen said. "By the end we were laughing, we were having fun, we were smiling at the other teams instead of kind of like falling into deep pits of despair thinking we were gonna lose."
Petersburg High School was represented by two teams at the tournament.
The second team went by the name "Team Tidal Here."
While senior Taryn Copeland and freshman Rose Lane didn't make the trip, Liam Demko and Jaden Perry, both freshmen, did. They ended up competing with a student from Ketchikan and one from Dimond High in Anchorage, and took ninth with their research paper on extreme rains.
Demko explained how the competition went for him.
"Since we're all relatively new, it was kind of hard to get into it and know what we're supposed to be doing," Demko said. "But in the end it worked out fairly well so I guess I'm happy for that."
In the quiz bowl, "Team Tidal Here" did well enough to qualify for the championship bracket, but because it was a team from multiple schools they were placed in the consolation bracket.
They ended up 15th.
Demko and Perry also were the first out of all the groups to give their presentation.
The teams are coached by volunteers Sunny Rice and Joni Johnson, who meet with the students twice a week after school to work on their papers, presentations and practice quiz bowl questions.
We didn't get to see all the presentations which we usually do,"Rice said. "The ones that we did see I thought were good."
Joni Johnson explained it's a pretty rigorous weekend of answering quiz bowl questions for the students.
"Basically from 10 until 5 on Saturday they had seven matches,"  Johnson said. "It was a good seven hours I guess of having your brain turned on and then Sunday was a similar thing from 8 until noon. Not a whole lot of down time at all."
Students also got a chance to tour the Alaska Sea Life Center and hear from scientists about how they got started in their careers.
The winning team from Cordova earned a trip to the national competition in Boulder, Colorado.