The City and Borough of Juneau will ask state regulators to make the city a party to negotiations over the local electric utility's transfer to a Canadian power company. And it committed money for lawyers to help make that happen.
Juneau business owner Randy Sutak distributed stickers and leaflets to the more than 30 people attending Monday's committee meeting. He urged the city to protect ratepayers.
"If you don't have a seat at the table or if you're not trying to ensure yourself a seat at the table, then there's no incentive for anybody to negotiate with you," Sutak said. "In other words, you have to take what you get."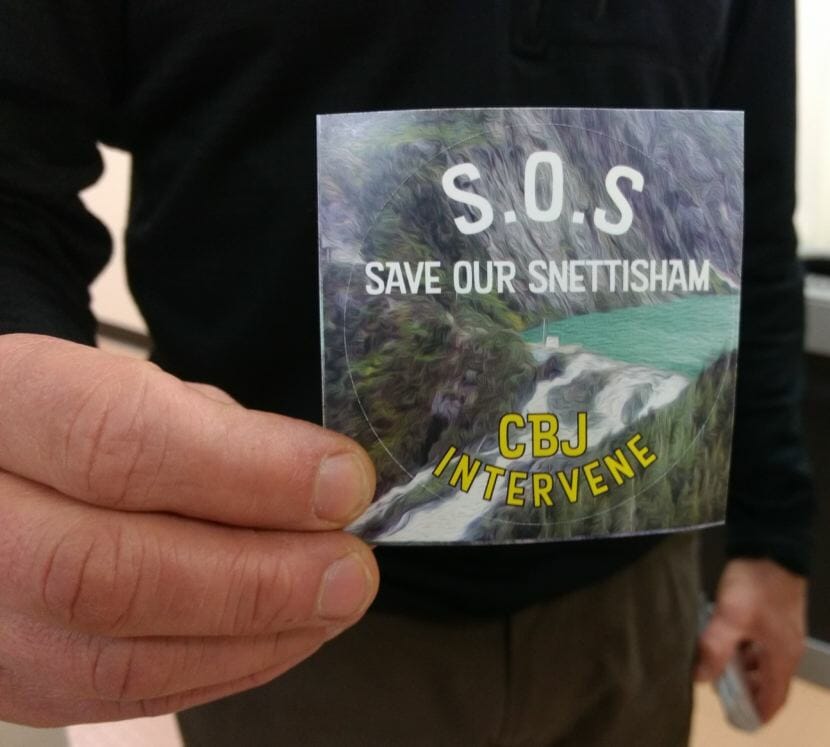 Alaska Electric Light & Power was bought in 2013 by Avista of Spokane. Avista is being acquired by Hydro One, one of Canada's largest power companies.
But the acquisition requires approval by the Regulatory Commission of Alaska which has received critical public comments from customers and lawmakers concerned about rates and the fate of utility assets.
The largest prize is Snettisham Hydroelectric Project. The federally built hydro complex was completed in the early 1970s and produces about two-thirds of Juneau's electricity. It's owned by the state of Alaska, but AEL&P has an option to acquire it.
Mayor Ken Koelsch laid out his top goals for negotiations. Number one was the fate of the Snettisham Hydro Complex.
"When current bonds for Snettisham Hydroelectric Facility are retired," Koelsch said, "the Snettisham assets should remain in the State of Alaska or local CBJ ownership."
That was a sentiment echoed by Assembly member Jesse Kiehl who said he worried a piece of critical infrastructure could become collateral for an out-of-state corporation.
"We just don't know who will control the corporate board in Spokane 50 years from now when Snettisham's turbines will still be spinning," Kiehl said. "So by and large, old hydro is cheaper than new hydro, or newly bonded or re-bonded hydro. So I think the mayor's language is the best protection for Juneau's ratepayers in the long term."
AEL&P President Connie Hulbert also attended the meeting. After conferring with higher ups, she released a statement:
"AEL&P supports the RCA process, which is designed to consider the public's input and interest," Hulbert wrote immediately after the meeting. "We are confident that the merger on the horizon for Avista will not negatively impact AEL&P or Juneau, and that AEL&P will continue to operate as we do today, making local decisions to serve our customers."
Hulbert added that many of the questions and concerns expressed by the public and members of the Assembly are addressed in a lengthy brief filed Tuesday the RCA.
The Assembly committee set aside $75,000 for expected legal fees and it tasked the city manager to negotiate with Hydro One to secure a deal that could make a formal intervention unnecessary.
It'll be up to the RCA to decide whether the city will be a formal party to the process.