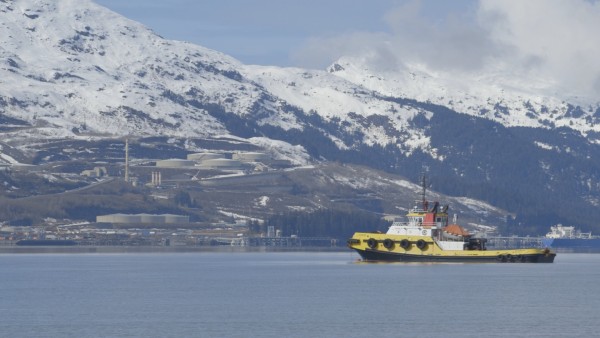 The Prince William Sound Regional Citizens Advisory Council, a citizens watchdog group, today passed a resolution asking for changes to how oil spill response crews are trained.
Alyeska Pipeline Service company is replacing its contractor in charge of guiding oil tankers through Prince William sound this summer, with the Louisiana-based Edison Chouest Offshore. New vessels are being built and crew training is underway.
The Council is concerned that new crews coming to Prince William Sound aren't being trained in rough weather conditions they might have to operate in. Brooke Taylor is a spokesperson for the Council.
"If the industry has determined conditions are unsafe to train in, we also feel they are unsafe to transport oil in," Taylor said. 
The Council's resolution states it "believes it is unsafe to require crews to respond to a vessel emergency in Prince William Sound during adverse weather conditions with inadequate or no training or experience in these conditions."
Alyeska strongly disagrees with the resolution, saying they don't want to put crews at risk unnecessarily. Scott Hicks is senior director of operations for Alyeska in Valdez.
"Some of the components of this resolution are actually asking for and advocating for conditions that put people, vessels and the environment in harm's way, which is something we just don't support," Hicks said.
The Council is an advisory group, not a government agency, so Alyeska isn't required to abide by the resolution. Alyeska wants Edison Chouest's new vessels and crews to be working in Prince William Sound by July.