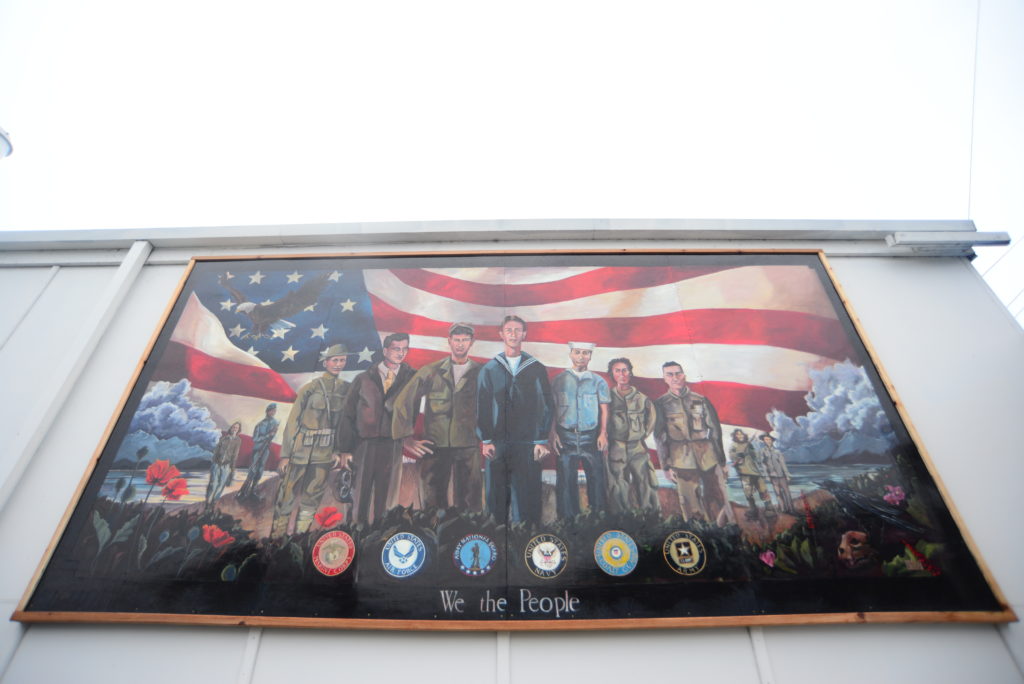 Haines got more than a new year last week: a new mural by a local artist is now hanging outside American Legion Post 12, to help honor and guide veterans.
A handful of men and women in different uniforms stand in the grass, Lynn Canal stretching out behind them.
An eagle flies overhead, and a raven calls from one corner.
"It represents all the branches of the service, basically going back — WWI uniform, a Dough Boy. 'Course you have Army, Navy, Air Force, Marine Corps — all branches are represented in the mural," Haines' Legion Post commander Bill Rostad said.
He's describing the painted figures looking out from a brand new mural, put up outside the Legion on New Year's Eve.
Inside, out of the rain, he and Ralph Strong, the Legion's adjutant, are drinking coffee with a TV playing in the background.
Plans for a mural were hatched after the Legion repainted the building last year.
"The big white wall — said that's too blank, we need to put something on there," he said.
They commissioned a piece from local artist Merrick Bochart.
"One of the things I felt strongly about was that often we see the military represented as kind of polished superheroes — and I wanted to represent these men and women to kind of show their human side," she said.
It took her more than six months of research and a hundred of hours of painting to complete the project.
Bochart said there was a lot of Alaska's military history she didn't know.
"The history of the Alaska Territorial Guard, who were basically hunters in kayaks patrolling the Aleutian Islands," she said.
The easy part? Choosing to set the painting in Lynn Canal.
"There are so many veterans in Haines," she said. "I wanted to honor them."
Rostad agreed.
About 300 veterans reside in the Chilkat Valley alone, he said — almost 15 percent of the population, which is especially due to Alaska Native contributions to the armed forces.
"The Native population of Alaska has the largest percentage of veterans of any demographic group in the country," Rostad said.
And they're also represented in Merrick's painting. Since the Legion requested an Eagle be included in the painting, she said it seemed right to include a Raven, too.
Strong and Rostad said the finished product is even better than they expected.
Rostad said it will help fulfill the Legion's goals — not just supporting retired service members, but helping current ones.
"Anything we can do to help the community and the veterans. It does bring awareness to the veterans," he said. "We have an awful lot of active-duty military personnel traveling through Haines going to the two large bases in Anchorage and Fairbanks. So they're able to see the Legion, and when they travel, they know that if they're having some difficulty, the American Legion is there to help them."
The mural already has generated new appreciation for military personnel — in one painter, especially.
"I think I became more aware of the experience of going into war for the first time, young men and women, and maybe became a little more sympathetic to that experience," Bochart said.
The mural hangs on Dalton Street, where residents at the Veterans Village can see it.