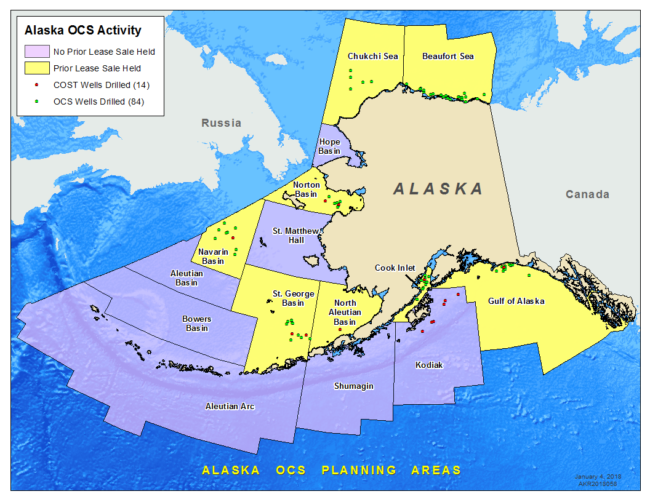 The controversy over offshore oil drilling in Alaska just got bigger.
Today, the Trump administration rolled out a proposal to hold the largest number of offshore oil and gas lease sales nationwide in U.S. history. It could mean more waters off Alaska's shores are available for oil development than ever before.
As expected, the Interior Department is moving to allow oil drilling in federal Arctic waters that former President Barack Obama mostly took off the table. But there's a lot more to this announcement — the draft plan includes waters where Alaskans haven't contemplated oil development for decades, if ever.
Interior Secretary Ryan Zinke rolled out the proposal using one of the administration's favorite catchphrases — "energy dominance." That was even the code reporters had to use to get on the press call.
"Today we're embarking on a new path for energy dominance in America — particularly on offshore," Zinke said.
When finalized, it will replace the five-year offshore leasing plan the Obama administration put out in 2016. That was controversial in Alaska because it didn't include any lease sales in Arctic federal waters through 2022.
Zinke's proposal flips the script — not only could the Beaufort and Chukchi Seas be opened to drilling again, but so could waters that have never before been available for oil development, including areas near the Aleutian Islands. The only federal areas off Alaska's shores not under consideration for oil leasing is the North Aleutian Basin, which encompasses Bristol Bay.
The Interior Secretary stressed the plan is not final.
"This is a draft program. The President clearly has outlined that states, local communities and congressional delegations all will have a say," Zinke said.
Between the years 2019 and 2024, the administration is considering 19 offshore oil and gas lease sales in the Alaska region. That's a huge increase — there have been only two such sales in Alaska in the past decade, one for the Chukchi sea in 2008 and another last year in Cook Inlet.
Zinke said he made the decision because offshore oil development is economically important, and can be done safely.
But the negative reaction from environmental groups was fast — and fierce.
"It was reckless and irresponsible on the part of the agency and the administration to propose this amount of real estate," said Susan Murray, Oceana's deputy vice president for the Pacific.
Murray acknowledged that the plan isn't final; Interior could ultimately decide not to hold oil lease sales in many areas. But she's alarmed the Trump administration is even considering drilling in the Arctic — and further south.
"The Bering Sea is the fish basket of the United States; the production there is amazing, as well as Gulf of Alaska, the Aleutian Islands. And to put that resource at risk for reckless offshore oil exploration is ridiculous," Murray said.
Environmental opposition isn't all that could tarnish the new, expansive vision for offshore oil development in Alaska. It's an open question how much oil companies want to drill in all the offshore acreage that could be opened up. Over the last decade, several oil and gas lease sales in Cook Inlet were canceled due to lack of industry interest, and Shell famously ended its Arctic drilling program in 2015.
Alaska Oil and Gas Association President Kara Moriarty said while her group pushed for a "much broader" offshore leasing plan than what the Obama administration allowed, she's not aware of any companies that specifically asked for all the areas proposed by the Trump administration. Still, she said, it's good to have options.
"There's nothing wrong in making areas available for evaluation and let the free market determine whether it's a good business decision or not," Moriarty said.
"This administration said during the campaign that they believed in true energy development, and they're true to their word," Moriarty added. "I don't think it should be a big surprise that they're being consistent with what they campaigned on."
Reaction from Alaska's political leaders was also positive — but measured. Senator Lisa Murkowski called the announcement "good news" in a statement. But she also emphasized that "nothing in this proposal is final."
"Secretary Zinke's 'blank slate' approach launches a new discussion with local stakeholders to determine where responsible energy development should take place," Murkowski said.
Andy Mack, who heads Alaska's Department of Natural Resources, is happy the Trump administration is proposing lease sales in the Beaufort and Chukchi seas again — that is something the state requested. But Mack said the state wasn't pushing for access to all the other offshore areas the Trump administration is now proposing. Mack thinks the final plan won't be as wide-ranging.
"We expect that the ultimate plan and the focus of this will be smaller than what we see today, but we're happy that we're having the conversation," Mack said.
Mack said Walker's team will be listening to communities across Alaska before they discuss the proposal with the Trump administration. But, he said, when it comes to offshore drilling, their focus remains on the Arctic.