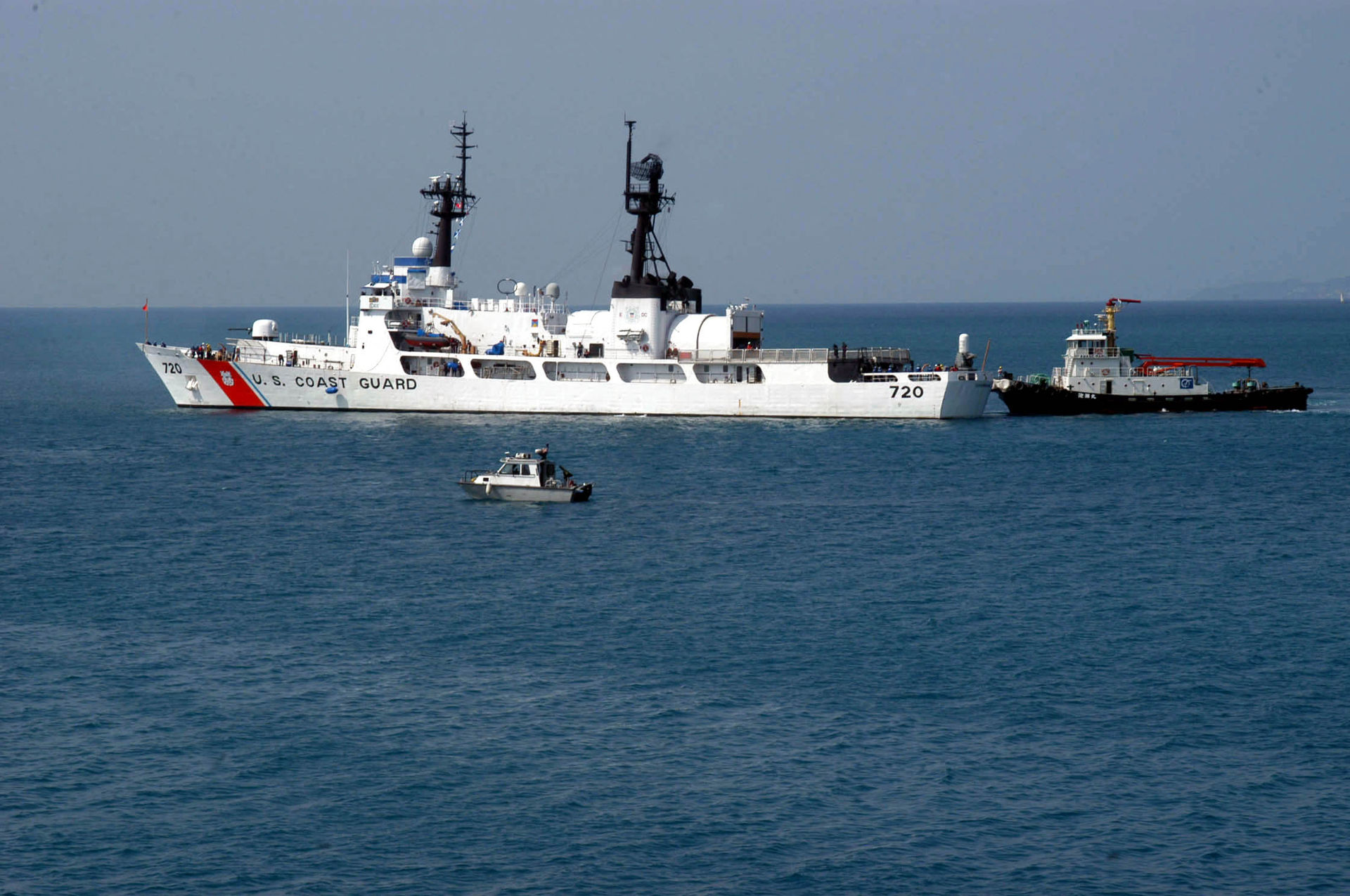 Updated | 6:54 a.m. Thursday
The Alaska Patriot has been sunk in the North Pacific. Because of incoming inclement weather, the Coast Guard cutter Sherman left the area Wednesday evening while the 170-foot abandoned fishing vessel was slipping beneath the waves.
Petty Officer Luis Fagalnifin of the Coast Guard's command center in Juneau said the Sherman's crew boarded the Alaska Patriot on Wednesday afternoon to let in water.
The Sherman's crew then fired 800 rounds from a .50-caliber machine gun and 300 rounds from a 25mm machine gun at the Alaska Patriot to speed the scuttling process.
Original story | 1:58 p.m. Wednesday
A Coast Guard cutter is heading to a derelict fishing vessel adrift in the Northern Pacific with the sole purpose of sinking it, possibly with machine gun or artillery fire.
"Certainly, a 170-foot fishing vessel drifting out there can cause some pretty serious damage to even a large commercial freighter," said Lt. Cmdr. Orion Bloom, command center chief for the U.S. Coast Guard's 17th District,
Bloom said the vessel Alaska Patriot, currently adrift about 215 miles south of Chirikof Island, is a navigational hazard.
"We have received some reports of commercial shipping traffic come by and they have reported it to us, the position of it," Bloom said. "Great Circle traffic runs very close there. And that's been one of our biggest concerns as far as just the sheer number of commercial traffic that comes by in that area."
The new owner of the Alaska Patriot was towing it Dec. 7 from Dutch Harbor to Mexico when it broke free. The vessel has no power of its own.
The Coast Guard cutter Sherman is now headed to the Alaska Patriot's last reported position, but it's still unknown how they will sink it.
Bloom said the cutter's crew may be able to climb aboard the vessel and open some valves to let in water.
The Sherman, a high endurance cutter built 50 years ago, has weapons that include 25mm and .50-caliber machine guns, and a 76mm deck-mounted artillery turret.
Sherman's crew may simply shoot holes in the Alaska Patriot's hull until it sinks, but Bloom said they will do whatever is safest.
"It's kind of a combination of the two in this case," Bloom said. "They're going to look at being able to try scuttle it. Also, it'll likely need some weapons to kind of get the water going."
Current conditions at the scene include 12- to 14-foot seas.
Bloom said towing the vessel Alaska Patriot back 400 miles to Dutch Harbor may not be practical since it would preclude the Sherman from participating in any other missions.
The cutter is expected to arrive on scene Wednesday afternoon.
This is not the first time a Coast Guard vessel was dispatched to sink a derelict fishing vessel.
In 2012, the cutter Anacapa sank a Japanese vessel that had drifted across the North Pacific after the previous year's tsunami.