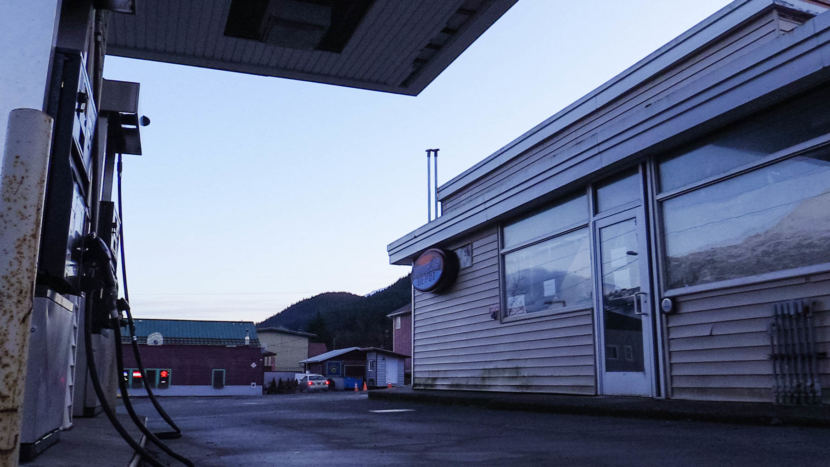 A former downtown Douglas convenience store is on track to reopen early next year as a liquor store. The Juneau Assembly waived its right to protest the transfer of a liquor license to the small gas station on Third Street.
The business is being bought by Pete Thibodeau,who owns a chain of package stores in the capital city.
"Douglas is very excited about it because they didn't want their gas station to go away and that store has been closed for four years now, and they don't want an empty building – they want something to go in there," Thibodeau said.
The Douglas Depot convenience store closed in 2014 after Crowley Petroleum Distribution purchased the gas station's owner, Taku Fuels. It remained open as a gas station and that won't change after Thibodeau buys the property from Crowley.
Thibodeau said Monday he plans to replace the underground fuel tanks with above ground fuel storage, a process that could close the gas station for at least a month. He expects the liquor and grocery store to open in spring. If business is good, he said he'd like to eventually replace it with a larger building.
Thibodeau already owns four liquor stores in Juneau. The Douglas Depot would be his family's fifth. And they'll soon have a sixth following the purchase of Percy's Liquor, a downtown Juneau store that shut down last month after its owners retired.
The Juneau Assembly also waived its right of protest for the transfer of Percy's liquor license to Thibodeau. He said he plans to replace the former cigar shop's vintage coolers with modern equipment and expand its craft beer selection and opening hours.
"It'll just depend when the business comes in," Thibodeau said. "It'll probably be open later in the summer and maybe close down a little earlier, but we'd like to keep it open until at least 10 o'clock."
Thibodeau's late father purchased his first Juneau liquor store in 1974. The family-run business has grown over the years. Today it has two downtown Juneau locations, one in the Mendenhall Valley and one in Lemon Creek.
State law gives local governments the opportunity to protest certain liquor licensing matters with the state's Alcoholic Beverage Control Board.