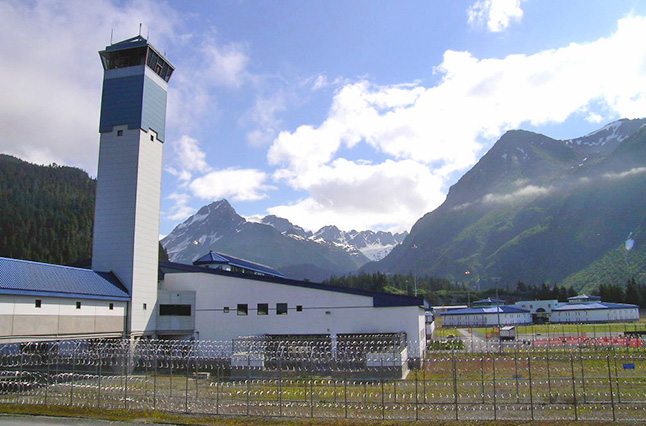 A state contract to provide drug and alcohol treatment to inmates ended at a bad time last year. It delayed services for some that could help prepare them to re-enter the community at the same time a controversial state law reduced criminal sentences.
Drug and alcohol treatment is expected to play an important part in supporting the changes being made to Alaska's criminal justice system. They began after Gov. Bill Walker signed Senate Bill 91 in July of last year. The idea is that inmates are less likely to commit crimes in the future if their addictions are treated.
But a key state contract to provide treatment with the nonprofit organization Akeela ended on Dec. 31, 2016. The next day, the state increased the use of parole and community supervision outside of jail for offenders.
"It was terrible timing for this event to happen," said Anchorage Democratic Rep. Ivy Spohnholz, the chairwoman of the House Health and Social Services Committee. "It was exactly the wrong time."
She noted that roughly four out of five inmates have a substance use disorder.
Akeela provided treatment in prisons across the state. When the contract ended, state officials say they focused their efforts on 55 prisoners who were in the middle of treatment, using temporary employees to fill the gap. Others had to wait — the state is supposed to be able to treat 240 prisoners at a time with inpatient or intensive outpatient drug treatment.
While one new contract was in place on Jan. 1, two others didn't start until Dec. 8. And other contractors are still looking for workers to operate the programs.
Christopher Constant directs grants and contracts for Akeela. He said Akeela decided to end the contract because the state didn't build in any vacation or sick leave for its workers.
"We ended up literally underwriting the state's treatment services more than half a million dollars in a year from our own revenues from other programs," he said. "And so we were stealing from other programs to pay for the state's treatment services."
Constant said Akeela gave the state six months' notice that it needed to build more time off for workers into the contract.
State officials have a different view of the contract negotiation.
Laura Brooks directs health and rehabilitation services for the Department of Corrections. She noted that Akeela had agreed to a similar contract that covered services last year.
Akeela gave a month's notice that it wouldn't renew its contract for 2017.
"I don't think there would ever be a good time for us to lose a substance abuse contract," Brooks said. "Eighty percent of our population have substance use issues. And so this is a critical need for our population. So, absolutely, any time that we are left either without services or face a reduction in services, it's going to affect their transition back to the community."
State officials said limited drug treatment providers limited where the state offers treatment.
With the loss of Akeela, the state closed the residential treatment program at Spring Creek Correctional Center in Seward.  Some of those inmates moved to a similar program at Wildwood Correctional Complex in Kenai.
The state replaced Akeela with three smaller contracts with the Salvation Army's Clitheroe Center; Cook Inlet Council on Alcohol and Drug Abuse; and Norton Sound Behavioral Health.
"I'm confident that the contracts that we have now in place are going to be able to provide our offender population with the substance abuse programs and services that they need," Brooks said.
SB 91 is providing an additional $1 million per year for substance abuse treatment. State officials are still determining how it will use that money to expand drug and alcohol treatment.
One step the state has taken in increasing the use of the medication Vivitrol to treat inmates addicted to opioids.
Christopher Constant with Akeela said the state isn't doing enough to increase the individual and group counseling that are at the heart of drug treatment. He believes the state will have to increase this treatment if the sentencing changes are going to work.
"There wasn't an incremental increase proposed anywhere, so it's just, to me, it's a failed promise," he said. "And what the state really needs to do is fulfill the promise and that's provide community based-support for all of these people they continue to push back out of the institutions that they've created."
Constant is also a member of the Anchorage Assembly.
Rep. Spohnholz said that other lawmakers focused too much on the cost savings from SB 91. She said that perhaps the state should have added more substance abuse treatment before implementing the law.
"Perhaps those pieces were done out of order, that really we should have sunk a few million dollars on the front end into addiction treatment," she said. "And then rolled out the sentencing reforms. And instead, we did it the opposite way and are experiencing some backlash as a result."
The state is keeping a close eye on the effectiveness of the expanded use of Vivitrol in treatment. The University of Alaska Anchorage is conducting a study of the medication in corrections.
Editor's note: This story has been updated to note that Christopher Constant is a member of the Anchorage Assembly.