For the past 21 years around Thanksgiving, a Nikiski couple travels to the Big Apple to spread some Christmas cheer.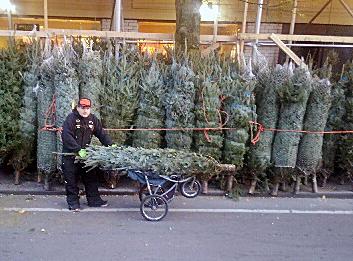 When Tom and Michele Gilmartin first drove from Nikiski to New York, it was just the two of them.
"Drove here with my wife in a Toyota pickup truck with a half-cap on it. And we slept in the back of that truck for 32 days and sold trees," Tom Gilmartin said. "Our first year I think we made, I don't know, $7 to $8,000 that year and we were tickled to do it."
Their son, Rory, has traveled in tow for the last 14 years, and they've upgraded their rustic living accommodations quite a bit, now sleeping in a camper on a Ford F-250 that is stored in New Jersey in the off-season.
Tom and Michele work in four-hour shifts, alternately guarding and selling the trees.
The Gilmartins aren't harvesting trees in Nikiski and driving them down to sell.
They work for a company that trucks 50 or more fresh to them nightly.
A commercial fisherman in the offseason, Tom Gilmartin was first hired through a connection with his late sister who worked for the tree company, which has 50 tree-selling sites in New York City, and was in a Christmas tree war with a competitor across the street.
"They had a large lot catty-corner to where my lot's at right now, on a vacant lot in this neighborhood in New York City. And they leased that lot, and put a Christmas tree lot there in challenge to this one," he said. "They fired a drunk Canadian they had running this stand and they hired me, to have a tree war with that stand catty-corner to my own. And they were selling $300 trees, so I was selling $60 trees to try and push them out of the neighborhood."
Gilmartin said it took five years, but the competitors wound up throwing in the towel. And even though two decades have passed and there's been a price spike this year, he said his prices haven't reached the heights of his old competitor.
At $20 per foot, a 7-foot tree is only $140.
"The big corporations have been buying up the tree farms in North Carolina and they're making it rather difficult to get a good selection of trees," he said. "We tried to fall back on a lesser tree from Canada called the balsam fir. And the Canadians know of the tree shortage and they upped their prices because they know the prices are up down here."
But since he's been there so long, Gilmartin has people he's seen year after year.
"Twenty years ago a lady and her kids are walking through the stand, and the kids are saying, 'Mom, let's get a tree! Let's get a tree!' And mom says, 'we can't afford a tree.' And I hear that, so I grab a tree and I run those people down a couple steps past the stand and I'll hand that kid a tree. And that kid (said), 'Oh wow, he gave us a free tree,' and he went home," he said. "Well, 20 years later that kid comes down to this tree stand every year, and buys a tree at full price, and says, 'Do you remember when you gave me a free tree?' And he'll get his tree from me for the rest of his life. I've got 30-40 customers like that."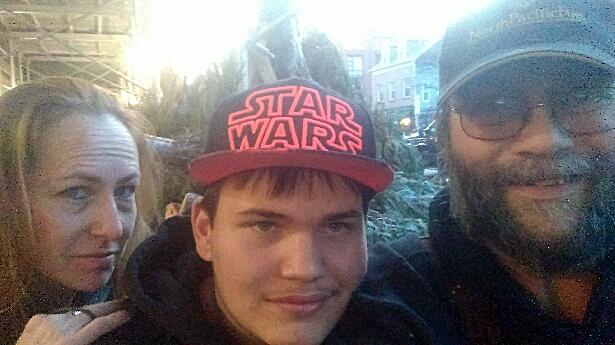 Rory Gilmartin, 14, has spent the holiday seasons with his folks in New York City since he was born.
In fact, he now delivers trees in a baby stroller his mom used to push him around in while jogging there.
"I think it's cool. It's definitely fun. You get to speak with all sorts of people," Rory Gilmartin said. "That jogging stroller — I used to be in it; it's older than myself, so yeah, I get all kinds of looks from use of that thing."
Tom Gilmartin, who last summer tendered in Cook Inlet during the salmon season, also is a trawl skipper on a boat out of Kodiak, a far cry from Midtown Manhattan during Christmas.
"I go to sea almost a couple hundred days a year. And I would look at this, this is my touch to reality, of what I'm seeing in the news," he said. "This is the center of the news you see today."
Gilmartin said he's urged his son to e-mail President Donald Trump about the tree stand, which is situated equidistant from several Trump properties, with hopes of making a huge sale of trees.