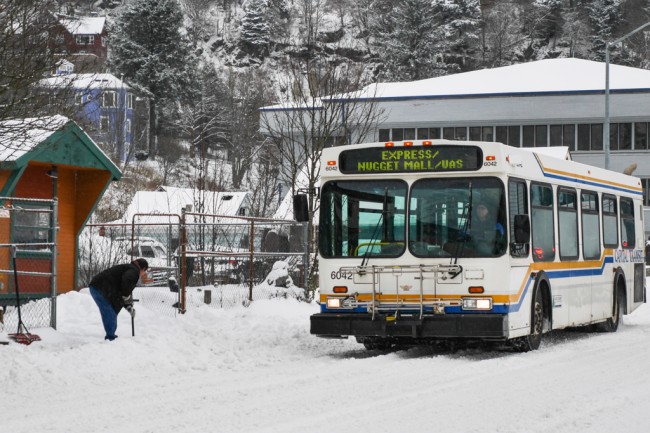 Funding has been approved to replace six Capital Transit diesel buses.
But there was push-back from some Assembly members over the city's choice of fossil fuels over an electric alternative. And the fact that the federal grant cycle means the Assembly's next opportunity to order new buses likely won't be until 2021.
City staff told the Assembly that nearly half the fleet's 18 diesel buses were at the end of their lifespan.
Toying with the grant money now could jeopardize service.
"I understand the desire to go to electric buses but we have a fleet that needs to be replaced – I need to get this fleet upgraded," Transit Superintendent Ed Foster told the Assembly Monday evening. "The next time we ask for grant money we should ask for enough grant money to replace them with electric vehicles if that's the way we want to go."
His remarks were in response to pointed questions from Assembly members why the city isn't switching to electric vehicles.
"I don't think it's an intelligent move to go there without knowing that electric buses are going to meet our needs and we don't know that yet," Foster said.
He added that a seventh bus on order will be electric as a prototype.
In the end, the Juneau Assembly committed about $3.6 million in funding – all but about $700,000 from federal grants.
Assembly members Jesse Kiehl and Maria Gladziszewski objected to committing funds in the next fiscal year but were overruled.
In other action, the Juneau Assembly's four new mining subcommittee members will enjoy full voting rights on the seven-person panel.
The subcommittee was created this summer by Mayor Ken Koelsch following concerns that the city's mining ordinance duplicates federal and state review.
But that's a controversial assertion that's generated a lot of debate in the community.
Opposition to giving voting rights came from the mayor, Deputy Mayor Jerry Nankervis and Assemblywomen Mary Becker and Beth Weldon.
They were overruled by a five-member majority: Gladziszewski, Loren Jones, Rob Edwardson, Kiehl and Norton Gregory.
The subcommittee's capacity is advisory – any changes to the ordinance would have to come from the full Assembly.
Finally, the Assembly moved unanimously to allocate a $1.3 million insurance payout from the Twin Lakes playground fire to a capital fund to begin rebuilding.
The arson — sparked by a pair of teenagers who were arrested and charged — devastated the community built playground in April.
The next step will be drafting a design and putting the project out to bid.