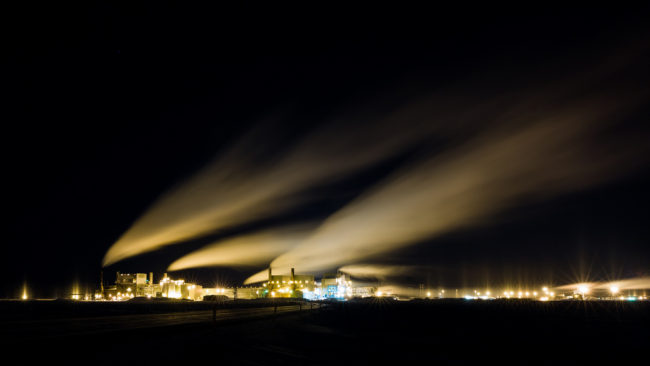 Last week, during a press conference on a new gas pipeline partnership signed in Beijing, Alaska Gasline Development Corporation President Keith Meyer said he expected to release the agreement documents in a week.
But, Corporation spokesperson Jesse Carlstrom turned down a request for the agreement and emailed that he doesn't know when it will be made public.
Walker's administration also signed a memorandum of understanding with PetroVietnam that has not yet been released.
That leaves lawmakers and analysts to speculate on what exactly the mystery-deal could mean for the state.
Scott Shields is an oil and gas consultant from Houston-based Morgan Shields. He's been in the oil and gas industry for decades, and has worked for Exxon and Enron. And he's consulted for at least a dozen LNG companies. He said he's pretty familiar with Alaska's gasline corporation head Keith Meyer and the mega-project itself.
Shields argued that projects like Alaska's are all about probability.
"All development projects start low probability," he said.
And for Alaska's mega project, there are big hurdles that will lower that probability — make it less likely it will be built. A big one is cost. It's going to be hugely expensive to build.  Right now, estimates are that it'll cost about $43 billion.
But, Shields said there are other things that raise the odds.  
For one, the state is on board. A state-led project can chase down some creative, possibly tax-exempt financing options.
Shields said because the deal is with China, and includes a potential investor, a customer and a business partner, that also increases the project's chances.
If China-owned corporations are going to invest in the project and buy gas, they might accept a higher price for the gas. The money could come out of one pocket, and go right back into the other.
"It might be a little bit high but i'm also the investor and the investor also gets the uptick from the price, if it is too high," he said.
After the state signed the agreement, Gov. Bill Walker said this is different from past gasline deals– because it's high level engagement with the global gas market.
But, this isn't the state's first brush with a gasline. There have been projects in the works for decades.
Former Republican lawmaker Mike Hawker left the legislature in 2016. Before that, he'd been in the thick of oil and gas legislation for 14 years. He's watched a lot of gasline proposals come alive, and fizzle out.  He helped create the state's gasline corporation.
The first thing he said? Stop calling this a deal.
"A deal is a deal when there is the funding in place to move forward to the next stage of the project development … Really getting into the nitty gritty of laying out the plans for the project," Hawker said.
He's not convinced that the new agreement is anything to get excited about.
"We don't have any facts," he said. "All we have is an allegation made by members of the executive branch members of AGDC that they have some kind of agreement to agree upon something in the future…. I would suggest that that's pretty indicative that there is no serious progress on this project."
When there is serious progress, Hawker said, Alaskans will know because the international business and finance communities will be all over it — fighting to be part of a massive economic venture.
There is another potential snag that could lower the probability of the project moving forward- the Alaska legislature. Alaska's has a multi-billion-dollar hole in its budget and lawmakers are looking for places to cut.  Last year, the Senate voted unanimously to strip $50 million from the corporation's budget.  Members of the state House tried to cut its budget too.
They have continued to grill the gasline corporation about how and where and why it's spending millions of dollars to get the gasline built.
During a recent corporation update to the legislature, Senator Natasha von Imhof, R-Anchorage,  said she was frustrated by how difficult it is to get basic information on the structure of the project from corporation employees.
She said she finally settled on pulling numbers from publicly available documents and crunching them herself to figure out how much money the corporation has left to spend.
But, after the announcement in China —  von Imhof said she applauds Walker and corporation president Keith Meyer for the agreement. She said the international attention is great. 
"And so now we've just upped the probability a little bit, because we have interest," she said.  "But we're still pretty low. It just takes time to continue marching forward."
But even with the better odds, it still might not be enough to convince lawmakers to funnel more money into the gasline project. Von Imhof said it was still to early in the process to allocate more money to the gasline corporation. 
It may be early, but Meyer said there are some deadlines for the new pipeline partnership. The state wants a final investment decision by early 2019, so it can get shovels in the ground and bring the pipeline online by 2025.