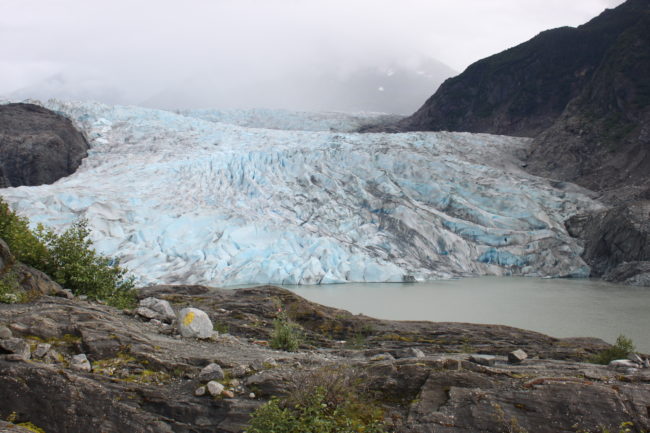 Climate change is happening, we're the cause, and Alaska will feel it first.
Those are some of the conclusions of a sweeping report out Friday from 13 federal agencies and outside climate scientists.
The report was released by the Trump administration, even though it contradicts the position of President Trump and many of his top officials.
Katharine Hayhoe is a climate scientist at Texas Tech University, and a lead author on the report. She said the bottom line is pretty simple.
"This report is a huge, 600-plus page document that can be summarized in just one sentence," Hayhoe said. "Climate is changing, humans are responsible, the risks are real, and the window of time to fix this thing is narrowing fast."
The Climate Science Special Report, as it's called, is part of the Fourth National Climate Assessment, a study looking at impacts across the U.S. and required by law every four years.
Hayhoe said the report confirms, once again, that burning fossil fuels produces carbon dioxide and other emissions that are warming the planet. The report says we are now living through the warmest period "in the history of modern civilization." And it says it's "extremely likely" that human activities are the "dominant cause" of that warming – adding "there is no convincing alternative explanation."
Hayhoe said, if anything, the report suggests things are worse than expected.
"Much of the new science that we've seen coming out in the last few years, is suggesting that things are changing faster and to a greater extent than we thought," she said, pointing to evidence that the ice sheets in Greenland and Antarctica are melting, and sea levels rising, faster than expected.
Hayhoe said one thing in particular keeps her and other scientists up at night: the question of tipping points. They worry that if we cross certain thresholds, it could create viscous cycles, driving more warming and pushing the climate into totally unpredictable territory.
"With these tipping points, we can't put a number on them, just like you can't put a specific number on how many cigarettes you can smoke before you develop lung problems," Hayhoe said. "But what we can say absolutely is, the further and faster we push the earth's climate away from its natural state, the greater the risk that we will hit one or more of these tipping points."
The report includes a full chapter on Alaska and the Arctic. It confirms that scientists are confident the region has warmed more than twice as fast as the rest of the planet, and that climate change is melting glaciers, accelerating the loss of sea ice, and thawing permafrost.
The report also suggests that changes in the Arctic could affect weather around the globe. But scientists don't yet understand those dynamics well enough to make predictions.
Hayhoe said the good news is that there are solutions out there, like the faster-than-expected adoption of renewable energy.
"Things are happening all around the world, we're moving in the right direction," she said. "But as a climate scientist, I know that we have to not just keep on moving in that direction, we have to do more and faster to avoid the really serious and even dangerous impacts."