Updated | 4:07 p.m.
A few small mudslides and pictures of flooded roads were reported to Capital City Fire/Rescue and on social media throughout the day.
Fire Chief Richard Etheridge said the last reported landslide was on Wickersham Road. A video posted to the CCFR Facebook page shows the city's Public Works department responding and water being diverted.
Another small slide on Thane Road was reported but Etheridge said it was not significantly flooded.
Pictures from social media also showed flooding in the parking lots along Glacier Highway in the Valley and Downtown in the lot across from Tracy's Crab Shack.
"Pretty much all we can do is just wait for the water to start receding," Etheridge said. "The systems are at capacity and we can't make the water go anywhere."
Etheridge said Jordan Creek and Duck Creek were expected to crest at about 4 p.m., so hopefully the water would be going down soon.
-Adelyn Baxter
Original post | 12:32 p.m.
The National Weather Service has activated a flood warning for Jordan Creek, which has already crested to nearly 11 feet, a new record.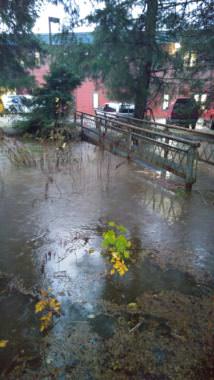 "There will be some inundation of structures and roads near Jordan Creek, with more than one foot of water," the weather service said in a statement. "Some residential homes and commercial offices along the creek will see significant flooding."
"We've been getting calls of small mudslides throughout the community," Capital City Fire/Rescue Chief Rich Etheridge said.
Firefighters are patrolling the community, looking out for known trouble spots with poor drainage, he said.
"We're just trying to be the eyes and ears for Public Works and opening up drains where we can to help with waterflow," he said.
Etheridge gave one example: firefighters responded to a call from a house in the White Subdivision about 2 miles north of downtown. A torrent of water cascading downhill threatened to flood the home.
"The Public Works folks showed up and with some heavy equipment were able to divert the water and channel it in between houses," Etheridge said. "It was amazing pre-emptive work by Public Works to come in and save the day."
A morning mudslide near the entrance to Juneau's downtown Cope Park has closed a portion of Calhoun Avenue. City crews have erected barricades and closed the road to vehicular traffic.
Localized flooding could create hazards for drivers as a flood watch remains in effect for the rest of the Mendenhall Valley.
"If you see any high water, don't drive through it," federal meteorologist Joel Curtis said. "That's just about the worst thing that anybody does. I'd even expect that in the back there at Montana Creek, if it's looking like it's high going over the road, don't drive in it."
The heavy rain isn't forecast to last much longer.
The flood warning for Jordan Creek and small streams is set to expire at 10 p.m. The wider flood advisory is set to expire at 7 p.m.
"We expect the rain to really taper on later this afternoon," Curtis said. "We should have a dry spell at some point tonight."
The outlook for the weekend looks better with fair weather and sunshine over the next two days.