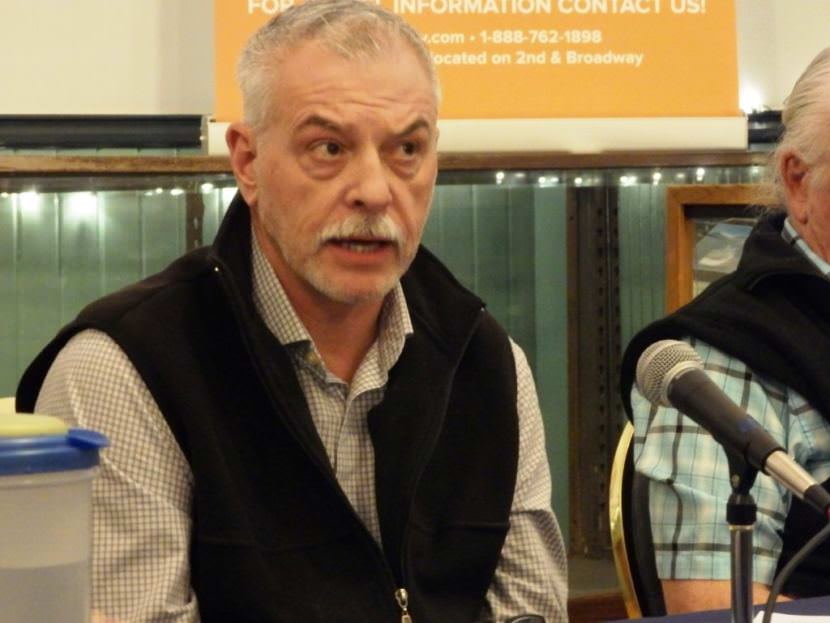 A Skagway resident narrowly elected to a seat on the borough assembly violated state disclosure laws three times, according to Alaska Public Offices Commission staff. They determined Dan Henry has failed to disclose his income, debt, and now, gifts from a private company.
Henry did not disclose gifts he received during trips to negotiate a major waterfront lease on behalf the Skagway Borough.
In 2013 and 2014, Skagway was in talks with the parent company of White Pass and Yukon Route Railroad. The tourist railroad has leased a significant share of Skagway's tidelands since the 1960s. The city entered negotiations on a new lease because it wanted to renovate the port, on property White Pass controls.
Henry was on a municipal negotiating team. The team traveled to Florida multiple times for talks with TWC Enterprises. The Canadian corporation operates the White Pass railroad.
The trips included stays at a Florida golf resort owned by TWC. City records show that TWC covered accommodation and meals for the Skagway negotiating team. Henry told APOC that TWC also provided golfing free of charge, but he did not recall on how many occasions.
This investigation was sparked by a citizen complaint from Skagway resident Roger Griffin. Griffin estimated the "gifts" from TWC to Henry to be worth between $4,000 and $8,000.
APOC staff said Griffin was correct that Henry should have disclosed the lodging and entertainment provided by TWC. But they could only confirm about $500 worth of expenses. That's based on three hotel stays in February, October and December of 2013.
Still, $500 in gifts is enough to warrant reporting on the disclosure forms required of candidates and public officials. On Henry's 2014 disclosure form, he did not report any gifts over $250. APOC staff say that is a violation. The staff were not able to find enough documentation to determine whether Henry's 2015 form should have included gift disclosures.
The maximum fine for the 2014 violation is more than $12,000 — $10 a day. But APOC staff recommend a 90 percent reduction of the penalty, to $1,276. That's based on the fact that the amount of gifts Henry received was under $1,000, according to the APOC investigation.
APOC staff also recommend Henry correct his disclosure form and attend a financial disclosure statement training within one year.
In determining a penalty, staff reference Henry's previous violations. Less than a month ago, APOC fined Henry $220 because he did not report substantial debt on his most recent disclosure form. In 2016, Henry was ordered to pay a much more hefty fine of $22,000. He hadn't reported his income on multiple disclosure statements. Henry appealed that decision. He said not disclosing his income was a misunderstanding and not disclosing debt was an oversight.
All three of the APOC investigations into Henry resulted from citizen complaints.
Henry's checkered candidate disclosure record was discovered when he pleaded guilty to federal tax crimes in early 2016. Henry hadn't paid income tax for a number of years. He was sentenced to a year in prison and ordered to pay $600,000 in restitution to the IRS.
Henry finished his prison sentence and returned to Skagway in time to run public office. He previously served in Skagway government for 19 years. It was a close election. Henry won an assembly seat by just five votes. He was neck-and-neck with a write-in candidate.
The Alaska Public Offices Commission still has to make its official decision on this latest complaint against Henry. The commission could agree with the staff recommendation to fine Henry about $1,300. Or it could make a different decision. The commission's next regular meeting in February.
The years of negotiating with White Pass railroad owner TWC resulted in a proposed 35-year lease. But Skagway voters resoundingly rejected the agreement in 2015. Now, the assembly has another lease proposal on the table. This one would prolong White Pass' hold on key tidelands for 15 years.