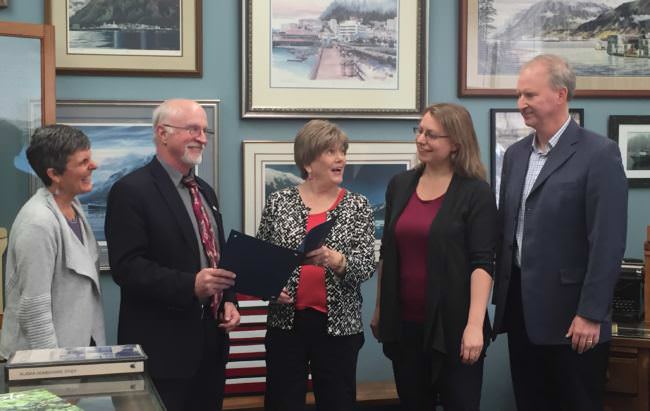 It's National Arts in Education Week across the country, a time for communities to recognize the importance of arts education in schools.
Local officials signed a proclamation Monday highlighting the occasion. The proclamation says arts education plays a vital role helping students develop creativity, communication and critical thinking skills.
In Juneau, an initiative known as Any Given Child strives to improve access to the arts for local students by bringing together school representatives, local artists and community resources.
Juneau School District's elementary art specialist Nancy Lehnhart praised the initiative.
"The Any Given Child initiative kind of just gathers the community around the idea of arts and education and what's important to us and what would we like to work on," Lehnhart said.
Juneau was the 11th city chosen by the Kennedy Center for the program in 2013.
Since then, the initiative has organized arts excursions for Juneau students in second, fifth and eighth grades to local venues like the Sealaska Heritage Institute and Perseverance Theatre. Lehnhart said the ultimate goal is to have arts-themed field trips for all grade levels.
There's a short-term goal for this week, too.
"We have a challenge out to all the classroom teachers, all the teachers in the district, so even high school shop teachers, you know? A challenge out for everyone to include arts in their lessons this week, at least one time," she said.
Lehnhart said those teachers should photograph their arts lessons and share them on social media with the hashtag #BecauseOfArtsEd.