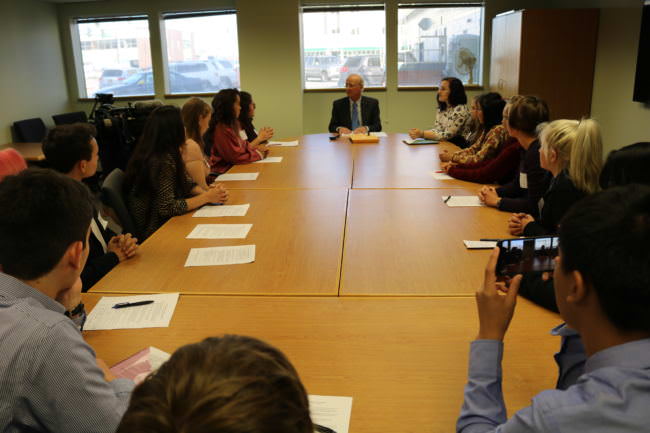 The last serious effort to create a statewide climate change policy for Alaska happened under former Governor Sarah Palin. Now a group of teenagers is trying to push the issue.
They hand delivered a petition to the state's Department of Environmental Conservation recently — asking for reduced carbon emissions and a strategy moving forward.
17-year-old Seb Kurland is home schooled in Juneau and grew up in the capital city. But Seb says the landscape around town looked different not that long ago.
The Mendenhall Glacier continues to shrink. Every year there seems to be less and less snow. And as Seb has gotten older, this teen's concern about the changing environment has grown, too.
"You know, one of the hard things especially about being a teenager with these concerns is that you don't feel like you can do anything about it," Kurland said. "And I found Alaska Youth for Environmental Action."
Alaska Youth for Environmental Action is part of the Alaska Center, an environmental nonprofit.
The program engages teens across the state to voice their opinions on issues like climate change.
In late August, Seb flew to Anchorage to deliver a petition to Larry Hartig, commissioner of the state Department of Environmental Conservation.
Seb was joined by 18 other teens asking the state to fulfill an obligation to protect Alaska's natural resources.
"Basically what we're saying with this petition is, 'hey you're not doing that!'" Kurland said.
The petition asks the state to reduce CO2 emissions, monitor what greenhouse gasses it does emit and come up with a climate change strategy for the long haul.
The carefully-crafted legal document didn't just come out of nowhere. Back in 2011, a group of Alaska teens filed a lawsuit that made it all the way to the state Supreme Court. The Justices ruled that it was a matter for the executive or legislative branch.
"Now, kind our reply or our response is that's the reason we were in court in the first place," said Brad DeNoble, a lawyer from Eagle River. He helped craft both the lawsuit and the current petition.
He says the state may be obligated to do more to address climate change, under a common law with ancient roots called the public trust doctrine.
"Certain resources are essentially so important to society that they have to be protected," DeNoble said. "They're incapable of private ownership."
DeNoble says the atmosphere in Alaska is the resource that needs to be protected from harmful emissions like CO2. It's a concept, he says, that's even embedded in the state constitution.
But Rep. Chris Birch, a Republican and freshman member of the House Resource Committee, doubts regulating industry further would do much good. Birch thinks climate change is cyclical — not just caused by people.
While he applauds the youth's civic engagement, he says there's more than one way to look out for Alaska's future.
"You know, certainly the oil and gas industry in Alaska has led to tremendous benefits for each and every one of our citizens and residents," Birch said. "And I think to compromise that or to try to put a lid on that or to burden that development is not reasonable."
Seb Kurland, the teen from before, doesn't see it that way. Kurland says climate change is jeopardizing the state's other economic drivers, like tourism and fishing, and it's something the Alaska legislature needs to address now.
"It can't be delayed any further. Like, this is an issue that gets worse," Kurland said.
The Department of Environmental Conservation has until Sep. 29 to respond to the petition. At which point, it can reject it or call a public hearing.