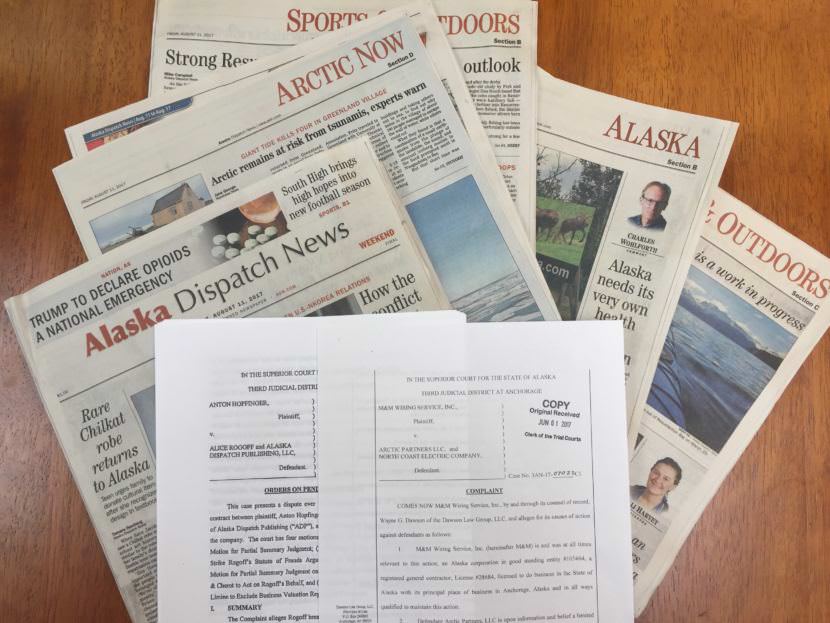 The state's largest newspaper is in serious financial trouble.
According to a lawsuit filed Friday, the Alaska Dispatch News is being brought to court by GCI for $2.9 million, much of it over unpaid bills. And it's asking the court to evict the newspaper from the warehouse space that houses the printing press, at a time when ADN has nowhere else to produce the paper.
Media watchers say a combination of industry trends and business mismanagement are putting one of the state's main news sources in jeopardy.
In a complaint filed in state court against ADN's owner and publisher, Alice Rogoff, lawyers for GCI say the trouble goes back to 2014. That's when Rogoff paid $34 million to buy the Anchorage Daily News and merge it with her online news company, The Alaska Dispatch. The deal involved selling the paper's building in Airport Heights to GCI. Rogoff's newly merged media company, Alaska Dispatch News, has its main offices in Midtown. But the paper is still printed in the old building. Under the original lease terms, ADN had 18 months to disassemble the press, fix up the warehouse space and move out.
Heather Handyside, GCI's head of corporate communications, said that still hasn't happened.
"The main concern is the lack of payment for past rent," Handyside said. "We also have concerns about the lack of payment of their utilities. ADN has not paid utilities since early February."
GCI's complaint says that for months, it has covered utilities associated with ADN's production operations, spending $1,500 a day in electric bills to keep the press running.
Handyside said in total, ADN owes just under $1,390,180 for past expenses, and another $1.5 million GCI thinks it will take to remove the printing press from the property, along with any additional incidental damages. GCI wants to recoup its money, and is asking a judge to evict ADN from the warehouse in the Airport Heights building.
"We want the Alaska Dispatch News, the state's largest paper, to be operational and successful, and that's why we have been supporting it over the last two years," Handyside said. "But we just don't see the progress, and we haven't seen the progress for many, many months."
ADN is also facing multiple other lawsuits over allegations of unpaid bills and breached contracts. Most publicly, the founder of the original Alaska Dispatch is suing Rogoff for nearly a million dollars he said he is owed as part of a deal they inked on a cocktail napkin.
Another lawsuit is less sensational, but more fundamental to the paper's daily operations. Since last year, ADN has been trying to set up a new printing press at a different location. The contractor who was handling renovations at the new space on Arctic Boulevard is suing for $508,809 in unpaid work and supplies.
Pat Dougherty is the former editor of the Anchorage Daily News, and left just as the companies were merged. He thinks that without a new press set up, production of the physical paper is in question if the eviction goes through.
"They seem to have really messed up in a way that's got them in a deep hole in terms of expenses, and they still don't have an operational press, and there's no sign they're going to have an operational press in the future," Dougherty said.
Ads in the physical paper are the biggest source of revenue for the company. But those don't appear to be covering costs. The newspaper industry's long-term trend has been declining ad revenues, so for the last decade, companies have had to shrink staffs, scale back operations and come up with inventive new ways to bring in money to stay in business. Dougherty said in the three years since Rogoff acquired the paper, there's been very little of that dexterity.
"I've seen nothing new, original, creative, innovative in terms of how to produce revenue," Dougherty said.
When the two companies merged, there were very few layoffs, creating a larger staff that cost more to pay. The new ADN also took down a paywall, further diminishing revenues, though expanding reach online.
It's clear that ADN has a cash problem. In court documents, a shortage in "cash flow" is mentioned as early as 2015, and comes up multiple times as a reason for not being able to cover expenses. This April, Rogoff began putting up assets as collateral with her lender, Northrim Bank. That includes her ownership stake in the paper, along with a Wells Fargo account and funds identified in court documents as "marital agreement payment streams."
Dougherty said it's a tough time for the news business, but he lays a lot of the blame on Rogoff's management and business decisions.
Rogoff did not respond a request for an interview. In a brief statement, she wrote the newspaper is in active discussions to keep the company "alive and robust for the sake of our readers and the community."
In a separate email sent to ADN staff recently and obtained by Alaska Public Media, Rogoff wrote that the paper is "challenged by changing economic and financial circumstances," and that as a result she is in "discussions with several potential new investors." Details of those deals are not public, but Rogoff wrote that "resolution should become clear within the next few weeks."
It's not obvious what comes next, but many people contacted for this story worry Alaska will lose one of its main sources for news and muscular reporting.
Larry Persily is a former long-time Alaska journalist who's worked in newspapers across the state, including stints at the old ADN. He said if the paper can't pay its bills, it means there's something severely wrong with the current business model, threatening the whole operation.
"Losing the newspaper would be a serious loss to Alaska, to Anchorage. (We) need news organizations to tell us what our elected officials are doing, what's happening at the other side of town," Persily said. "Losing another source of that information hurts, hurts the community."
ADN's current circulation is 41,684. Recently it went from a daily to printing six days a week.