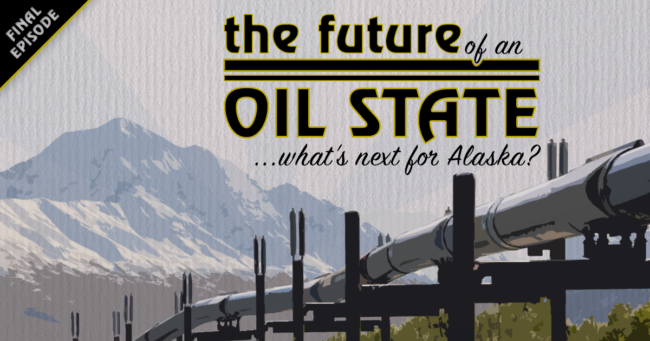 When the giant oil field at Prudhoe Bay was discovered in 1968, it held more oil than anyone in Alaska had dared to imagine. But today, Prudhoe and the other legacy fields on the North Slope aren't producing oil like they used to. That's an economic problem for the state — but it's also an engineering problem. So, what's the future of the pipeline — and the state that depends on it?
Today, the trans-Alaska pipeline is carrying a little over half a million barrels of oil per day – that's a quarter of what it did in its heydey. And that's creating some challenges.
To learn what kind of challenges, exactly, I dropped by the Anchorage offices of Alyeska Pipeline Service Company, where some engineers showed me a surveillance video from a pump station along the pipeline.
We're watching footage of a giant hunk of thick, black wax that's been pushed out of a section of the pipeline like toothpaste squeezed from a tube. And it is huge: 20 feet long, 4 feet tall. Guys in protective suits and respirator masks are hacking away at it with picks and shovels.
This is technically called a "wax event."
But pipeline engineer Tom Marchesani has a different name for it.
"The big tootsie roll we like to call it," he says.
It's an extreme example of what can happen as less oil moves down the trans-Alaska pipeline. With less oil, it moves more slowly — and starts to cool. As it cools, wax in the oil solidifies and drops out, gunking up the pipe and sometimes forming the world's biggest, most unappetizing tootsie rolls.
And that's just one of many things that start to go wrong.
Alyeska engineer Rob Annett says as the amount of oil drops, it starts to raise some existential questions.
"Is there some sort of, potentially, a tipping point where the way you've always done it doesn't work any more?" he asks.
Alyeska thinks there is a tipping point. A 2011 study put it somewhere around 300,000 barrels a day. Below that point, they're not sure how the pipeline will work — or if it will work.
State and federal forecasts predict that we'll approach that threshold in the next decade. So a couple of years ago, the company called in Annett, and told him to form a team.
Their task: figure out how to keep the pipeline going.
For the past few years, Annett and his crew have considered all kinds of crazy ideas — even the craziest idea of all – building a whole new, smaller, oil pipeline. The current pipeline is four feet wide – built for the state's boom times. A smaller line would let today's lower volumes run faster and stay warmer.
"So, mother may I have, you know, a gagillion dollars to do that, right?" says Annett. "So, as you might imagine that one didn't really land well."
Obviously, a new pipeline doesn't pencil out, so they're exploring other ideas — like super high-tech pipe scrapers that might remove wax more efficiently. Or maybe injecting some kind of anti-freeze. Other ideas they couldn't even tell us about.
The team hasn't found their silver bullet yet. And the clock is ticking. But in the end, Annett says, the future of the pipeline isn't up to engineers.
"I think the end game is not going to be strictly technical," he says. "I think it's going to be an economic viability for the people who own the pipeline."
The people who own the pipeline are the top three oil companies in Alaska: BP, Conoco Phillips, and Exxon Mobil.
All the solutions Annett's team dreams up come at a price. Someday, someone in an office building somewhere, will run the numbers and decide there's just not enough oil flowing to justify the cost to keep the pipeline running.
That reality — coupled with a dive in oil prices — is forcing Alaska to confront an uncomfortable question: What happens when we can't count on oil money any longer?
Larry Persily is a close observer of the oil and gas industry. He doesn't think the pipeline is going to shut down any time soon, but he does believe that as production declines, Alaska will shrink.
"Not geographically," he says, "but in terms of jobs and population and size of the economy. I just don't see a way out of it."
But when you talk to people in the oil industry, and to plenty of Alaska's elected officials, there is a way out of it: find more oil.
And they could be right. In the past year, there have been three potentially major oil discoveries in Alaska. One company, Caelus Energy, thinks it's found 6 billion barrels of oil on the North Slope.
I spoke to Caelus's CEO, Jim Musselman, right after his company announced the discovery last October.
"There's just lots of oil yet to be discovered here," he said. "And that's what I want to make sure and reiterate to the people to Alaska. Don't give up, there's just a lot to be found. And if you just work with us we'll find a lot more oil for you yet."
But developing a new oil field in the Arctic is risky and expensive. This spring, Caelus put off its next steps, citing low prices and changes to the state's oil taxes. Alaska can't ignore the possibility of new discoveries. But the state can't count on them, either.
So some Alaskans are betting on a different kind of future. There's a new start-up culture in Alaska with more interest and support than ever before.
Jon Bittner heads up the Alaska small business development center. He acknowledges that today's start-ups aren't likely to be the next BP and ConocoPhillips.
"I mean individually no none of these industries is going to replace oil. It can't. But in aggregate this is how you transform an economy," he says.
Bittner says we should see the oil years as a gift.
"We got a jumpstart that that nobody predicted," he says. "And now it's up to us to run with it."
Ultimately, Bittner says, it's Alaskans who have to decide if this is the beginning of the end — or the prelude to a transformation.