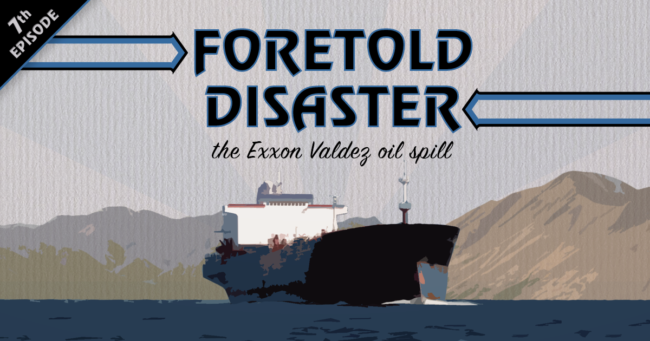 The Exxon Valdez oil spill in 1989 killed hundreds of thousands of seabirds and brought commercial fishing in some of Alaska's most productive waters to a standstill. It's often talked about as an unprecedented, unthinkable event. But it was, in fact, thinkable and people tried to prevent it.
Twenty years before the pipeline was even built, Ross Mullins was already warning about an oil spill in Prince William Sound.
Mullins is in his 80s now and lives surrounded by history – literally. His house in Cordova is piled with stuff. He was a hippie and photographer who came up to Cordova from the Bay Area in the early 60s. He didn't mean to stay, but he got sucked into fishing.
When he first heard the plans for the trans-Alaska pipeline to end in Valdez, he says, he saw the risk right away.
In the 60s and 70s there was a series of well-publicized oil spills all over the world. Mullins says he knew that if Alaska's oil was transported by tanker, a disaster was inevitable.
So, he rallied the local fishermen's union. They levied a penny per fish tax on themselves to hire a law firm to challenge the pipeline in 1971.
"Well, we called ourselves the Mighty 500," he said, adding with a laugh "We probably didn't have five hundred."
But they went up against the oil industry and the state, and they won. Their lawsuit, along with one from national environmental groups, halted the pipeline.
Their victory was short-lived though. In 1973, Congress exempted the pipeline from the lawsuits. So Mullins and the fishermen switched gears. They pushed for the highest safety standards possible.
He remembers one trip to Washington D.C., standing in Senator Ted Stevens' office.
"One of the things I remember distinctly him saying was, 'I can assure you that not one drop of oil will touch the waters of Prince William Sound'," said Mullins.
It was one of many promises made in the '70s, as lawmakers and industry tried to get the pipeline moving.
They promised that tankers operating in Prince William Sound would have double hulls. They promised a state-of-the art system to track vessels through the sound, and a world-class oil spill response system.
But one by one, the promises made by industry, the state and the federal government failed to materialize – or the safeguards simply eroded.
In the end, the system failed more quickly than even Mullins had imagined it could.
"It was a hell of a lot sooner than I thought it would be," he said. "The oil had only been going through the pipe for 12 years. You know it's not a long time for something that's supposed to be state of the art to function."
Flying over the Sound today, the pilot points out a white and red navigational marker sticking up out of an unassuming patch of water. From 1,000 feet up it doesn't look any bigger than a camera tripod.
"See this post right here?" he said. "That's Bligh Reef. That's where the Exxon Valdez ran aground. Right there."
In the distance are the icebergs calving off the giant Columbia Glacier. It was these same chunks of ice that the Exxon Valdez was trying to avoid when it collided with the reef.
This is the spot where all systems failed: The tanker's crew made a series of inexplicable mistakes. The captain had been drinking that night and left an overtired 3rd mate in charge. Inadequate tracking didn't pick up the ship as it headed off-course. The shallow reef sheared right through the tanker's single hull.
Today, things have changed. Congress passed a raft of reforms after the Exxon Valdez. Things like requiring new tankers to have double hulls, better vessel tracking and escort tug boats.
Prince William Sound is now guarded by an elaborate system to prevent future spills.
But for years, the Exxon Valdez loomed over the fishing town of Cordova like a dark shadow. The spill coincided with plunging fish prices, and in the 90s, the town dropped into a depression. People lost their boats. They lost their livelihoods. Many worried there was no future for Cordova.
Today, that fear is lifting. There's a whole new generation of fishermen, who were just kids during the spill.
Mike Mickelson was five years old when the tanker struck Bligh Reef.
"Most of us — if not all of us — got told in school, 'Well, whatever you do don't go fishing and go to college and make something of yourself'," Mickelson said. "And everybody went to college and quite a few of us came back and bought into fishing, so…"
Today, he owns two fishing boats. And now, he says, there's a community of young people, all taking a chance on Prince William Sound.
It's a big chance. Getting into fishing means taking out a loan to buy a permit, another loan to buy a boat.
"You know I had a couple friends that talked me into buying into seining," he said. "It's like oh, yeah, hundreds of thousands of dollars no problem! You'll be fine. It's been a hard road. But but you know I'm going to make it. And that's and that's the great thing.]
Mickelson and his peers are making a big commitment to this place. It's a bet that fishermen can still make a living in Cordova. And that there won't be another Exxon Valdez.
Listen to the full series at ktoo.org/midnight-oil.