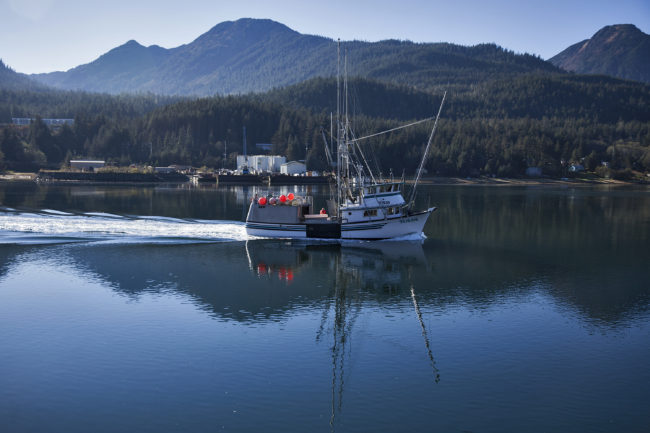 For most mariners Gastineau Channel is a cul-de-sac. Vessels coming into Juneau almost always have to exit the way they came in. The Douglas Bridge isn't the issue – it's just too shallow for most boats except small craft running at high tide.
A pair of listeners recently wrote to Curious Juneau asking why Gastineau Channel is a dead-end for shipping.
"We've got a canal or a channel and it goes up toward other communities but people who use that can't go through it," Joann Flora, a resident of the Mendenhall Valley said. "They come into Gastineau Channel and they have to turn around and go back and come around Douglas Island and it just seems to me like a tremendous waste of time and fuel if there was a way to get there – directly."

Curious Juneau stars you and your questions. Every episode we help you find an answer. Catch up on past episodes, or ask your own question on the Curious Juneau page.
Sharon Van Valin, a resident of Douglas for about three years, also wrote in: "I'm curious about the Gastineau Channel. I know when I first came to Alaska in 1964 it seemed like it was a little bit deeper with more going on."
It probably was deeper back then since it had been recently dredged.
"It was dredged initially in 1959 and '60, but by 1962 there was already enough shoaling issued to limit the ability of vessels to use the channel," explained Julie Anderson, chief of operations for the U.S. Army Corps of Engineers in Alaska.
Shoaling is the natural process of sediment filling in a channel over time.
"The shoaling appears to be coming from the side slopes, they're very unstable, so the material is slumping in and filling it back in," Anderson said.
A process called isostatic rebound, caused by the retreating glaciers, is also causing the land to rise.
But Anderson said it's the instability of the side slopes that's the issue.
In 1977, engineers proposed constructing a continuous dike to stabilize the channel's side slopes. But that plan was written off as too costly.
In 2000, the corps looked at it again. Cost estimates ran at about $16 million to build the dike and around $2 million a year for maintenance and dredging.
"It's not cost-effective. It just, it fills in faster than we can clean it out," Anderson said.
But dredging Gastineau Channel still had one true believer: Gov. Frank Murkowski. In 2006, he secured several million dollars from the legislature to try and resume dredging.
"There's an open question on whether it was a serious a proposal or whether Gov. Murkowski had an epiphany that we should open up channels when he was sitting on his boat," said Juneau attorney Joe Geldhof. He was involved because he's a past president of a citizens group that advises Fish and Game on the Mendenhall Wetlands State Game Refuge.
Any dredging project would run straight through this protected area.
"The trouble is when you're the governor, some people pay attention to notions and whims and I think that's what really happened," Geldhof said. "Some of the staff in the governor's office overreacted to what was really a goofball idea."
Jim Clark was Gov. Murkowski's chief of staff. He said the governor supported dredging but the large expense and lack of support from the Army Corps of Engineers made attracting federal dollars difficult. So it never went anywhere.
"It cratered," Geldhof recalled. "Like a lot of peculiar ideas that float around the political sphere, it just died a quiet death."
These facts in hand, I circle back to our Curious Juneau question askers.
"Well, I'm not surprised," Flora said. "It makes sense to me but I was just curious if anybody had taken a serious look at it."
Van Valin was also pleased for the information: "I didn't have an opinion on whether there should be dredging or not," she said. "I was just curious and I really appreciate you looking into it and giving all this information about it."
Here's an historical footnote: about $3 million of the unspent dredging money secured by Gov. Murkowski was never returned to state coffers.
More than a decade later, the City and Borough of Juneau is using those funds to build a gravel road on the western part of Douglas Island. Work is just now wrapping up this summer.