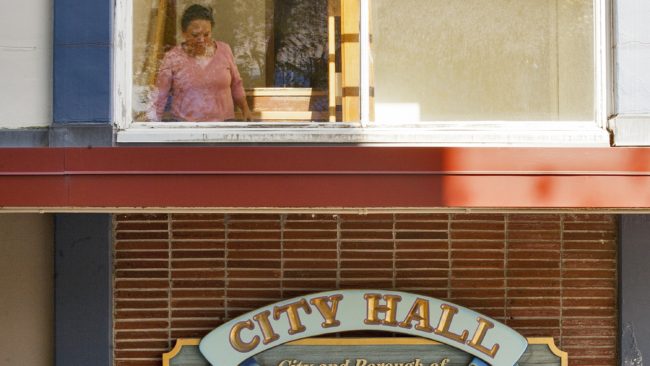 In vote after vote, a divided Juneau Assembly set its list of sales tax-funded projects. All of this is contingent on voters passing a 5-year extension of 1 percent of the local sales tax in October.
It was never going to be easy. The Juneau Assembly received a wish list of 26 projects totaling about $120 million. But as it only projects about $47 million available over five years there were going to be disappointments.
The city manager's office recommended borrow through bonds an additional $10 million. But a majority of members shot down that idea.
"I believe that the things that we buy should not be put on credit," Assemblywoman Debbie White said.
The majority agreed and the bonding idea was scrapped.
That still left $47 million for $120 million worth of requests.
Here are highlights of what voters will be asked to support in October:
$13.5 million for existing wastewater infrastructure,
$3.5 million for maintenance of city-owned buildings,
$4.5 million for existing drinking water infrastructure,
$3 million for federal matching grants for airport improvements,
$5 million towards deferred maintenance of the downtown swimming pool,
$4.5 million towards upgrades at Centennial Hall,
$5 million for building maintenance for the Juneau School District,
$2.5 million towards Rainforest Recovery Center,
$2 million for information technology upgrades,
$2 million for the city's recycling program,
$2 million for the affordable housing fund,
$1.5 million for rebuilding Aurora Harbor, and
$500,000 for city parks.
At that point the Finance Committee had run out of funds. There was nothing left for helping the community build a new Juneau Arts and Cultural Center, commonly known as the JACC. The nonprofit Juneau Arts and Humanities Council had requested $5 million towards the estimated $26 million project.
Assemblyman Loren Jones proposed raising the hotel bed tax from 7 to 9 percent to allocate $1.6 million toward a new JACC.
Not everyone was on board.
"I have absolutely no appetite to raise the bed tax – none whatsoever," Deputy Mayor Jerry Nankervis said. "I disagree with the philosophy that you tax people who don't live here more. As an owner of property somewhere else, I can tell you that they tax me a whole lot more because I don't live there and that's baloney."
In the end, the initiative passed 6-3 with Mayor Ken Koelsch, Deputy Mayor Jerry Nankervis and Assembly woman Mary Becker opposed. A staff-written proposal on raising the hotel bed tax to help fund a new JACC will be brought before the Assembly at its next meeting.
The Assembly will hold a public hearing before it finalizes the overall list. Then it will be up to voters to decide in October whether to extend the 1 percent sales tax.