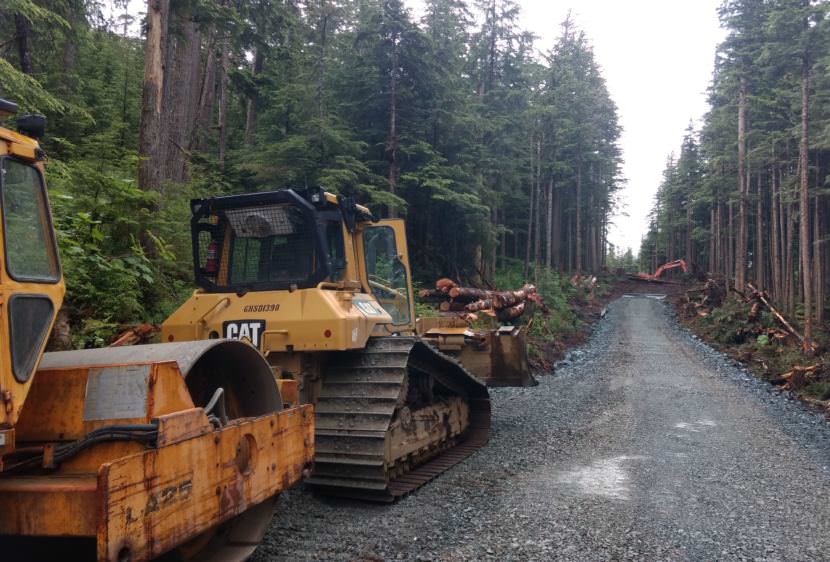 Work is nearing completion of a gravel road extending toward the west side of Douglas Island. The City and Borough of Juneau is spending $3 million in grant funding to punch out a so-called pioneer road on city property for future development.
We've crossed the gate and made our way up a steep grade on the gravel road.
"West Douglas has identified for many decades as a future growth area for Juneau," said Roger Healy, the city's director of Engineering and Public Works, from behind the wheel. "So this is basically the first step in this direction."
On paper this area is called West Douglas. The city's identified this area as a potential community hub in a conceptual plan drafted in 1997.
There are three major landholders here: The city's 3,400 acres. The steep, mountainous parts are part of Tongass National Forest. The more valuable coastland is held by Goldbelt, Juneau's urban Native corporation.
Goldbelt holds more than 1,700 acres along the coast and has expressed interest in building a port and developing the far-side of the island. It's a significant step, and largely symbolic as the road will be gated off and closed to motorized traffic.
"We're not going to build it to full city standards now with pavement and two-lane traffic and all that," Healy said. "And that will come some point later when firm development is identified in this area."
In about 2 miles, we run out of road. Heavy equipment is clearing felled trunks from giant Sitka spruce. The choicest timber will be sold off by Enco Alaska, the Juneau-based contractor selected by the city to build this road.
"What you're seeing now is about the end of it," Healy said. "There's another ¼ mile maybe of new pioneer road going to be established but that's about it for the first phase."
Coastal access would have to cross Goldbelt's land. There have been development proposals over the years including an 18-hole golf course but that project fell through when investors pulled out in 2010. The absence of firm development plans has led critics to question the wisdom of building this road at all.
"I guess you could call it a hiking path for people right now," said Phillip Gray, a retired fisheries biologist. "But it doesn't go anywhere. It just goes part way to where they want to go and it ends."
The city has relied on nearly $3 million that began as a federal dredging grant. It was later transferred to the state's commerce department. In 2012 the state agency green-lit the city's request to use the money for building this road.
Gray said it seems like the city's building a road through wilderness just to keep from having to return the grant money.
"I mean why would you put a road – if you were a businessman – would you put a road into somewhere that didn't end where you wanted to go just because you had part of the money?" Gray said by phone from his home in North Douglas where he's lived for about 40 years. "That's sort of like building part of a house without having money to complete it just because you got some money to blow. Then ruin some good habitat – deer habitat to boot."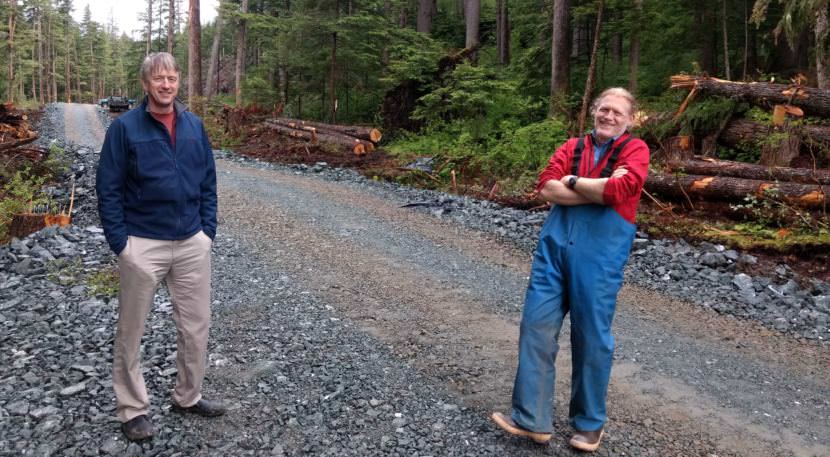 Construction is expected to wrap up by the end of summer. A second phase is under review by the U.S. Army Corps of Engineers. Healy said that would get it another mile, yet still shy of Goldbelt's coastal holdings. "We may extend another 6,000 feet beyond the current end of this phase to get to the Middle Creek area," Healy said.
Since it'll be closed to motorized traffic, even upon completion this pioneer road will likely serve mountain bikers and hunters. It doesn't connect to Douglas Island's existing trail system. But it does provide more than 2 miles of access into what was until recently just wild stands of towering spruce and hemlock.