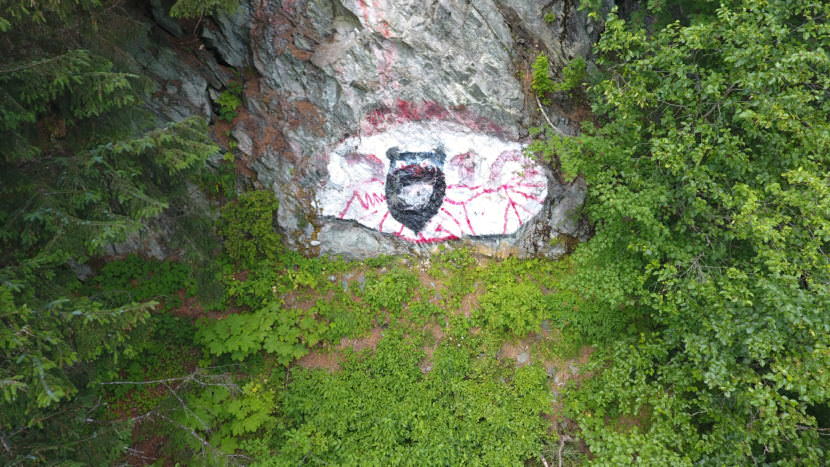 In this Curious Juneau, we look into the origins of the eye glaring over downtown.
"When I first moved here in 1974, as a kid in the playground at Harborview we'd look up and all the kids would always wonder what that eye was," local Paul Prussing said.
Prussing was one of many people that asked Curious Juneau what the story is behind the bloodshot eye painted on the side of Mount Juneau.
"Was it something scary looking down on us? Was it the mountain looking down?" Prussing said. "Of course it always ended up being something scary and suspicious."
Is the eye a high school prank? Part of an underground rock climbing club's initiation? A Masonic conspiracy?

Curious Juneau stars you and your questions. Every episode we help you find an answer. Subscribe to our podcast, catch up on past episodes, ask your own question on the Curious Juneau page.
Listen to the Curious Juneau segment about the Mount Juneau eye:
The eye is an age-old symbol of the divine and all-knowing. In parts of Europe and the Middle East, the evil eye is an emblem of misfortune. In George Orwell's "1984" it symbolizes government surveillance and omnipotence. The Eye of Providence on the dollar bill is a source of conspiracy theories and "National Treasure" films.
Here in the capital city, it seems like everyone has a theory about the Mount Juneau eye.
"I was always thought it was a group of seniors a couple years ago just went up there and painted it," Amber Rounds-McPherson said.
Fred Triem thinks an avalanche caused it.
We picked up the story with the Juneau-Douglas High School class of 1970.
"All I know about that spot is that it's been kind of a spot for mountain graffiti for many years," Skip Gray, a longtime Juneau resident who sometimes work for us in television production. "Dating back to when I was a senior in high school. Somebody in my class wrote a big '70 up there for the graduating date of our class. "
Before it was an eye, it was a huge, fluorescent '70. Gray cautiously put me in touch with a classmate who claims he originally painted the rock face.
In the spring of 1970 my best friend and I, Joe Smith, took a day off from school and a case of fluorescent orange spray paint and hung off the rock on the side of the mountain and painted a big 70," said John MacKinnon.
He was skipping school, but MacKinnon said it wasn't exactly vandalism. He claims they had permission.
"We researched that and discovered that was a claim," MacKinnon said. "We went to AJ Mines and talked to a very nice old gentleman …  and he typed up a permission to paint Class of '70 on the rock up there. … Class of '70 had a tremendous amount of class spirit and there were spirit competitions in high school and that particular class won it every year from freshman to seniors. And this was just another show of our class spirit."
Today, an eye's been painted over that same rock face. Up close, it looks pretty rough. It's barely recognizable as an eye.
The pupil looks like it might be the face of a black bear, and its gaping maw could be the zero in a faded "2010."
We couldn't confirm MacKinnon was the first to paint the rock. And a lot of longtime Juneau residents with fuzzy memories had conflicting accounts of when it became an eye.
Paul Prussing likes to think it's always been there.
"Well, I'd like to always think it was like the ever watchful eye of hope on Juneau," he said. "One of my friends, I remember, in grade school said his dad said it was when the federal building was built it was the eye to watch the feds."
Whatever it means or wherever it came from, it's probably not as exciting as the stories dreamed up here at ground level.
"It's probably high school kids and a case of beer," Prussing said.
---
Can you help us nail down the eye's origin? Email us at curious@ktoo.org.