Juneau International Airport is preparing for the arrival of app-based ride-hailing companies like Uber and Lyft.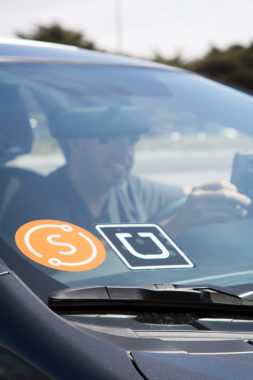 The state legislature passed legislation to allow rideshare companies to enter the Alaska market. The governor's expected to sign it.
This week the airport's board approved a draft fee schedule that would charge companies like Uber and Lyft $100 a year to operate on airport property.
It would also tack on a $3 surcharge on each fare to and from the airport that the airport manager said is industry standard.
"We want to meet the demand, we know it's imminent," Airport Manager Patty Wahto said. "We have to have something in place. And we'll look for comments and see if there's changes that have to be made."
The ride surcharge is a departure from how taxis are charged now. Conventional cabs pay at least $150 a year per vehicle. But there's no ride fee.
So what do Juneau's cab companies think about tacking on a ride fee for Uber and Lyft?
"That's hogwash. If that's the basis of it then they should charge the tour companies, the shuttle companies and everybody else the same fee," said Shane Williams, owner of EverGreen Taxi, Capital Cab and Taku Taxi. He's against the ride surcharge on principle. "There is no return to the airport other than a sticker that they basically give to you to permit you to drop and to pick up at the airport. Why go after Uber and Lyft? They're not going to make anymore money than the cabs – in fact Uber and Lyft charge less."
Uber released a statement Friday after being asked for comment.
"We are looking forward to finalizing an agreement with the Juneau airport, which will bring ridesharing services to people traveling to and from Juneau,"  said Brian Gebhart, Uber's general manager for Alaska, in the statement.
It's unclear whether Lyft would protest the fee schedule though it did send the airport business office a template that would include a surcharge for rides.
Wahto said the airport board also is reviewing how it regulates all forms of grounds transport servicing the airport.
"Whether it's limos, whether it's shuttles, whether it's taxis and cabs – and the idea is to collect data for about a year and then go back and see if we need to adjust or make changes to other ground transportation," she said.
Public comment is open through June 21. Then the fee schedule will be sent to the Juneau Assembly for consideration.
Clarification: This article has been changed to note that Lyft has not taken a position on the proposed fee schedule.